Can the genius binder clip be improved upon?
Patented in the US over a century ago as a manuscript binding solution, the humble plastic and metal fold-over fastener (a.k.a. banker's clip) has been extolled as one of the world's best design objects in the compendium Phaidon Design Classics. Writers, office workers and neatniks of all shades cherish the binder clip's versatility. There's even a popular life hack video highlighting its many uses. As celebrated designer Naoto Fukasawa told Quartz, the office supplies favorite is fine as it is.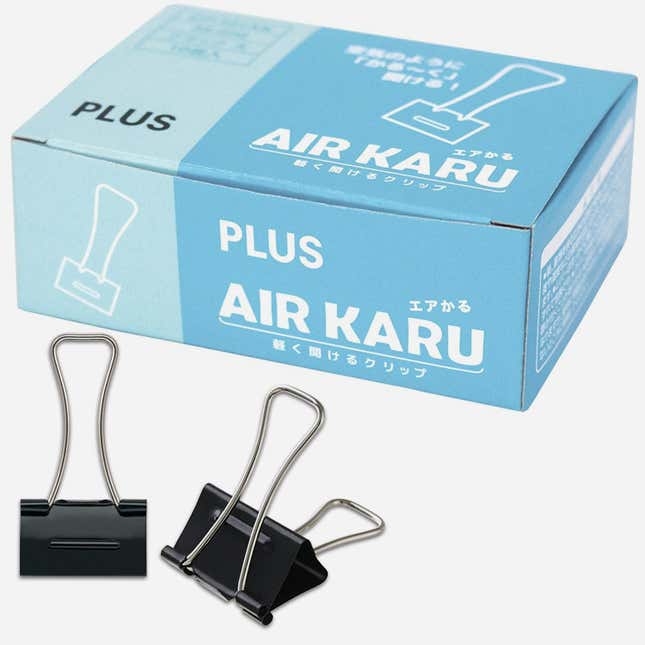 But the original binder clip's iconic status hasn't deterred the stationery-obsessed Japanese from improving the original. A new binder clip model that requires half the strength to use has been named among the top products at this year's International Stationery & Office Products Fair in Tokyo. Developed by office supplies company Plus Corporation, the so-called "Air Karu Airy Light Touch Binder Clip" features a longer, flatter finger lever and repositions the fulcrum higher up the triangular spring.
These small engineering tweaks make the clip easier to use and reduces finger pain, as its name suggests.

If Plus's efforts to retool a perfectly fine apparatus seems frivolous, consider its effect on the billions of binder clips used each day. Air Karu's designers estimate that a worker conserves as much as 50% energy (or "labor saving rate") when using the largest of the three available new sizes.
Reviews on Amazon have been positive, with many saying how surprised they were with the clip's efficiency and ease of use.
"If you frequently use double [large] clips, you know that double clips of this size are too much for women," writes one five star reviewer. "The double clip seems to be patented in 1910…it is surprising that products that have been invented for more than 100 years now will come up with such ingenuity. Once a patent is registered, a new one page will be added to the patent application textbook."
Another satisfied customer points out how the new design could benefit Japan's aging population. "I think that elderly people can use it without inconvenience because of the easy-to-hold lever." And one customer who sampled the largest Air Karu 32 mm model even had a philosophical take: "it's a gem when you realize that evolution of technology makes life more convenient."

All reviews have been translated from Japanese.