An impromptu prayer circle formed around a 13-ft-tall burning sculpture in front of New York City's Standard hotel by the High Line last Thursday (June 21). French artist Prune Nourry unveiled her latest work by lighting hundreds of incense sticks piercing one side of the sculpture.
Serenaded by jazz musician Jon Batiste playing the piano and the subtle scent of the incense in the air, the spectacle was a strange zen moment amid the bustling hipster enclave in Manhattan's trendy Meatpacking District.
Modeled after an ancient marble statue on display at the Metropolitan Museum of Art, the work is called The Amazon and recalls the myth about female Amazonian warriors who allegedly speared off their own breasts to improve their archery. That story has since been debunked, but the image— both valiant and violent—fortified Nourry's spirits while she was undergoing a personal health battle. Diagnosed with breast cancer two years ago, making the sculpture has served as a kind of therapy for the 33-year-old multimedia artist whose work explores gender politics.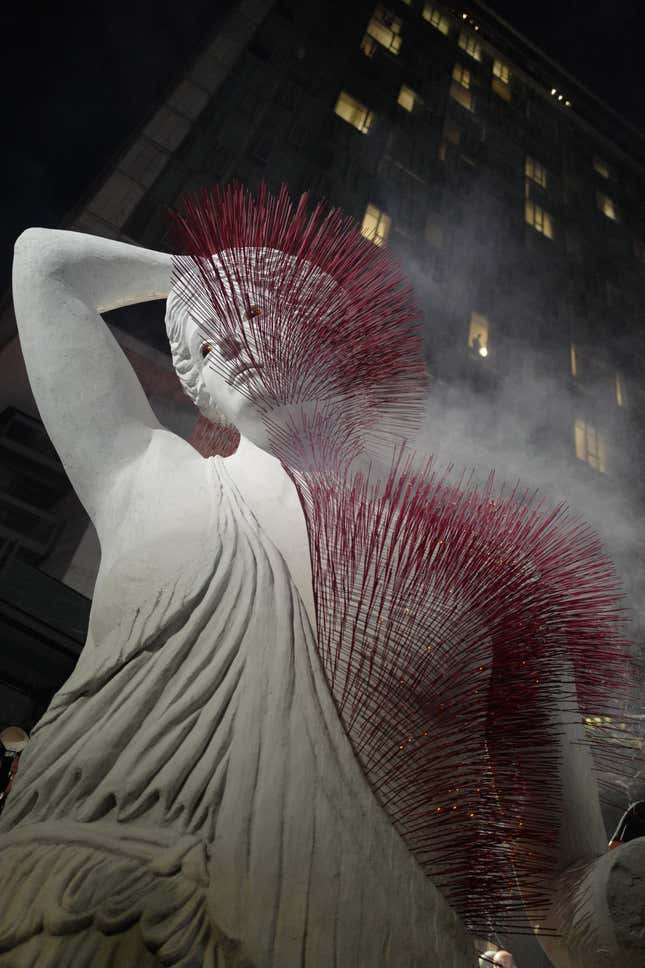 "To me, it's another step in the healing process," she tells Quartz. "It's a very cathartic process." She explains that the incense sticks recall the acupuncture needles that helped her get through the dark days after the surgery and chemotherapy. As a final act, Nourry plans to chisel off a breast during a private performance later this year.
Nourry says that channeling her personal pain through a public sculpture is intended to evoke healing for all survivors. "As an artist, you have to let it go. Now the sculpture is in a public plaza, it's not mine anymore. She belongs to everyone," she says. "Every reaction is a good one in a way, because it belongs to the person having it."
The Amazon will be on display at the Standard Hotel's plaza until the end of June. Nourry plans to sell the work to raise money for breast cancer education programs.