On Wednesday (June 27), Seattle-based design and architecture firm Olson Kundig was selected as the lead architect for Tulsa's new Bob Dylan Center, an exhibition space dedicated to the works of the legendary singer-songwriter. The museum, set to open in 2021, will serve as a home for the Bob Dylan archives, an exhibition of over 100,000 objects, featuring everything from notebooks and correspondence to unreleased studio and concert recordings.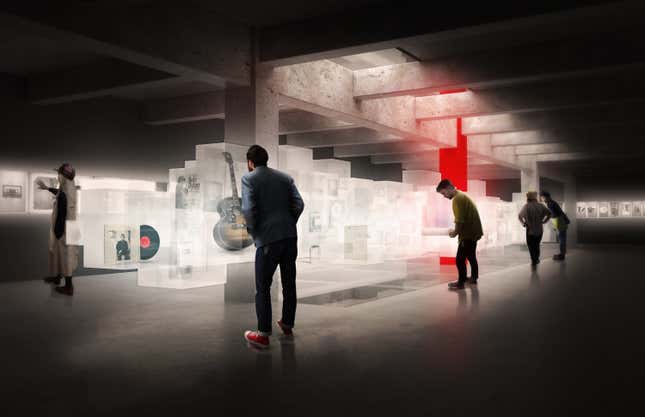 Olson Kundig, the firm behind the Space Needle's renovation, won the Tulsa gig in an international competition launched by George Kaiser Family Foundation and Dylan's management team.
But why Tulsa, Oklahoma? While Dylan's archives already live there, having been purchased for $3 million by Kaiser, a Tulsa-born billionaire, Oklahoma itself barely figures into Dylan's life or his work. Nor is the once vibrant and oil-rich city known as a cultural or musical mecca.
Kaiser, an oil magnate and bank-owner, is mostly responsible for the surprising—and nascent —cultural ascent of Oklahoma's second-largest city. Much of his $3.4 billion foundation has gone to reviving the city, creating parks, building museums, and founding art fellowships.
And now, with the addition of the Dylan archives, Tulsa is well on it's way to becoming something of a music mecca. While it may not yet be the hot new destination for bachelorette parties like Nashville, the city is already home to the Woody Guthrie Center—also commissioned by the Kaiser Family Foundation—a museum dedicated to the eponymous folk legend, as well as the archives of singer Phil Ochs.
And it doesn't stop there—the heirs of country-music legend Johnny Cash are reportedly in discussions about storing the crooner's archives in Tulsa. Who knew?