A bovine-inspired banger has become so viral in the past week that some are joking it overshadowed major album drops by Nicki Minaj and Ariana Grande.
"Mooo!"—more widely known by its chorus line "Bitch, I'm a Cow"—is the creation of the 22-year-old artist Amala Zandile Dlamini, aka Doja Cat, whose video features her in a sexy cow costume, slow-twerking in front of a homemade green screen.
Set to a lazy, lo-fi trap beat, the song is super catchy. The chorus, "Bitch, I'm a cow / I'm not a cat / I don't say meow," is interspersed with agricultural zingers like "Got the methane / I'm a farter / With my farmer / McDonald." Appropriately, it features a shoutout to Kelis's "Milkshake."
The video has racked up over 3 million views in the past week, and several major artists have hit Cat with a shoutout, including Khalid and Chance The Rapper.
It has also inspired a slew of tributes under the hashtag #MooChallenge:
The whole affair is another example of the unpredictable nature of virality in the internet age. While Doja Cat, (who is the daughter of well-known South African actor Dumisani Dlamini) has been on the scene since her 2014 EP, Purrr!, the release of "Mooo!" has catapulted her into the spotlight, conveniently ahead of a tour for her latest album, Amala.
"Mooo!" manages to hit many of the touchstones of comprehensive and utter virality—a hilarious-yet-catchy song, a goofy-yet-sexy video, a hashtag, a dance challenge. But total meme-ification, while it has become a semi-regular occurrence over the past several years, is never a sure thing. Artists and celebrities typically stumble into the social media-fueled fervor by accident.
Take Shiggy's #InMyFeelingsChallenge, which immortalized one of the more inane songs on Drake's 25 track Scorpion album. Or that time in 2016 when the #MannequinChallenge sent Rae Sremmurd's tedious "Black Beatles" to No. 1 for three months. Or when the Running Man Challenge resurrected a Ghost Town DJ's song from 1996.
The formula for virality is maddeningly elusive, even—perhaps especially—for superstars whose albums are precipitated by a year-long rollout planned and executed by teams of professionals. Indeed, "Mooo!" has eclipsed Nicki Minaj's "Bed"—the most streamed song off of her new album—in Google searches in the past week.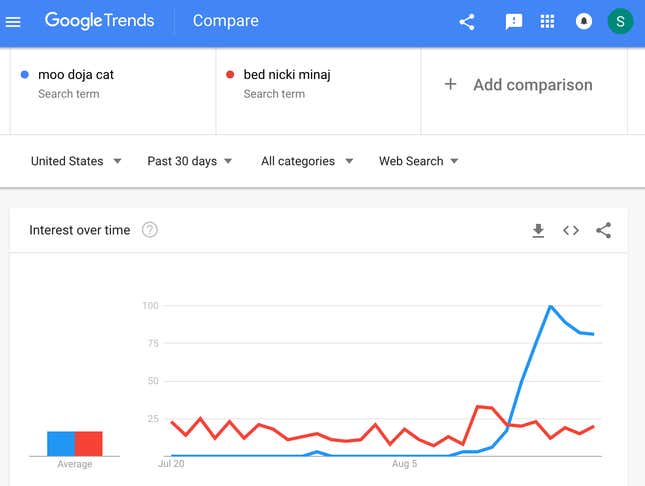 For her part, Minaj has pointed the finger at Spotify and at the rapper in the No. 1 spot, Travis Scott, to explain why her new album, Queen, isn't charting well. But to be honest, Nicki, maybe we're just too distracted by this cow song to care.
This story has been updated to note that Doja Cat is the daughter of South African actor Dumisani Dlamini.