After 116 years, the iconic caged animals on Barnum's Animals Crackers boxes have been set free. The snack's playful mascots were previously confined behind circus-style bars, but new packaging now depicts them roaming freely in their natural habitat.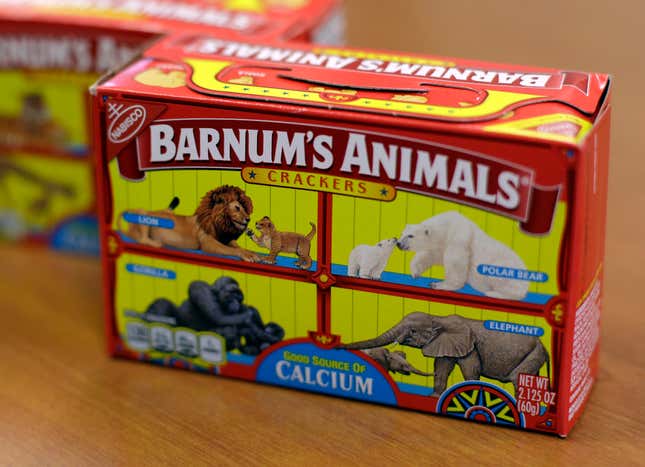 Representatives from Mondelez said the company saw the change as an opportunity to continue to modernize the Barnum's Animals Crackers brand (paywall).
Mondelez's packaging change follows pressure from PETA, which has been urging Nabisco parent company Mondelez to redesign the boxes since 2016.  The animal rights organization has been protesting animal circuses for decades, including Animal Crackers' namesake, the now-shuttered Ringling Brothers and Barnum and Bailey circus. "The new box for Barnum's Animals perfectly reflects that our society no longer tolerates caging and chaining exotic animals for circus shows," the animal rights organization said in a statement.
PETA is right that there has been a substantial decline in the demand for caged animals in entertainment: Ringling folded in 2017 due to poor ticket sales, and attendance plummeted at Seaworld following the release of the bombshell documentary Blackfish. While zoos and aquariums still experience strong attendance, a growing presence of animal-rights activism is casting uncertainty on their futures.
Some corners of the internet have ridiculed PETA for challenging the mistreatment of fake animals, but for the most part people seem satisfied with the new look, and grateful that the crackers have the same great taste.