Soda is out. Flavored seltzer is in. Everyone knows this, but up until now, there's been a single brand that's synonymous with the hipster carbonated revolution: LaCroix.
Now there's a new, social-media savvy kid on the block, straight from the streets of London. It's Ugly Drinks, and it's coming for your refrigerator.
Ugly launched in the UK in August in 2017, and in the US last May. In addition to being stocked in Whole Foods, major UK supermarkets, and corner shops, the brand has an e-commerce subscription service, allowing seltzer addicts on either side of the Atlantic "to never run out of what is becoming a fridge staple," says Ugly's co-founder Hugh Thomas. A 24-can subscription of lemon lime, triple berry, orange, tropical, or a multipack will set you back £19.99 or $23.00, including free shipping.
LaCroix doesn't distribute widely outside the US (the company did not respond for request for comment as to why that is). So until recently, the very concept of seltzer flavored like grapefruit or berries was an untested proposal in the UK. Indeed, anyone familiar with the UK's beverage culture—lots of booze, lots of tea, not a lot of cold beverages other than soda—might find Ugly to be a surprising business venture.
As Quartz has previously reported, when it comes to sparkling water, Americans tend to drink seltzer (carbonated H2O) while the rest of the world, especially Europe, tends to enjoy mineral water (carbonated water that contains minerals). Before Ugly's UK launch, the only seltzer to be found in the UK was the soda water one would add to alcoholic beverages; otherwise, those who enjoyed sparkling water would drink a brand like Perrier. Ugly's sales in the UK have doubled since April, and they already have upwards of 1,000 subscribers in the US four months into their presence there.
But Ugly's ability to resonate with a previously untapped market makes a lot more sense given the people behind it—who know a thing or two about how to make a hitherto-unknown beverage pop in the UK. Thomas and his co-founder Joe Benn both formerly worked as head of marketing and head of sales for Vita Coco, a coconut water brand that went from virtually unknown concept in the UK to bonafide national beverage trend several years ago under their marketing strategy.
Taking what they'd learned at Vita Coco, Thomas said that the product was inspired by the UK's sugar tax and the dearth in the UK market for a beverage that helps consumers kick the soda habit—with an e-commerce enabled upgrade.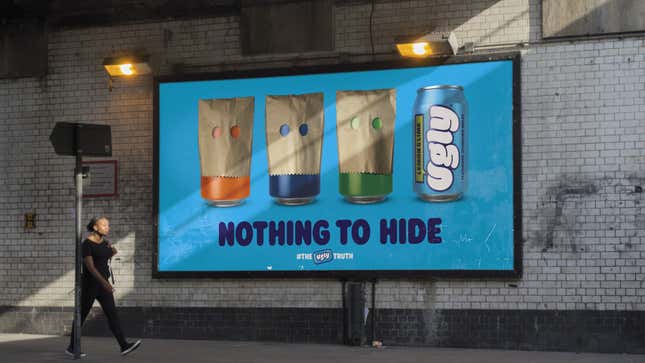 "I think in the UK the sugar tax [has helped make] consumers very aware of what they've been drinking for a long time and I think that's pushed people to consider different options," Thomas told Quartz. "We feel like the big beverage brands have been saying the same things for a 100-years plus, and so it was our turn to tell the ugly truth." That truth is that sugar-filled beverages aren't good for you—even if the can says they are.
When it comes to brand identity, if La Croix's 80s-kitsch, pastel cans "clearly did not anticipate that reining minimalist Instagram aesthetic," Ugly is the polar opposite. Its street art-inspired logo and head-scratching name seem designed to provoke the kind of 'Wait—what is this?' coolness factor that powers brands in the social media era. And even if Thomas can't convince everyone in his digital native demographic to permanently keep a box of flavored seltzer in their fridge, he notes that everyone still enjoys the occasional walk down to the corner store for a cold drink.
"Everyone still loves an ice-cold can," he says, "whether it's the refreshment or the nostalgia behind it."