In some good news for area witches, Sephora will soon emerge as a mainstream purveyor of witchy accouterments. Representatives for the cosmetics giant confirmed a report in the Glossy that the trendy perfume brand Pinrose will launch a "Starter Witch Kit" in stores and online on Oct. 9, in plenty of time for Halloween.
The nine-piece set, which will retail for $42 plus tax, includes fragrances, as well as standard witch paraphernalia—"tarot cards, sage, and a rose quartz crystal"(paywall).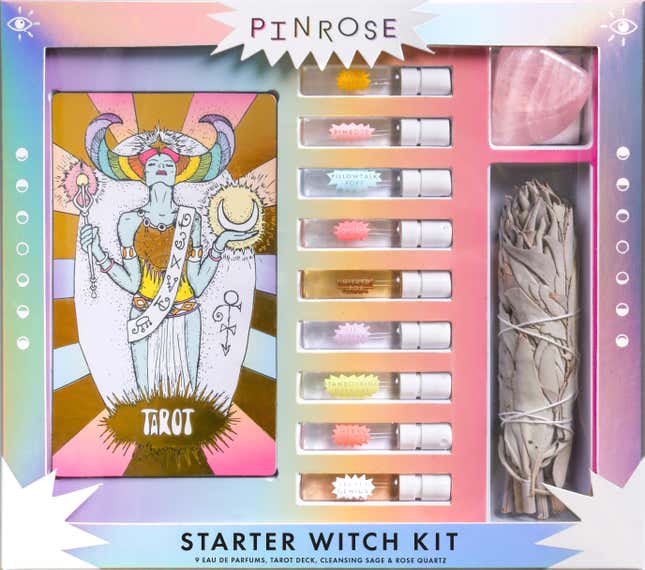 Pinrose isn't the first beauty brand to peddle mysticism alongside its core offerings. Fourth Ray Beauty, Seed Beauty's latest fast-beauty project, just released a $150 Ritual Box that offers sage and crystals alongside its skincare products. (Seed is the private label behind KKW, Kylie Cosmetics, and ColourPop.)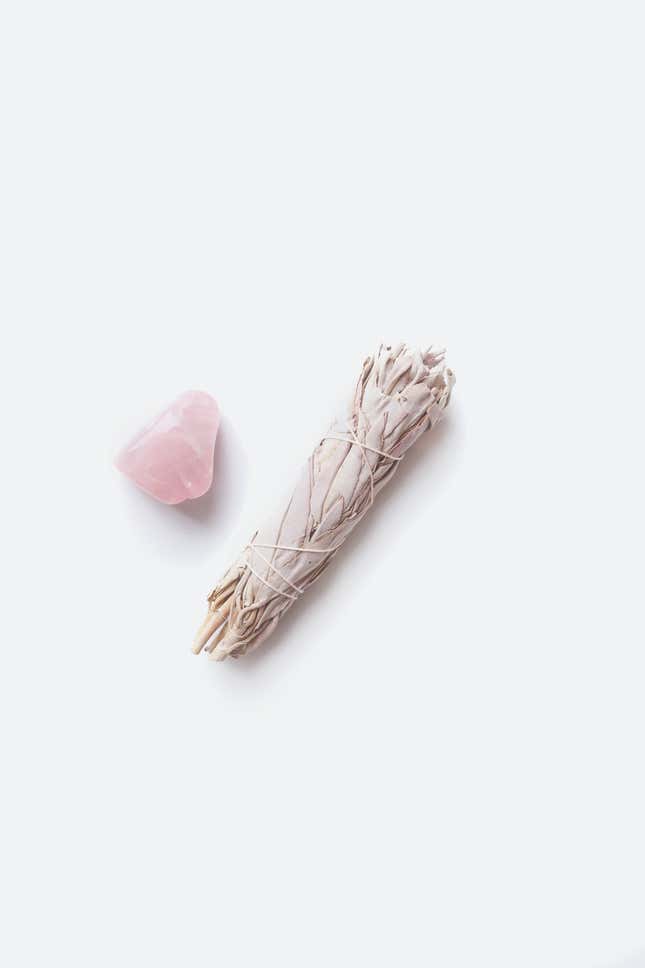 Even legacy brands have embraced the trend: In the fashion world, for instance, Dior's summer 2017 line—the "Tarot Collection"—was inspired by Motherpeace tarot cards. And Nordstrom recently collaborated with the wellness crystal company Goldirocks to release a limited edition crystal set.
And of course, there's Goop, of yoni egg fame. The lifestyle company has long been derided for touting crystal healing—it sells a set of mantra-activated rocks for $85 plus tax—alongside its other pseudoscientific treatments, which it groups under a vague "ancient modality" umbrella. But its witchier offerings are finding plenty of customers: At the Goop summit in January, the line for a tarot card reading remained the longest throughout the day, surpassing free manicures and B-12 injections by a long shot.
Thanks in part to the rise of Goop and its ilk, the beauty industry is no stranger to this mystical side of wellness, which is becoming increasingly inextricable from New Age mysticism—a trend in spirituality marked by a renewed interest in crystal grids, tarot cards, and astrology.
Goop can certainly take credit for turning its embrace of crystal healing and psychic mediums into a $250 million company, but it wasn't Gwyneth Paltrow who brought the idea of sorcery into the wellness and beauty worlds. From Snow White's magic mirror to the myth of the succubus—and more recently from Shrek's Princess Fiona to Melisandre in Game of Thrones—beauty and the quest for eternal youth have been inextricably intertwined with magic and sorcery in the popular imagination. Historically, practitioners of witchcraft have been persecuted and the term "witch" has been used as a multipurpose misogynist slur, but lately witches have been having a moment. They're coalescing as feminist political movement, and a certain kind of Instagrammable witchiness has been identified by market trend-spotters as "mysticore."
Sephora's "Starter Witch Kit" just magics that subculture into a mass-produced product—and come holiday season, it'll be a perfect stocking-stuffer for the aspiring witch in your life.