More than a decade before J.R.R. Tolkien started The Hobbit or The Lord of the Rings, he wrote another story about a man chosen to take on pure, epic evil. "The Fall of Gondolin" is considered by some fans to be "the Holy Grail of Tolkien texts."
A compendium of the story in all its forms comes out today (Aug. 30) in the US from Houghton Mifflin Harcourt. It's edited by Tolkien's son, Christopher Tolkien, and illustrated by Alan Lee.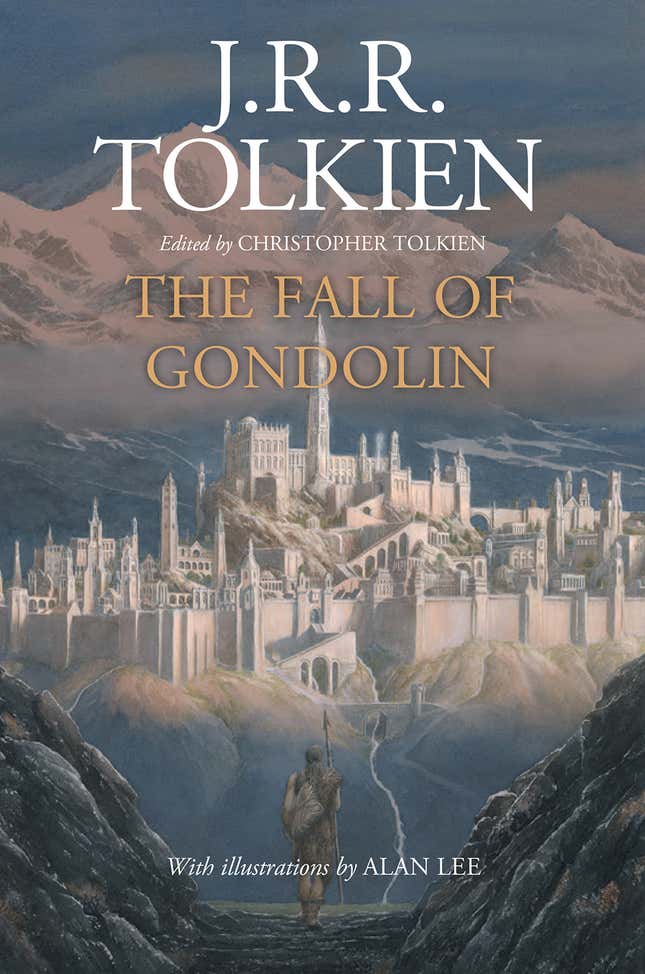 This is the first time The Fall of Gondolin exists as its own stand-alone book, though the materials have mostly appeared elsewhere. A version appears in Tolkien's posthumous 1977 elven history, The Silmarillion, and in 1980's Unfinished Tales of Númenor and Middle-earth. Tolkien reportedly wrote the original version of the story in 1917 while recuperating in a hospital from trench fever after the Battle of the Somme.
The Fall of Gondolin is one of the three major tales of the "Elder Days," the earliest years in Tolkien's Middle Earth. In it a man named Tuor is guided to Gondolin, a secret city holding out against evil, by a powerful benevolent spirit named Ulmo. The "fall" refers to the battle at the end of the story, in which the city is destroyed.
The new book is structured similarly to Beren and Lúthien, a stand-alone book published in 2017 of another of the three great tales. Christopher Tolkien has stitched together different versions of the story written by his father, and presents them as one continuous narrative, roughly in the order they were written.
In his introduction to that book, Tolkien describes his ongoing efforts to present his father's works to today's readers: "It is an attempt to extract one narrative element from a vast work of extraordinary richness and complexity."