Tennis dress seems an unlikely battleground for feminism. Yet the seemingly demure sport of pleated white skirts is getting decidedly punk rock.
On Aug. 28 at the US Open, French player Alizé Cornet took off her shirt after coming back from a break and discovering it was on inside-out. She briefly revealed herself in a sports bra, shocking the umpire and incurring a code violation for "unsportsmanlike conduct."
Quickly, Cornet's peers sprang to her defense. Tracy Austin, formerly the number-one-ranked female tennis player in the world and a two-time US Open winner, criticized the umpire's call on Twitter, saying it was "ridiculous." She pointed out the double standard—men change their shirts frequently during a match.
Former number-one-ranked player Martina Navratilova also disapproved of the violation, telling The Daily Beast, "If one is wearing a sports bra then of course it should be allowed. And if one isn't wearing a sports bra, then it still should be allowed—although I for one wouldn't do it."
Cornet herself expressed surprise over the uproar. She told Tennis magazine on Aug. 29, "When I came in this morning in the locker room, like, many players came to me. Even former players…So all the players were supporting me for that, and were telling me that if I get fined, we would all be together and see the WTA [World Tennis Association], you know, and make a revolution and stuff." She says she told them to "calm down" until she found out how the US Tennis Association would respond.
It turned out the revolution would not be necessary. The USTA issued a statement retracting the violation and expressing regret for the error. They clarified that Grand Slam rules do permit female players, like men, to change their shirts in public as long as they are seated in their chairs.
Although she kept cool, Cornet conceded to Tennis that there's a double standard for women in the sport. "[Y]es, for sure the women are treated a little bit differently," she admitted.
Perhaps the French player in the US was channeling Serena Williams, who also shrugged off a wardrobe kerfuffle brewing in France last week. France Tennis Federation president Bernard Giudicelli said that the tournament was instating a dress code, noting that Williams' black catsuit—which made her feel like a superhero, she said, and was designed for compression which helps with her blood clots—would no longer be accepted.  "One must respect the game and the place," he said.
Williams barely batted an eyelash as fans and feminists fumed in defense of her catsuit. At a press conference on Aug. 25, the athlete reassured her supporters, saying, "Everything's fine, guys." She joked, "When it comes to fashion, you don't want to be a repeat offender."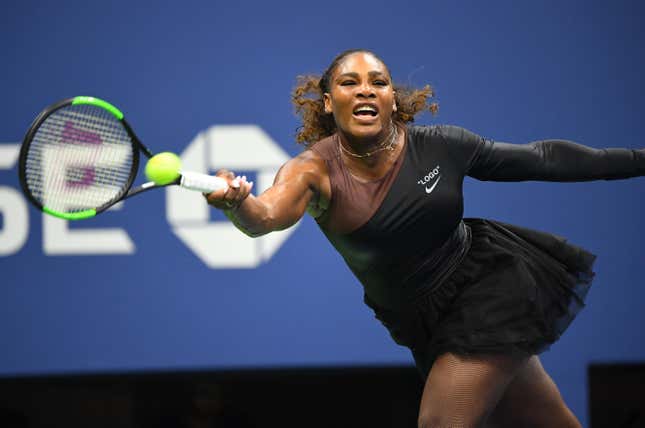 Williams isn't backing down from daring tennis gear, however. This week at the US Open, she wore a unique black tutu with a single sleeve, designed by Virgil Abloh. It wasn't a catsuit, but it wan't traditional.
When asked about the unusual outfit in light of Cornet's code violation scandal, USTA spokesperson Chris Widmaier reminded The Daily Beast that the US Open was the first tournament to provide equal prize money for men and women in 1973, adding, "I celebrate any type of creativity and individual flair."