Red suede veldskoene go with everything, rather surprisingly. They can be worn with flowing floral dresses, purple winter stockings, and tailored trousers and jeans—the skinnier the better. Originally designed for farmers and settlers who had to trudge for hours over harsh, dry scrubland of southern Africa, veldskoene (Afrikaans for "bush shoes"), are finding a new home in the cupboards of young urbanites in Africa and around the world.
While the original tan leather design of these farming shoes remains popular, companies are increasingly experimenting with new colors, designs, and materials, in order to reinvent the humble lace-ups for a new generation of customers.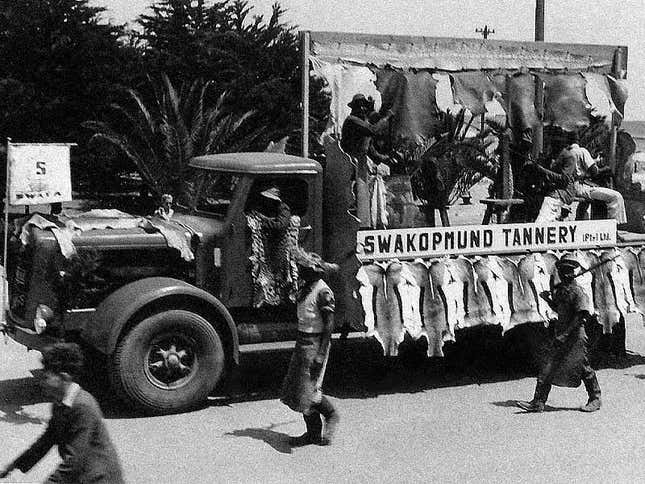 One of the most iconic producers of veldskoene (pronounced "felt-skooneh"), African Leather Creations, has been making the shoes from a small town on Namibia's coast for more than fifty years. The company got its start when Ewald Schier moved to Namibia from Germany and opened a tannery in 1938. Surrounded by farms, open veld, and endless desert, Schier knew his customers needed a durable, comfortable shoe. While a type of veldskoen was already worn in the region, Schier was one of the first commercial producers to choose the shoe's now iconic soft kudu hide as the most flexible and durable material.
Schier sold his first pair of "vellies" in 1960. While African Leather Creations is still a family business sixty years later, its shoes aren't just worn by Namibian farmers anymore, but by German tourists, South African students, and New York City fashionistas.
Ewald's grandson Phillip Schier says the family is embracing the sudden popularity of the shoes, but is resisting expanding the business. They refuse to change the shoe's basic design, although they're not opposed to listening to some customer demands, by using different dyes and experimenting with new materials, such as zebra hide. They're also advertising to their new customer base with professional photo-shoots, albeit ones firmly rooted on the Namibian plains.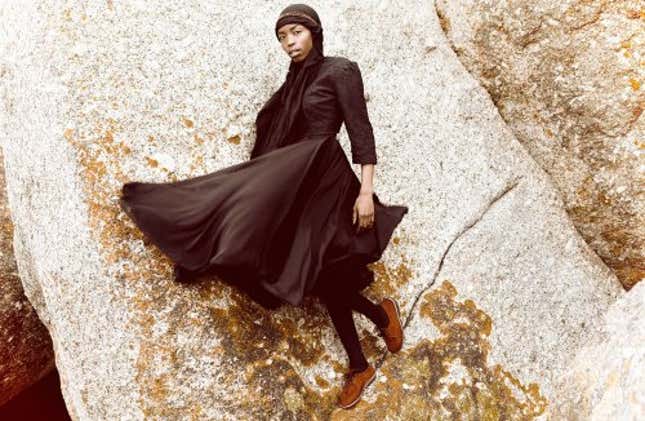 Schier thinks the popularity of this Namibian staple is linked to the fact that they're made by a small family business with simple business practices, something millennial consumers might find appealing.
It helps that the shoes feature a more sustainable hide than leather. Kudus are part of Namibia's game industry, so aren't subject to some of the contemporary farming practices many millennials find objectionable. The animals are raised on wide-open game farms and killed for venison products. Herds are also often culled due to overpopulation.
Today, the African Leather Creations factory employs a dozen people and makes 1,500 to 2,000 pairs of shoes a month. Its Swakop Vellies are stocked in stores aimed at farmers and some small boutiques. The factory also fields direct orders at 550 to 600 rand a pair (between $38 and $42), and has found a small customer base in Europe. Phillip Schier lives in Munich, and sells limited stock from his basement, a testament to the family's refusal to mass-produce their product.
Veldskoene have long been a feature of the African landscape. In the 17th century, European settlers at the Cape of Good Hope (modern-day Cape Town) began producing the shoes after they saw this style of leather lace-up worn by South Africa's indigenous Khoi and San people. Over time, Dutch, French, and German settlers formed the Afrikaner nation, which moved into South Africa's interior and northwest toward present day Namibia. The shoes became a part of Afrikaner cultural identity, and were closely associated with life on the land.
During the Zimbabwean liberation war of the 1970s, much of the fighting took place in the Zimbabwean bush, and veldskoene became the preferred footwear of many in the settler Rhodesian army. Today, the veldskoen is still appreciated for its comfort and durability, but by a much wider audience.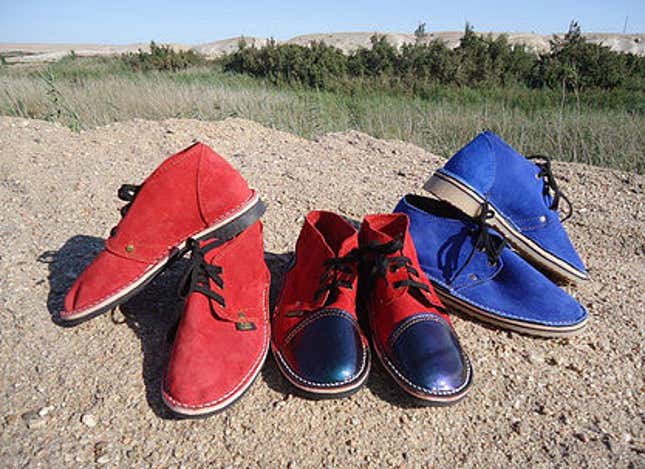 Some ambitious competitors to African Leather Creations want to take the shoes further, capitalizing on their newfound trendiness. Brother Vellies stocks its South African-made veldskoen at a store in Brooklyn. Their Erongo veldskoen—named for the region around Swakopmund in Namibia—can be purchased in checkered leather, springbok, and hornback crocodile, with prices ranging from $195 to $1,450. Brother Vellies shoes have even walked New York Fashion Week, a long way from the dunes of Namibia.
Some manufacturers are adding colorful soles and laces to the shoe's traditional tan design. Others are blatantly advertising them as the new hipster must-have, depicting veldskoen-clad young models on the streets of Cape Town or traveling the world. The lace-ups are well-suited to casual, worldly look championed by hipsters.
Schier isn't bothered by this competition, saying that the Swakop Vellie's history and craftmanship will remain consistent even as the customer changes.
"We're not reinventing the shoe, we make a simple, basic affordable shoe for every man and woman," Schier says. "If people want to buy the shoes somewhere else, they can, but with us, they're buying a story."