When Dr. Bronner's soap launched in Trader Joe's supermarket in the year 2000, customer after customer would approach Michael Bronner, the grandson of the company's eponymous founder, to ask the same question: Where had Dr. Bronner's gone?
Michael, who would go on to lead the family business, alongside his brother David, from $4 million in revenue in 1997 to over $100 million two decades later, always responded the same way: "Well, we didn't go anywhere. You were a hippie, then became a yuppie, a soccer mom, an empty nester, and now you're in Trader Joe's finding our soap again."
Though his characterization is an obvious oversimplification of the lifecycle of the American consumer, it wasn't far off. From its products to its packaging, Dr. Bronner's has remained essentially the same since it launched in 1948. What's changed is us.
Global consumers have coalesced around two trends—conscious consumerism and personal wellness—and Dr. Bronner's sits right at the intersection of the two.
Nielsen estimates that nearly half of all global consumers would be willing to pay extra for a brand that has implemented programs to give back to society. Since the company's inception, it has consistently given 10% of its revenue back to charitable causes. The Global Wellness Institute, meanwhile, estimates that the wellness industry—from health products to spa treatments—is worth $3.7 trillion and growing by 10% every two years. Dr. Bronner's "magic" soap has always marketed itself as a wellness product—with 18 proposed uses inside each bottle.
But for the Bronners, the company has always been about more than soap. If anything, its products and their iconic 3,000-word labels have been a vehicle to deliver a message. Building a $100 million company just happens to be a nice side effect.
Turning soap into a soapbox
Dr. Emanuel H. Bronner did not hold a doctorate. He was a third-generation soap-maker who emigrated to the US from his hometown of Heilbronn, Germany in 1929 to consult for various American soap companies. For years, he pleaded with his Jewish parents to join him in the US for fear of the then-ascendant Nazi Party, but they refused. And after they died in the Holocaust, Emanuel's life took a sharp turn.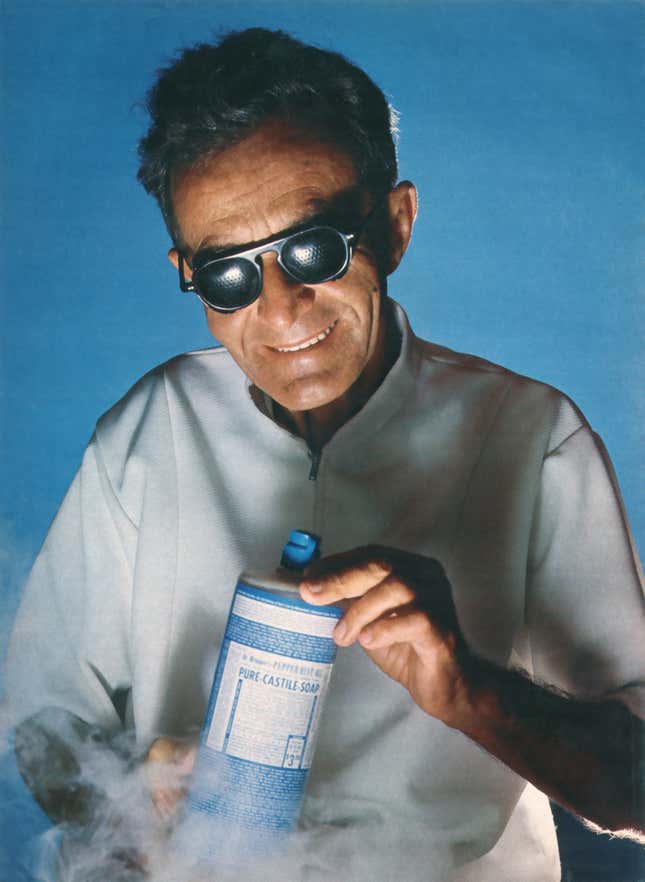 Rather than continue just to make soap, Emanuel began traveling around the country, preaching his brand of philosophy, which he dubbed the "Moral ABCs." The teachings were not rooted in any particular religion—he quoted Jesus and Buddha, Rabbi Hillel and Muhammad—but rather in the central idea that the world should unite under one god to achieve world peace.
At the end of his lectures, he would give out small bottles of his family's soap as parting gifts to the attendees. But over time, the soap started selling better than the sermon. People would show up at his lectures, grab a few bottles of soap, and leave. So, he decided to slap his philosophy right on the bottles, where it remains to this day.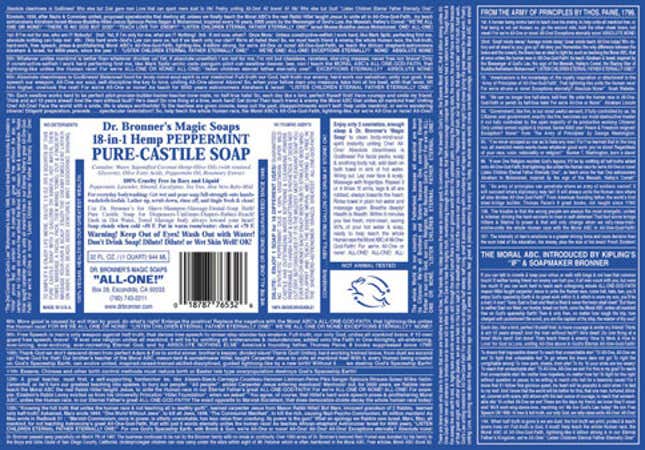 The mission is the product
In the 1960s and 1970s, Dr. Bronner's became a lifestyle brand—the company's call for peace and love resonated with young people. But Emanuel's commitment to preaching the "Moral ABCs" to anyone who would listen came at the expense of his family life. His kids grew up in and out of foster care, despite their father's commitment to righteousness. In the 1980s, the company almost went bankrupt after the IRS disagreed with Bronner's claims that his company was a nonprofit religious organization and issued him a massive fine.
There were, however, elements of the business where Dr. Bronner practiced what he preached. From its inception, the company has been committed to sharing profits with the workers and the earth from which they were made. In 2003, for example, Dr. Bronner's became the largest personal care company certified under USDA's National Organic Program. In 2017, Dr. Bronner's gave over $8 million to various charitable causes—from animal rights organizations to criminal-justice reform advocates.
Emanuel's grandsons David and Michael, who now run the company—David was unable to speak with Quartz for the piece because he was at Burning Man—have voluntarily chosen to cap their salaries at $200,000 a year, so as not to make more than five times the company's lowest-paid employees (all employees also typically get 25% annual bonuses). Though "advocacy marketing" has become a global trend, and Dr. Bronner's has become a retro-chic brand found in Whole Foods and health food stores around the globe, its values have never been a method to push soaps. If anything, it's the other way around.
Beyond a bottom line
"If you ask the branding agencies, they're telling companies to do what we've been doing all along, which is to stand for something beyond your bottom line," Michael Bronner told Quartz. Just like his grandfather's lectures in the 1940s, the soap is still very much a vehicle to deliver a message. But as more consumers concern themselves with the dimensions of a company beyond the products they sell, Dr. Bronner's has been able to capitalize on this newfound interest in its unchanged philosophy.
Though the company has made some shrewd business decisions, like launching a coconut oil brand in 2007 right before it became American's favorite superfood, most of the company's success has come from a recommitment to its original values rather than an exploitation of passing fads.
"The label still is, and always will be, God, Jesus, Buddha, Muhammad, and Abraham, with all its idiosyncrasies," Michael said. "That's what's gotten us here, and what will sustain us into the future."