The name "squash" comes from a native American Narragansett word, askutasquash, that roughly translates to "green thing eaten raw." But it's something of a misnomer, as the vegetable lends itself easily to so many methods of cooking (and it's not always green).
Here, three recipes for making the most of a bumper crop of summer squash (also known as zucchini or courgette), while it's cheap, delicious, and abundant.
Zucchini fritters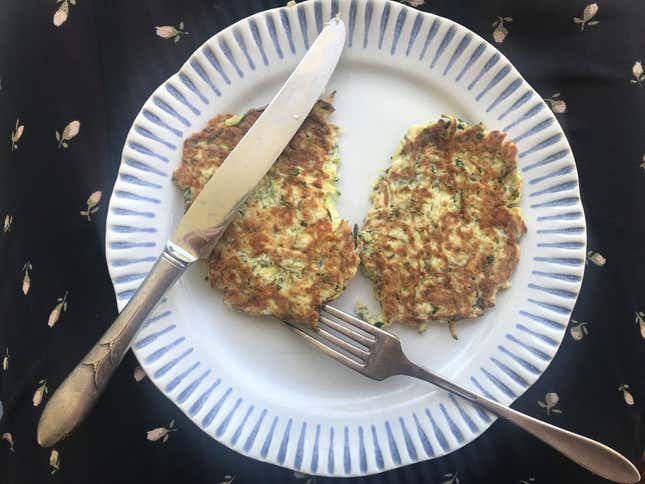 Jenni adapted this recipe from the Kiwi chef Annabel Langbein.
Coarsely grate one medium zucchini and wring out all the moisture in a dish towel. (So satisfying.) In a small bowl, mix one egg, 1/4 cup flour, and 1/2 tsp baking powder to make a smooth batter. Then stir in your grated zucchini, 1 tbsp chopped chives, 1 tbsp chopped mint, a 60-gram hunk of good feta, crumbled, 1 tbsp lemon juice, and a couple twists from the pepper grinder. Melt 1/2 tbsp butter in a frying pan, swirl it around to cover the bottom of the pan, then tip it into the batter and stir it through. Return the pan to medium heat, and scoop large spoonfuls of batter onto it, flattening them like pancakes. Cook the fritters until they're golden on each side, about two minutes.
These fritters make for a hearty side dish, or serve them as a main dish with Greek yogurt and dukkah for dipping and a salad. Or do as Jenni does: Just eat them with your hands, standing up in the kitchen.
Warm zucchini and basil salad, or bruschetta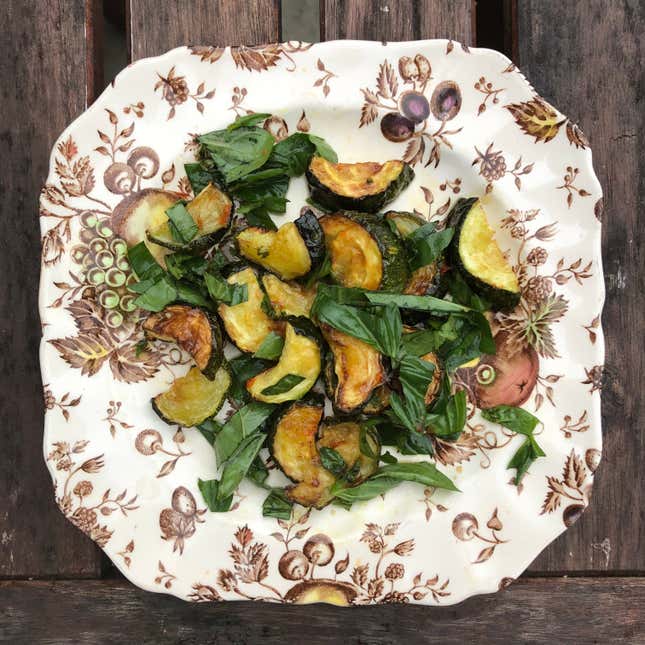 Indrani credits this to a recipe she lost long ago (that's strangely absent from the internet) from the British food writer Elizabeth David: a brilliantly simple salad of creamy roasted zucchini, with basil and a tangy, chili-spiked lemony dressing. It's delicious warm or at room temperature.
Preheat the oven to 400°F (200°C). Slice a pound or two of zucchini into half-inch thick rounds (or for larger zucchini into half-moons). On a metal sheet pan, toss the pieces with a generous few glugs of olive oil and sprinkle them with salt to your taste. Roast until slightly browned on the bottom, and then flip to brown the other side (about 10 minutes on each side, but keep a close eye for signs of burning). Use a metal spatula to lift the pieces of zucchini carefully onto a platter. Scatter with a handful of basil leaves, torn or cut into small pieces; drizzle with the juice of a lemon; and sprinkle over a few pinches of red pepper flakes (or don't, if that's not to your taste).
It's a wonderful side dish for roast chicken or fish, and also is tasty enough to serve alone as a salad appetizer. Piled on crusty bread—toasted or grilled, rubbed with a raw garlic clove, brushed with olive oil, and smeared with a dollop of ricotta—it's a perfect late-summer meal in itself.
Zucchini bread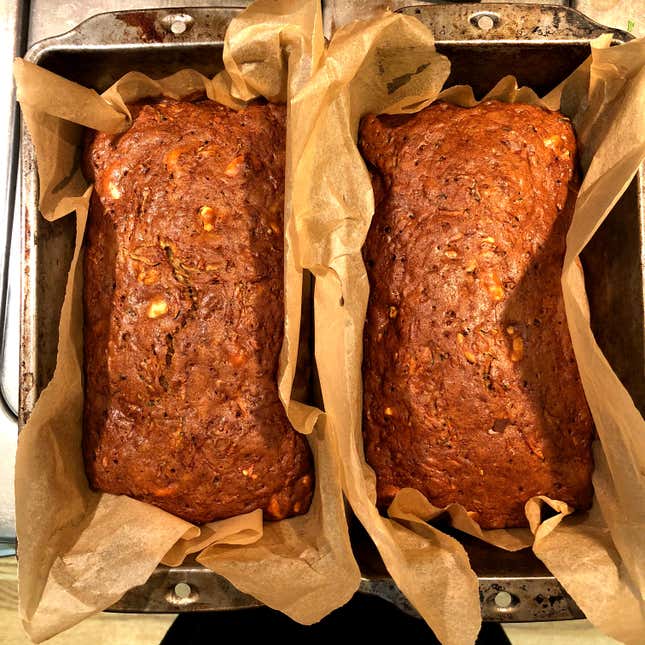 This is based on a recipe from Indrani's grandmother-in-law, Suze Henshaw, of Richmond, Virginia. It's a great way to use up zucchini that grew to big and tough for other uses.
Preheat the oven to 350°F (175°C). Butter and line with parchment two loaf pans. Beat three eggs in a large mixing bowl until light in color and fluffy-looking. Beat in 1 1/2 cups brown sugar, 4 oz (115g) of melted butter, 1 teaspoon vanilla extract, 1 teaspoon ground cinnamon, 2 teaspoons baking soda, ¼ teaspoon baking powder, 1 teaspoon salt. With a wooden spoon or spatula, stir in 2 cups of all purpose flour, just until no dry flower is visible. Then stir in 2 cups grated zucchini and 1 cup crushed pecans, just until distributed through the batter. (Try not to over-mix.) Pour the batter into the prepared loaf pans, and sprinkle two tablespoons of brown sugar over the top of them. Bake for an hour, or until a toothpick comes out clean.
Now's the perfect time to make a few loafs to slice and freeze, then toast and slather with butter for breakfasts throughout autumn.