In the 13 years since David Fischer started Highsnobiety, the sneaker, fashion, and music site has grown from a personal blog into a multi-faceted publisher and creative agency with more than 9 million monthly visitors to its site and 2.4 million Instagram followers. In that time, the fashion world has changed too, with the staggering growth of streetwear, the globalization of sneaker culture, and the rise of Instagram. Fischer, who is based in Berlin, has found a reach among young men that few in the fashion media have been able to achieve.
This piece, in Fischer's words as told to Marc Bain, has been edited and condensed.
At Highsnobiety, we've always seen ourselves as a publisher sitting at intersections—the intersection of music and fashion, the intersection of luxury and street. We love being in that sweet spot, bridging these different worlds. Music and fashion, and music and sneakers, are huge because suddenly you have popular personalities speaking about our world. It gave our world so much more attention from the outside when the Kanye Wests and Drakes started moving into fashion. The effect is huge on fashion, on streetwear, on sneakers, and I think the effect is also big on music.
The people who are arriving into and running these luxury houses—Virgil Abloh, Kim Jones, Riccardo Tisci—they understand streetwear. They've grown up with Supreme and skateboarding, and with Stüssy and A Bathing Ape.
For them, limited-edition, premium quality t-shirts—that are not cheap—are the norm, and to a certain degree they're also bringing that to the luxury world. Luxury embraces it because it works. Ultimately, those are just businesses. They're realizing, "Ok, if Off-White can sell $700 hoodies, then we can sell $700 hoodies—and $500 t-shirts, $500 shoes." It offered a completely new consumer to those luxury houses.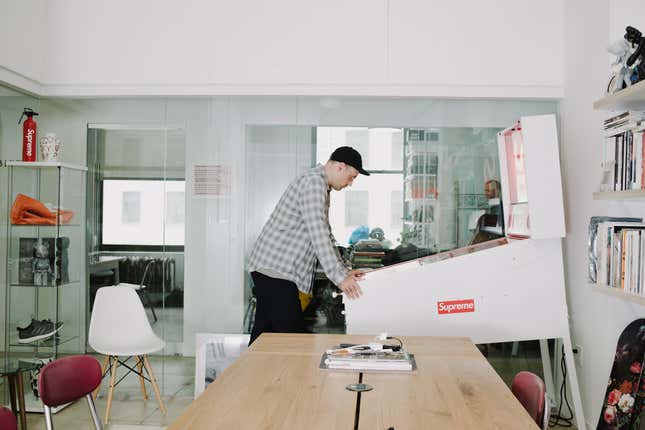 I'll never forget, we hosted events for Gucci around the fall 2016 GucciGhost collection. These were in-store events, so Gucci stores needed to invite their top clients. You had skateboarders and streetwear kids and young fashion enthusiasts coming from our invite guest list, and you had women in their sixties standing at that same event, because those are the top clients of the brand. Suddenly, these brands now managed to open up a completely new consumer base.
Luxury sneakers and accessories were always part of Highsnobiety. I truly believe we were among the very first to break that barrier. Luxury fashion took a little bit longer—I just didn't feel like the streetwear market was ready for it—that really came more toward 2009, 2010, 2011. To us, the barriers completely broke down, and then we could really just go all in.
Now, I think those barriers are completely gone. A Supreme t-shirt is worth as much as a Givenchy t-shirt, and a Balenciaga sneaker is worth as much as a crazy limited Nike shoe. I feel like there's complete freedom now in that sense.
Everything is now a community. I think that's the biggest thing that changed. It's not a brand dictating to the community what's cool anymore. Nowadays it's much more about being able to understand what bubbles up from the community and being able to take that and turn it into something you can stand behind and own. That's why somebody like Virgil Abloh is so successful, because he's so entrenched in his community. That's why he DJs four times a week, not because he needs the money, but because he understands that more than anything, he is interacting with this community. We see our audience as a community, and ourselves as an interactive part of that community.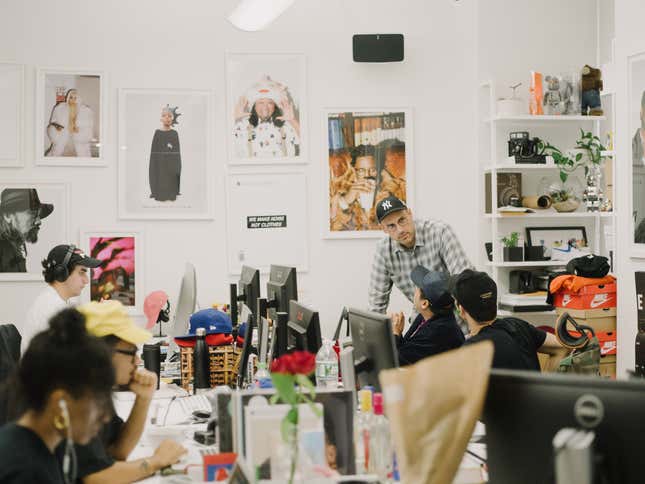 It's actually quite shocking how fast the site got traffic. It was early 2005, and I was studying business at the time. It was my last semester so I didn't have a lot of courses left. I started reading US blogs, just the few known blogs that were kind of out there at the time: Engadget and Gizmodo and a few other of the bigger ones. It was really much more an interest in how blogging works: "Oh, here's Blogspot.com which allows anybody to sign up to have a blog. What am I going to do a blog on?" I did it on a topic that I cared deeply about, which was streetwear and sneakers.
It started really with my personal taste. I was a young guy interested in fashion, sitting in Europe. Fashion in Europe means high fashion, or luxury fashion. But then at the same time Highsnobiety was so much about Japanese and American streetwear and sneakers. It really was just a fusion of those two passion points of mine. Fusing what the US did that Europe didn't understand—sneakers, graphic t-shirts, baseball caps, hoodies—but then matching that with a beautiful Louis Vuitton bag, or a pair of Dior denim.
There was no Facebook, no Instagram. Myspace wasn't a traffic driver, and it was weird anyway. There was no Twitter. There was no YouTube. There was really no way of getting people onto a website outside of Google search and a couple of lifestyle fashion forums—and there you could drop it occasionally, but I wasn't going around like, 'Hey, read Highsnobiety.' After a few months, I had like 500 people a day, then 1,000 people a day. In late 2005, I remember I met my wife, and I kind of impressed her when I said I had 3,000 people a day coming to this website.
Our business consisted entirely of banner advertising sales. Brands started coming to us and they said, "We'd love to be part of your content," giving us assets to publish around certain products that they were releasing. The next step was, "Ok look, your assets don't really look native to our environment. Why don't you have us shoot some of the pictures, because we're convinced that then the articles will perform even better?" So we started shooting the product, or we started shooting lookbooks and certain things for brands. Suddenly, we were doing all these different services for brands which we had never done before, and it allowed us to work in a much more integrated manner.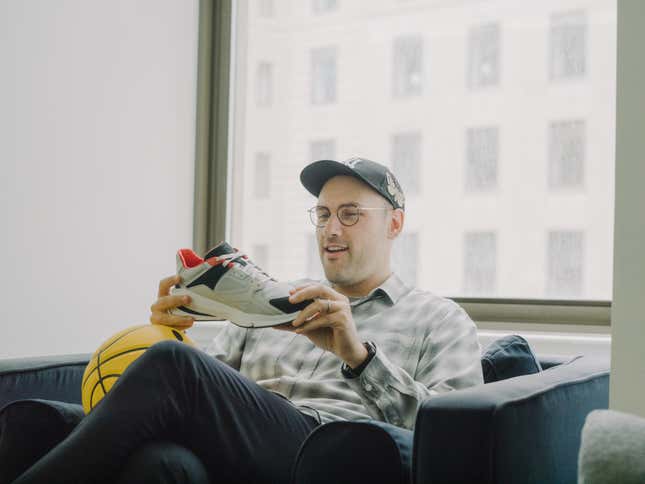 Now, it's gotten to the point where they come to us, "Ok we want to be relevant for your user. Who do we need to collaborate with? What artist, designer, or brand should we team up with to make sure that our product is seen by this type of tastemaker audience that you guys are reaching?"
The next step that you'll see a whole lot more of is commerce, from April next year. We really wanted to take what we're good at from the publishing side, which is curation and being very specific as to what we like, and build a commerce model around that. You'll see us retailing and producing product.