Here are some things you might not know about Hello Kitty: She is "as tall as five apples, and as heavy as three." She is permanently in the third grade. And, oh, she's not actually a cat.
And here are some things that you might not know about her fans: They like bow-themed negronis and cute-sophisticated speakeasies. And they no longer think of Hello Kitty as a plush toy, but rather, a global lifestyle brand.
When Hello Kitty was first released in the US in the 1970s, she was many people's first exposure to kawaii, or the culture of cuteness endemic to Japan, and exported heavily by brands like Sanrio, the company behind Hello Kitty. While this cuteness infiltrates all facets of daily adult life in Japan—from high speed trains and traffic cones to food packaging—in the US, Hello Kitty and her ilk have generally been thought of as the domain of little girls.
And yet, as Hello Kitty's fans age, her cuteness seems to have enduring worldwide appeal. This appeal has spawned a wine label and now a new cocktail concept, opening in Irvine, California on Sept. 14.
While Sanrio has other character-themed cafes around the world, and has previously licensed pop-ups in the US, the Hello Kitty Grand Cafe is Sanrio's first permanent restaurant and bar in the US. It's also the first Sanrio location in the world to feature a cocktail service and afternoon tea.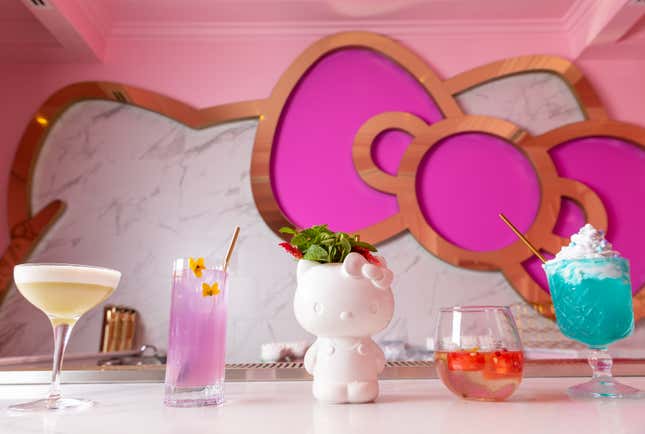 Proving just how grown up Hello Kitty can be, the "Bow Room" is a 21-and-over space featuring a curated Hello Kitty wine list, as well as other "adult libations with a Hello Kitty twist." Cocktails include You Had Me at Hello (Cachaca, Aperol, lemon, sherry and pineapple, for $21); Matcha Matcha (Japanese whiskey, yogurt, matcha, yuzu, for $15); and of course a classic Negroni served with Hello Kitty-shaped ice cubes ($14). In addition to the reservations-only afternoon tea and cocktails space, the location also features a fast casual cafe.
If this sounds a bit over the top for adults, a rep from the brand said that Sanrio has been actively courting adult fans since 2009, from food trucks and pop-ups to the release of a new character in 2013, Gudetama, a lazy egg with a millennial disposition (among his favorite catchphrases is "meh"). David Marchi, vice president of  brand management and marketing for Sanrio, says that lots of grownups still pack Hello Kitty fan events, and it's an audience the brand is happy to cater to.
"As we approach Hello Kitty's 45th Anniversary next year, the brand continues to evolve and become even more of an inter-generational experience for fans around the world," Marchi told Quartz. "Fans that have grown up with Hello Kitty are now passing their love for her to their children, while still enjoying her on their own."