The art world has a rather well-deserved reputation for being stuffy, boring, and inaccessible: Auction houses are places for the rich and famous to rub shoulders, while the wealthy dilettante's useless art history degree is a well-worn punchline in academia. Meanwhile, deep-seated structural sexism, Western-centricism, and racism in the art market prevail.
But recently, art has been undergoing something of a contemporary makeover. From music videos to Hollywood, the fashion runway to Silicon Valley, art is actually starting to look pretty cool. Meanwhile, contemporary art world superstars such as Kehinde Wiley and Amy Sherald—the painters of Barack and Michelle Obama's official portraits—are known for referencing pop culture in their works, and for building their following by leveraging its power.
The Carter family's art project
To start, Beyoncé and Jay Z—the pop stars who are well-known art collectors—took their hobby to a different level after filming their most recent music video for Apes**t the Paris Louvre:
Art plays a principal role throughout the video, and clearly resonated with viewers: A thorough breakdown from Twitter user @itsmeheidi_h went viral after she delved into the background of the works featured in Apes**t and how Beyoncé uses them:
Hannah Gadsby's art history lesson
Meanwhile, in her acclaimed Netflix special, Nanette, comedian Hannah Gadsby draws on her degree in art history to deconstruct the 'tortured genius' narrative around prolific artists like Picasso and Van Gogh. The set is both hilarious and poignant, but it's especially relevant in the #MeToo era, as people grapple with their feelings about icons who have done terrible things.
The art heist in "Oceans 8"
On the big screen, art took a central role in Oceans 8, which was filmed in New York's Metropolitan Museum of Art and spotlights works from Modigliani, Van Gogh, Cézanne, and more. The film's heist plot revolves around the theft of another historic artwork: A necklace modeled on a real Cartier piece crafted in 1931 by Jacques Cartier in Paris, for India's Maharaja of Nawanagar.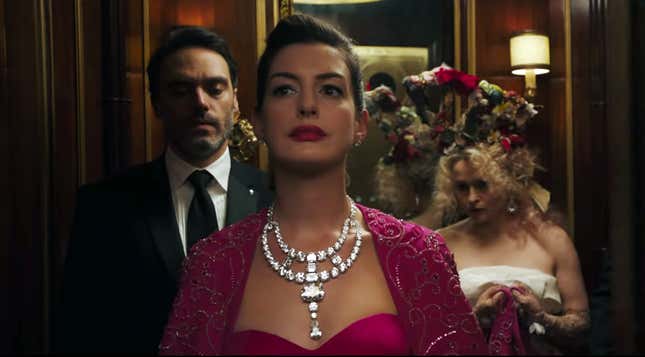 Art on the runway
Fashion is very into art right now too. At London fashion week, designer Roksanda Ilinčić debuted a collection inspired by Rothko paintings from the Royal Academy's exhibition on abstract expressionism. And Gucci—a fashion house that has drawn on art history for campaigns in the past—just launched a new Instagram that looks more like a museum-grade art page than a beauty account. With images going back centuries from around the world, sourced from museums and private collections, the feed becomes a compelling exploration of the global history of beauty.
Art in space
And last but not least, in a quick getaway for a group of artists but a giant leap for their industry, art is going to space. SpaceX CEO Elon Musk announced this week that the Japanese billionaire Yusaku Maezawa would be heading to the moon on a SpaceX rocket for a week-long trip, and he plans to invite eight artists to join him in a project he has dubbed "Dear Moon."
"What if Basquiat had gone to space?" Maezawa muses on the project's website, "What wonderful masterpiece would he have created?"
Of course, art doesn't really need Beyoncé's blessing or a trip to space to be cool. Artists have always been seen as cool, from Jean-Michel Basquiat to Frida Kahlo to (probably) Leonardo da Vinci. Still, a shoutout from pop culture comes at a fortuitous time for the art market, which only this year fully recovered from the plunge it took following the 2008 financial crisis. And hey, maybe that art history degree will come in handy, after all.