There are many types of lifestyle gurus. Some sell vitamins. Others sling colorful cookware. But to properly inspire others to lead their best lives, three elements are non-negotiable: Lifestyle leaders must have a well-defined personal mythology. They need a distinct but replicable personal aesthetic. And they must have a cookbook.
When Crook to Cook: Platinum Recipes from tha Dogg's Kitchen comes out on Oct. 23, Snoop Dogg will officially join the pantheon of experts who are here to tell us all how to live well. He's more relatable than Gwyneth Paltrow, more laid back than his pal Martha Stewart, and less intimidating than Oprah Winfrey—but no less canny an executive than any of them. (He's also, like all three, often referred to by just his first name.)
In Snoop's midlife—he'll turn 47 on Oct. 20—the man who once taught us to sip on gin and juice has shifted his focus to keeping himself healthy through exercise, diet, and high-quality weed. That's essential for the rapper, entrepreneur, and TV star, who is this week taking his semi-autobiographical musical, Redemption of a Dogg in the road. He is now making his lifestyle into a business.
"I've always proclaimed myself to be a student of the game," he said recently. "When you study the game, you get the best results."
Here's why Snoop is a lifestyle guru we all need right now:
Snoop's new cookbook has recipes you'll actually use
Many celebrity cookbooks feel disappointingly impersonal: a pastiche of anecdotes about the celebrity's favorite childhood meals, added to a collection of recipes culled from their private chef, plus a few smoothies thrown in the mix. And cookbooks written by actual chefs often feel irrelevant to the question of how to get something tasty and relatively healthy on the table with minimal fuss: They assume that the average kitchen has unlimited prep space, professional-grade equipment, and that home cooks are able to spend hours pulling together different elements for a meal.
Not so with Snoop's book. He travels frequently but admits to not being "the most adventurous, Anthony Bourdain-type when it comes to grub." Recreating his favorite food while on the road has always been a way to stay grounded while touring, he explains.
"My tastes have evolved over the years," he writes. "But while I've learned how to get down with that top-notch luxury cuisine, I'm still prone to keep it way hood with some of those LBC [Long Beach, California] classics." He talks about connecting the dots between the food he grew up eating in Southern California and soul food, sharing a cream biscuit recipe that is about as Southern as it gets, and tilting his hat to Edna Lewis, one of the greats of African American cooking.
It's not just nostalgia for mac and cheese and fried bologna sandwiches, although recipes for both are in there. The book is full of recipes that most people could cook at home, and be happy they did. Peanut butter chocolate chip cookies? Check. A chopped salad? Yes. Dijon salmon? Uh-huh. Faux-tisserie chicken and vegetables? Here for it.
Snoop's pantry is not Instagram-ready
Elaborate pantries filled with carefully labeled containers of beans, heritage grains, and superfood powders, stacked above heirloom-quality cookware, have become an Instagram-age aspiration.
Snoop is too real for all that. He lives in Los Angeles with his wife (and high school sweetheart) Shante Broadus (his given name is Calvin Cordozar Broadus, Jr.). Their three children and one grandson are frequent visitors, so he keeps the kitchen stocked for them, as well as for himself.
Snoop's pantry, which is a kitchen cupboard, includes honey, seasoning salt, hot sauce (in the book he name checks the Louisiana brand Crystal, though it looks like he enjoys Frank's Red Hot, too), soy sauce, instant mac-and-cheese, and canned tuna. In the fridge you'll find orange juice ("You never know when you might need to mix it with some Moët or better yet… gin. Yeah you saw that one coming right?"), mustard, cow's milk ("Miss me with that almond or soy milk"), cheddar cheese, butter, Aunt Jemima syrup, and Moët.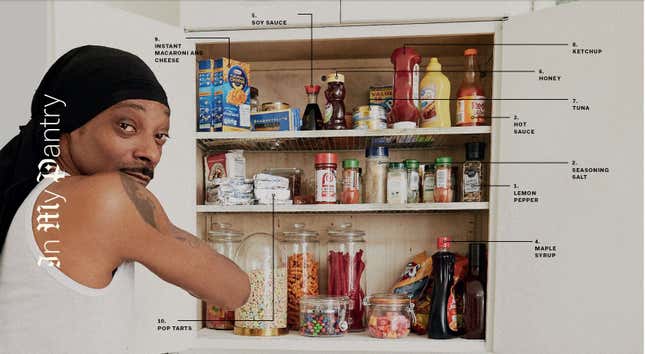 Snoop is good at making new friends
It's tricky to make friends as an adult, but Snoop seems to be good at it. He and his fellow lifestyle guru, Martha Stewart, have a show together on VHI called Martha and Snoop's Potluck Dinner Party. Stewart wrote the introduction to his cookbook, and the two seem to share a genuine affection for one another. "All the comedians have sidekicks and bands because it loosens them up and lets them be freer," Stewart told People. "Snoop is my freedom."
And it's not just new people, Snoop keeps mixing it up, musically, artistically, philosophically. After an early life of gang-related violence and crime that led him to rap, he recently embraced reggae and declared himself the Rastafari, Snoop Lion. His last album, Bible of Life was gospel-inspired. He's currently starring in a semi-autobiographical touring musical called Redemption of a Dogg. He runs a legal cannabis empire and is a gracious and funny talk show host.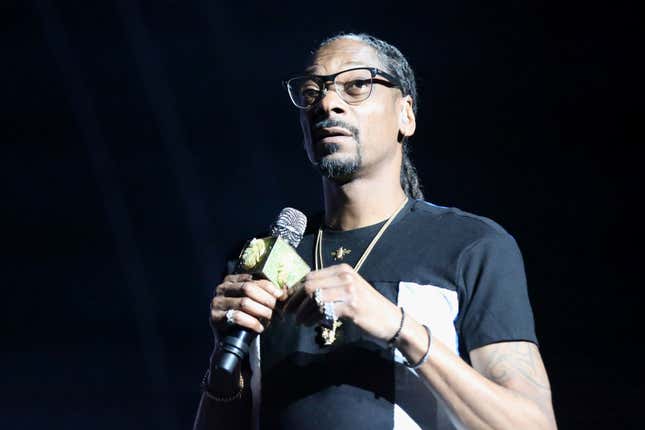 Snoop's approach to healthy living is very sensible
Real wellness, in the sense of being a well-rounded and happy human, requires healthy food, enough time to move our bodies, regular sleep, and satisfying relationships. Snoop probably has a better trainer and doper playlist to work out to than most of us, but Snoop's sensible formula is one we can all learn from: He strikes a balance between healthy, home-cooked food and special occasion treats, with plenty of exercise and attention to his energy levels and mental clarity.
"I've been going bodyguard-hard in the gym," Snoop writes. "Yeah, I've been hitting the weights, running drills, and taking care of the mind, body, and spirit." Snoop enjoys a Caesar salad and meals like salmon and green beans, and chicken and roast vegetables. For office snacking, he suggests apples, bananas, and grapes with peanut butter and honey, which sounds like something straight out of a vegetarian cookbook like the Moosewood or Laurel's Kitchen. (Snoop points out that a nourishing snack like this is a good idea if you need to get work done after "dippin' out for a quick smoke sesh" on your lunch break.)
He also knows the value of special occasions, and sees them as an opportunity to eat something extra delicious. In the introduction to his "Last Meal Shrimp Alfredo," Snoop writes, "When you pull in the team for a sit down, you gotta make sure the wine don't stop pouring and the food's just as heavy as the Gs in the room."
Snoop IS luxury cannabis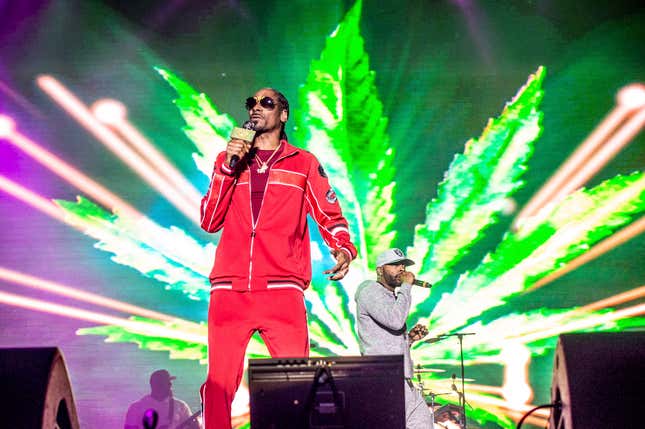 As marijuana marches toward broad legalization in the US, a whole new market for luxury weed products is exploding, including high-end accessories and Gwyneth Paltrow-approved remedies and potions.
Snoop, of course, got in on the ground floor. He sells weed through his company, Leafs by Snoop (motto: "Let's medicate, elevate, and put it in the air!"), and he's one of the founders of Casa Verde Capital, a venture firm that invests in weed-related businesses.
One of those is a media platform called Merry Jane. Do yourself a favor and watch at least one episode of his talk show GGN—that's Double G News—on Merry Jane, if only for the local-news-station-inspired intro. This one, in which he chats with Emmy winner Lena Waithe, is a good place to start.
Snoop gives mad props to the right people
A lifestyle guru has to practice gratitude, and Snoop pays due respect in his headnotes for "Mack and Cheese."
If you in a soul food spot and they're not serving up some real thick, real cheesy mac, you messed up somewhere and might as well dip. Shout out to Edna Lewis for helping to get OUR food into these types of cookbooks. Ya know, the stuff that WE eat on. Now, there's classic mac and cheese, and then there's Boss Lady's Mack and Cheese. Yeah, this right here was inspired by my wife Shante Broadus, a.k.a. "the Boss Lady."
If you can thank your wife and Edna Lewis at the same time, you better.
You either love Snoop or you… don't
Any proper lifestyle guru is polarizing. Snoop Dogg likes to get political—he has called Kanye West out for his MAGA hat on a number of occasions, saying that the hip hop star needs more black women in his life. Snoop is also vocal about his dislike of President Trump.
His own past treatment of women, in real life and in his lyrics, though, has left something to be desired. He told Rolling Stone that in the early 2000s he worked as an actual pimp. He has also not endeared himself to LGBTQ people with some of his comments. "I don't have a problem with gay people," he told the Guardian in 2013. "I got some gay homies." Then in 2017, the video for his song "Moment I Feared" was largely read as a homophobic jab at rapper Young Thug.
He also appears to smoke A LOT of weed. He sometimes claims that he doesn't drink, and yet there's a whole cocktail section in his cookbook. Clearly, he's still on his journey. And he's not everyone's cup of tea, but that is part of his appeal.
Snoop drinks green juice
There's a recipe in Crook to Cook called the Smoovie that combines spinach, banana, coconut water, and protein powder, though he counsels that any assortment of greens and fruit that makes you happy and fuels you for the day ahead is a good way to get your greens. Your other greens.