The poet Tracy K. Smith wants to breathe poetry into your ear for five minutes every weekday.
The US poet laureate's new podcast, "The Slowdown," is described as a way to give listeners a break from the noise of their everyday lives. Produced by American Public Media, with funding from the US Library of Congress and the non-profit Poetry Foundation, it will start Nov. 26, and will feature poems by American writers. From January, the segment will be available for public radio stations to air across the US.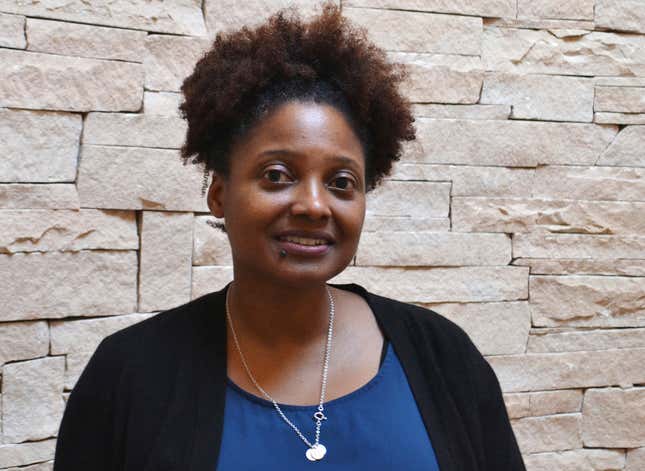 In a preview, Smith reads "For the Last American Buffalo," by Steve Scafidi, a poet from West Virginia. The effect is of literary ASMR, like a mindfulness app, but in the form of verse. Smith says she doesn't object to listeners using the podcast that way, as a short burst of poetry rather than a deep dive.
"There are moments in every busy day when a different type of clarity breaks in: touching base with a friend, catching sight of something beautiful or troubling through a window, feeling a memory bob to the surface unprompted," says Smith by email. "I'm excited to offer an opportunity for something like that to inflect listeners' days, every day. Hopefully it will feel less like an exercise and more like an opportunity to listen and feel differently."
Smith's timing is good. Reading by listening, a phone-friendly activity conducive to multi-tasking, is getting bigger, and audiobooks are the fastest growing book format in the US.
And reading poetry is popular again in the US, in no small part because brief, epigrammatic, vaguely profound-sounding lines are easy to consume on social media. In June, a survey from the National Endowment for the Arts found that the number of Americans who say they've read poetry in the last year was up for the first time since 1992.
This story was updated to reflect that "The Slowdown" has funding from the US Library of Congress and the Poetry Foundation.