In the midst of bustling Midtown Manhattan, a new oasis for mental health opens today (Oct. 10). Like a WeWork for independent therapists, Alma offers a roster of business support services and a beautiful space to meet patients. Walking into the health start-up's offices makes one wonder why more doctor's offices aren't this thoughtfully designed.
Founded by Dr. Harry Ritter, a doctor and former vice president at the technology-focused health insurance company Oscar, Alma offers a new co-practicing model for therapists. It is also a convincing testament to why good design is so vital, especially in medical spaces. The waiting areas, treatment rooms, and the doctors' lounge were designed based on research. For instance, each of the 16 therapy rooms are identical, down to the pillows on the couches and the books on the shelves, because research shows clients seek familiarity and continuity when seeking treatment. Alma's founders obsessed over making check-in easier and more private. The waiting room seating all faces one direction, to avoid any unwanted interactions or run-ins. And yes, there's a calming custom-blend scent that wafts throughout the space. It's a far cry from the stark fluorescent lighting, tacky posters, and din of faxes in a typical doctor's office.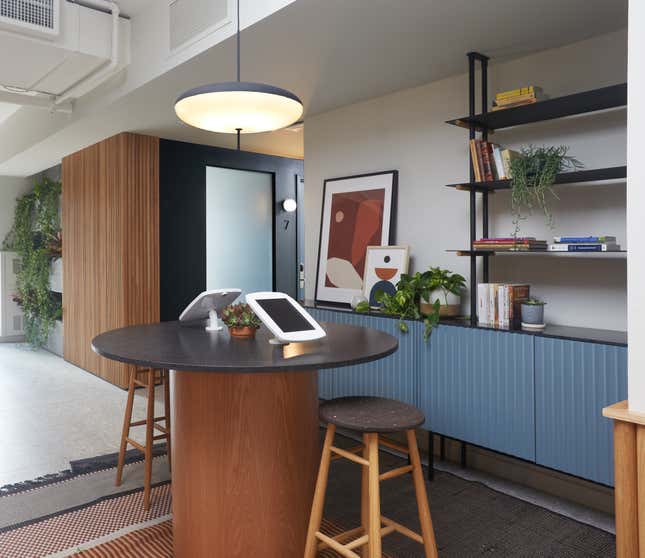 Alma also makes it easy for clients to find the right therapist. On Alma's website, each member therapist gets a professionally written profile that expounds on his or her approach and gives clues about his or her personality.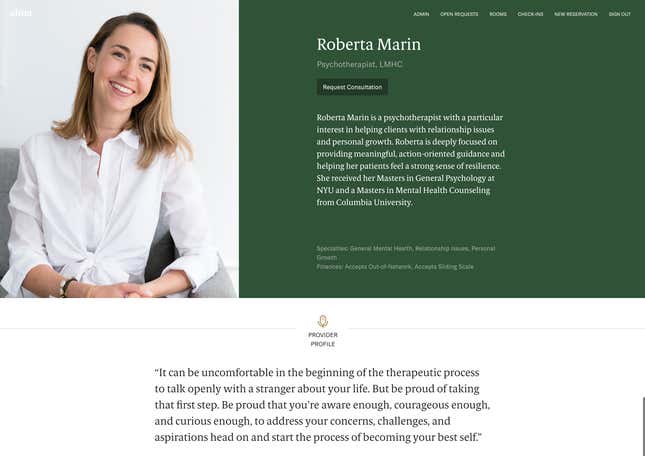 By creating a beautiful environment for mental health, Alma hopes to help erase the stigma around going to a therapist in the US. "We're investing a lot in creating a space that immediately says, 'You should be proud to be here—this is a good thing,'" says Ritter. He adds that the attention to the details of the patient experience, including the space's colors and lighting all encourage people to come back. "I think it makes them experience care in a better, more meaningful way," he says.
More than 60 million Americans experience mental illness, according to the Association for Psychological Science, but a fair number report that the stigma around therapy is a significant barrier to actually seeking counseling.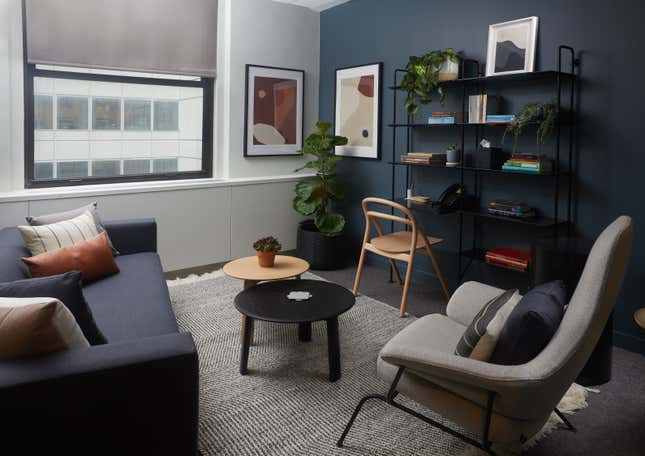 "The prejudice and discrimination of mental illness is as disabling as the illness itself," says psychological scientist Patrick W. Corrigan, who co-authored a 2014 report about the negative attitudes around mental health treatment in the US.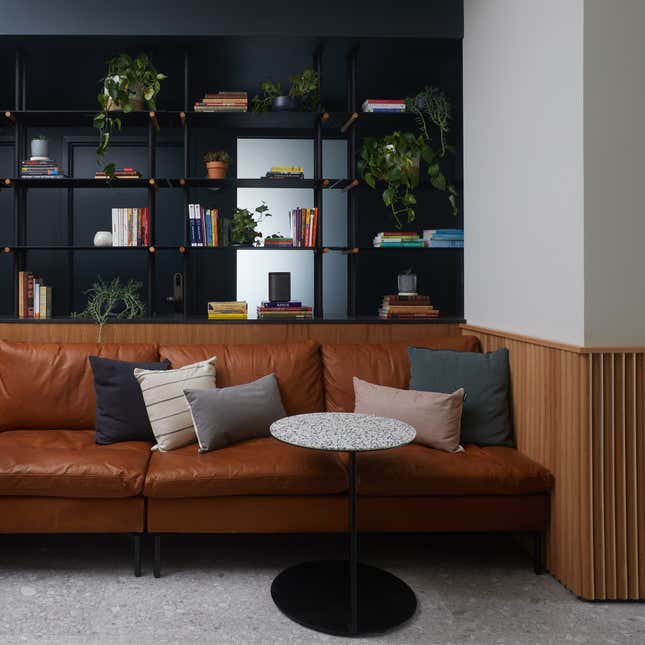 "A big part of our mission is to think about mental health in the same way we think of physical health, or in the same way we think about preventive healthcare generally," says Ritter. "Why is it important to take care of your heart, [but] not take care of your mind?"