Of all the outrageous looks Lady Gaga has worn over the years, few have made so strong a statement as the Marc Jacobs suit she donned for the 25th annual Elle Women in Hollywood celebration on Oct. 15.
It was a striking suit in its own right: broad-shouldered, but with a luxurious slouch that made its lavish proportions relaxed rather than rigid. More powerful still was Lady Gaga's explanation as to why she chose it.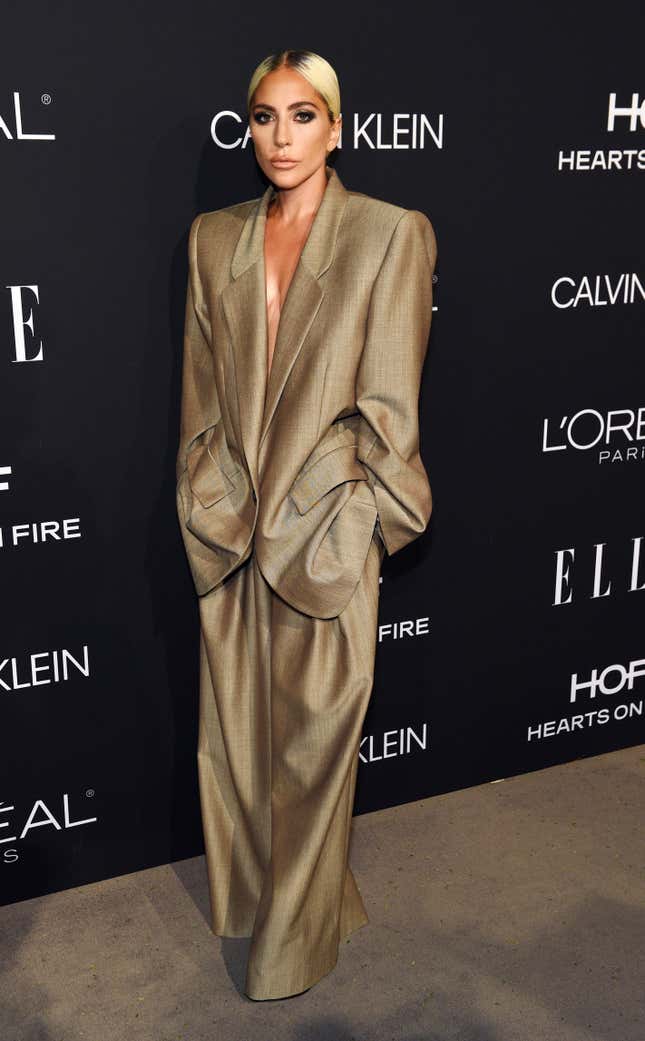 It's been just over a year since the New York Times and the New Yorker published reports on the sexual assault allegations against producer Harvey Weinstein, sparking a conversation that has roiled Hollywood and industries far beyond. Lady Gaga's speech at the event, published by Elle, touched on the problems of sexual assault and psychological trauma faced by countless women, as well as the way women are often reduced to objects in the entertainment business.
Lady Gaga said that as she'd prepared for the event, trying on one exquisite dress after another, "I felt sick to my stomach." She kept thinking about how red carpets often uphold the sexist notion that a woman's value lies in her appearance. She continued:
So, after trying 10 or so dresses, with a sad feeling in my heart, that all that would matter was what I wore to this red carpet, I saw an oversized Marc Jacobs suit buried quietly in the corner. I put it on to a resounding view of eyes glaring at me in confusion. But the Rodarte was so beautiful! one said. But the Raf Simons for Calvin Klein was so stunning on you!said another. But what about the Brandon Maxwell? What about the Dior? Lots of questions. They were all dresses. This was an oversized men's suit made for a woman. Not a gown. And then I began to cry. In this suit, I felt like me today. In this suit, I felt the truth of who I am well up in my gut. And then wondering what I wanted to say tonight become very clear to me.
As a sexual assault survivor by someone in the entertainment industry, as a woman who is still not brave enough to say his name, as a woman who lives with chronic pain, as a woman who was conditioned at a very young age to listen to what men told me to do, I decided today I wanted to take the power back. Today I wear the pants.

In an age where I can barely watch the news, I gasped at the unjust men, and some women quite frankly, that I see running this country. I had a revelation that I had to be empowered to be myself today more than ever. To resist the standards of Hollywood, whatever that means. To resist the standards of dressing to impress. To use what really matters: my voice.
Her look was still impressive, but it was her voice that deserved the attention. You can read an extended excerpt of her speech at Elle.com.