Preheat the oven and whip up your favorite biscuits. On Friday (Nov. 9) a new season of The Great British Baking Show arrives on Netflix in all its merengue-topped, ganache-finished glory. Actually, make it a double batch—last weekend the streaming service added The Great British Baking Show—The Beginnings, a season that aired in the UK in 2012, with the original presenters, Mel Giedroyc and Sue Perkins, and of course judge Mary Berry.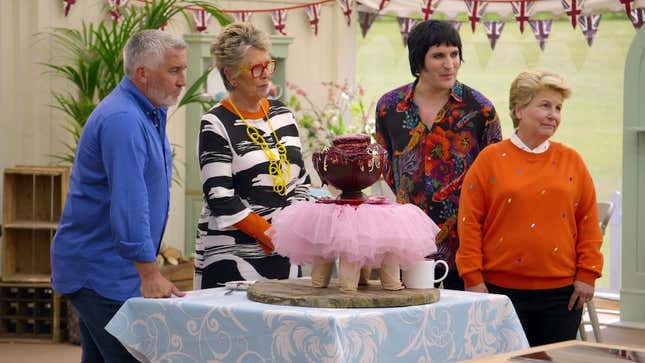 For US viewers, the low-stakes, high-delight baking contest moved from PBS to Netflix in August. The first season to stream on Netflix was also the debut for presenters Noel Fielding and Sandi Toksvig, and judge Prue Leith. As I wrote at the time, while I miss the original line-up of hosts, GBBS is still a gentle pleasure to watch.
And if you are a change-averse holdout, there's still The Great British Baking Show—The Beginnings to enjoy. These 10 episodes originally aired on the BBC in the UK in 2012, where it is known as season 3. In the US, PBS aired it as season 5 this summer, which was confusing in almost every imaginable way, so much so that it seemed to fly a bit under the radar. Now it's on Netflix. Keep in mind that it doesn't actually matter which season you're watching, or in which order you watch them. You can't tell the year from the biscuits.
What all those competing season labels really underscore is how little changes on the GBBS, and how comforting that is. Whether it's 2012 or 2016, the technical challenge still terrifies the bakers each week, cakes remain stubbornly unpredictable no matter how many times you've practiced a recipe, and summer in the English countryside still sometimes requires a muffler.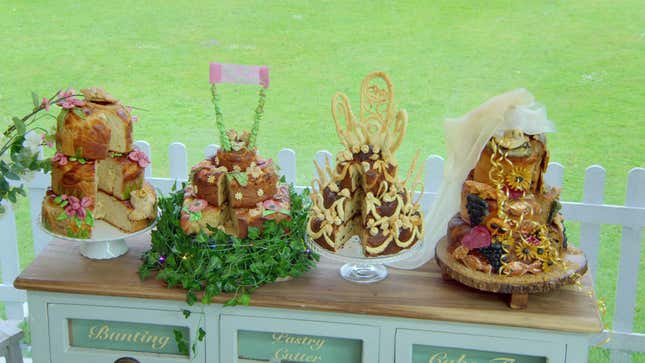 A new two-episode holiday special is set to stream on Netflix sometime later this year, though Netflix has not yet announced the release date or further details about the show.
And superfans, take note: Nadiya Hussain, who won the GBBS in 2015, launched her own line of brightly-colored home goods this week.