This is the first entry in Quartz's Weird Oscars series, honoring the moments, characters, and performances of the year's film and television that the actual Oscars (and Emmys) are not cool enough to award. Check back later for many more categories, including "Best Movie Dog," "Best Jump Scare," and "Best Dance Sequence." (For a full list, scroll to the bottom of this post.) All the Weird Oscars announced so far can be found here.
In the era of the Hollywood action blockbuster, stunts are becoming a bigger and bigger aspect of filmmaking. Computer graphics have allowed filmmakers and actors to be more ambitious in developing stunts, but if they look fake, viewers will notice. An action film or TV series is only as good as its stunts—and the best ones still require an actor (and a cameraperson!) to put themselves at actual risk of physical harm, all for our enjoyment.
The Screen Actors Guild awards are the only major Hollywood awards show to honor stunts, and while there's a growing effort to get the Oscars to add a stunt category, it doesn't appear to be in the cards any time soon. That's why we have the Weird Oscars.
The nominees are…
HALO jump, Mission: Impossible – Fallout
Bathroom fight, Mission: Impossible – Fallout
Helicopter chase, Mission: Impossible – Fallout
Casino fight, Black Panther
The waterfall, Tomb Raider
Battle royale, GLOW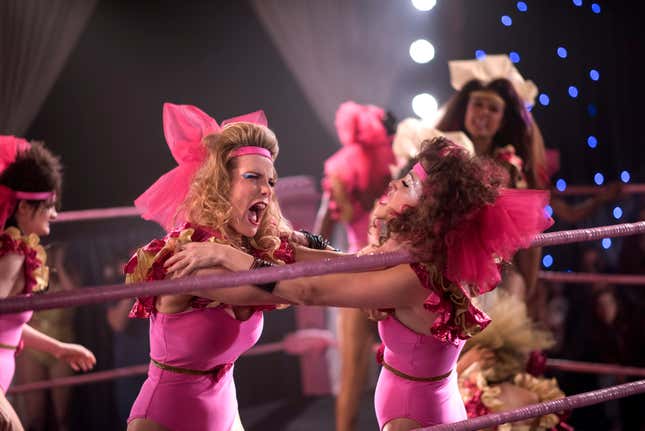 Battle of Loudoun Hill, Outlaw King
The grain silo, A Quiet Place
And the winner is…
HALO jump, Mission: Impossible – Fallout
How could it not be? The high altitude, low open jump—usually reserved for military personnel who need to be stealthily inserted into dangerous territory—required a year of planning. After painstakingly choreographing the sequence in a wind tunnel, Tom Cruise and a team of stunt performers moved to the real thing: a C-17 military transport aircraft 25,000 feet (7,600 meters) over the Abu Dhabi desert, where they made the death-defying jump hundreds of times in order to get the scene just right. Any stunt in the thrilling Mission: Impossible – Fallout, is a near-perfect fusion of acting, logistics, and insanity, but Cruise's five-mile-long plunge toward the Earth tops them all, joining the pantheon of the greatest stunts in the history of cinema.
Upcoming categories:
Best Movie Dog | Best Line Reading | Best Dance Sequence | Best Jump Scare | Best Trailer | Best Episode Title | Best Eyewear | Best Monster | Best Scottish Accent | Best Wig | Best TV Assassin | Best Lucas Hedges | Best Rich Asshole | Best Historical Figure | Best Dream Sequence | Best Speaking Voice | Best Act of Vengeance | Best Montage