Legions of artists, collectors, celebrities, and laypeople have descended upon Miami, Florida, for the city's art week, and one of the buzziest exhibits happens to be one that the artist doesn't want there.
"The Art of Banksy" is making its US debut this week in Miami's Little Haiti neighborhood. Set up in a massive warehouse, the exhibit is the largest-ever of Banksy's works, with over 80 of their pieces on display, mostly in screen print form. It's being held by Banksy's former art dealer of 12 years, Steve Lazarides, who was loaned the pieces by private collectors: "I think it's better for the show to be out there than the works languishing somewhere never to be seen," he told Artnet. And thanks to the high price of tickets, Lazarides has already overshot the $1 million it took to create the show.
Banksy is no way involved with the exhibition, which will run throughout art week before continuing its US tour. In fact, a representative for the artist called it "an unauthorized traveling show organized by unscrupulous profiteers."
Indeed, Banksy is not only famously apathetic towards museums as an art-viewing model (they gained fame in the early 90s for their insurgent, mostly outdoor graffiti), but they're also notoriously anti-capitalist, and much of their work is seen as a criticism of the capitalist machine. Sometimes this backfires, like the self-shredding of their "Girl with Balloon" painting that caused the work to more than double in value.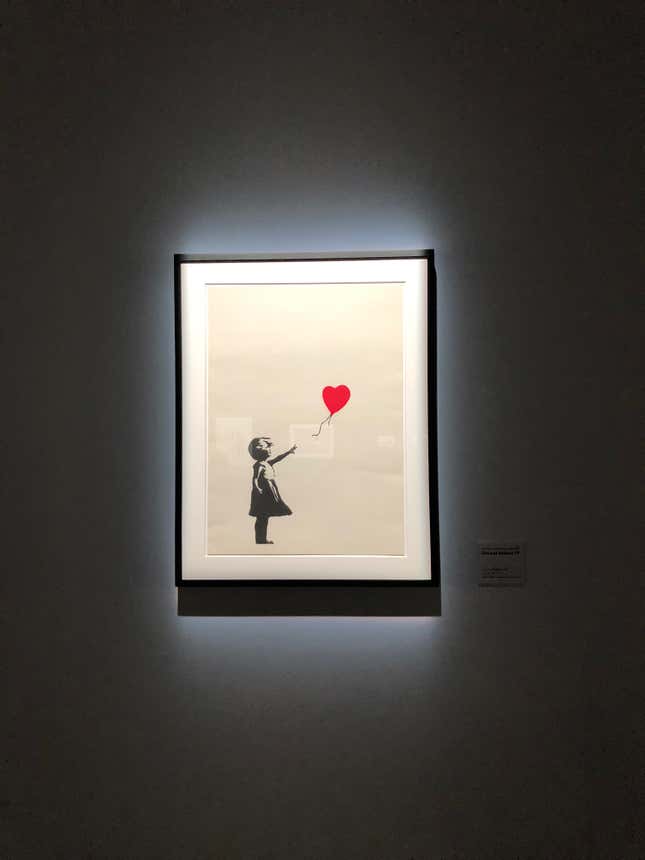 What's more, Banksy either charges very little—or nothing at all—for people to see their art, even when they are displaying it. Their 2015 art attraction "Dismaland" went for £3 per ticket, and they called out a Moscow gallery earlier this year for showing and charging for their art without their approval.
The Miami show, which is being produced by LiveNation (the concert and events promoter that handles Jay-Z and Madonna's shows), managed to touch on everything Banksy seems to hate. The whole thing is an aggressive, Instagrammable commercial venture in the style of a pop-up museum—from the heart-shaped cellophane balloons with Banksy's name on them, to the cost of tickets, which go from $35 to $50.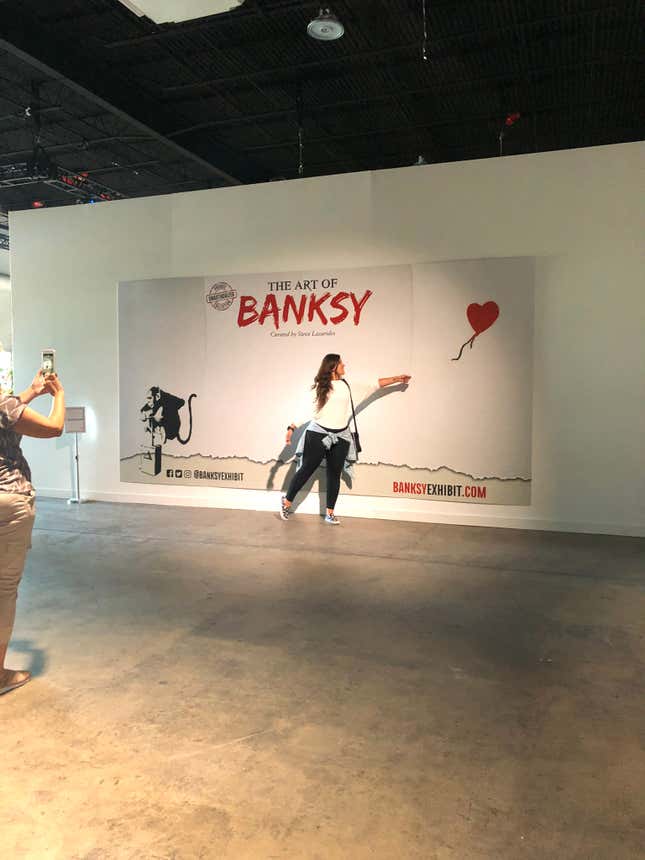 Upon entering and exiting, viewers are invited to have an Instagram photo op in front of a mural-size poster with a print of one of Banksy's iconic subjects, "Monkey Detonator." There are also a few props, like balloons and banana guns. There's also a printing station where you can get a Banksy t-shirt and tote for $40 per item. And there's a bar.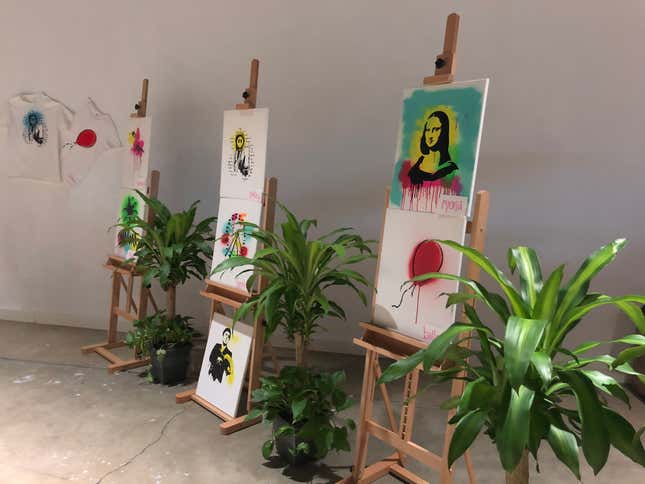 Several folks viewing the exhibit expressed conflict over attending something that so clearly undercut Banksy's ethos. But while they were hesitant to "support" something so "anti-Banksy," a few acknowledged that they'd probably never see a collection of the iconoclastic artist's works in one place—especially on Banksy's watch.
While Lazarides's claim that the exhibit is something of a public service deserves an eye roll, it's true that so much of the artist's works have ended up in private collections in the upper echelons of the art universe, or are scattered across the globe for society's jet-setters to take in. Take the monkey image visitors are greeted by: it's currently in a private collection in Europe after selling for half a million pounds.
And that's part of the great irony of an "unauthorized" Banksy exhibit. The orthodoxy being transgressed by "The Art of Banksy" is in some way doing what the artist has tried to do by putting their art outside: Allow large groups of people to see it.
Banksy once famously said: "I don't charge people to see my art unless there's a fairground wheel." In what may have been a coincidence, or a final piece of irony, there is actually a decrepit-looking Ferris wheel in the warehouse's parking lot. It makes one wonder if Banksy did have something to do with the exhibit, after all.