Just like its host, there's something magically understated about Tidying Up with Marie Kondo, the decluttering expert's new home makeover show on Netflix.
The before-and-after shots of the homes lack obvious drama. Piles of cardboard boxes disappear from guest rooms and offices. Closets that once overflowed into chairs and onto bedroom floors become havens of serenity. Kitchen junk drawers sort themselves into neatly coiled cords. It's not the same kind of payoff as the dramatic transformation of a shag-carpeted, wood-paneled fixer upper into a gleaming, open-concept shrine to modern home design that has become the reality television standard. It's more subtle than that—perhaps because the homes are not tidied by Marie Kondo herself. The real stars are the participants who have agreed to dive into decluttering their homes with guidance, but very little actual heavy lifting, from Kondo.
Kondo alights upon these homes on an approximately weekly basis, setting their occupants up with a daunting task and then leaving them to finish it. She asks them to pile all their clothes on their beds, pull everything out of their kitchen cupboards, heap all the toys into one ungainly mountain. Then she lightly skips out the door, signature ballet flats barely touching the ground, leaving her charges alone with their things.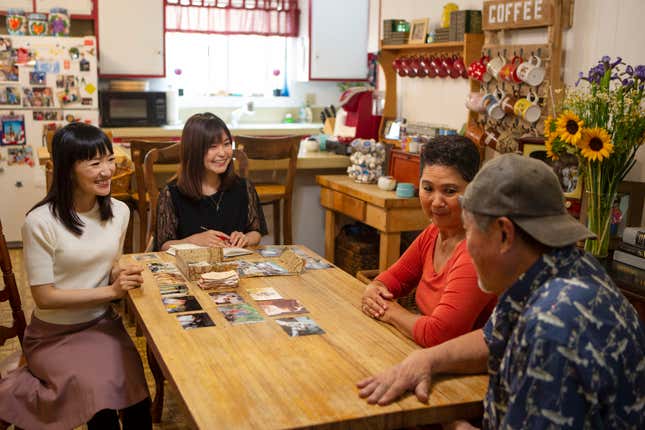 The camera as confessional has been a reality television trope since The Real World debuted in 1992, but it's rarely employed as effectively as it is here, mostly because it provides evidence of how intensive the process of tidying becomes for these families. One woman who can't let go of unworn clothes from before she had children records a rambling, middle-of-the-night epiphany that allows her to finally let go of them. Over the course of an intensive month of work, families sort kitchens at midnight, fold t-shirts at dawn, spend weekends making piles in garages, and triumphantly cart their belongings to donation centers. Each step reinforces the reality that our investments in objects don't end when we pay the credit-card bill.
This is not a show about hoarders. Yes, we meet one man who has collected about 160 pairs of tennis shoes. We meet a woman with enough Christmas decorations to festoon five homes. To a person, everyone on the show has more clothing than they actually wear, and the kitchen junk draw is ubiquitous. There's no squalor, though. The homes, by and large, feel typically American—that is to say, full of stuff, but not alarmingly so. It's not the amount of accumulated junk that shocks, but how much time is required to properly deal with it.
While Kondo's personal aesthetic suggests a luxe minimalism, her goal is not to empty people's homes of the objects they love. What she's really asking is that we figure out how much stuff we have time for, and to prioritize accordingly.