All around you could hear the motors going, a slight mechanical wheeze announcing the tightening or loosening of sneakers. It was constantly in the background at Nike's unveiling of its newest innovation, the Nike Adapt BB, at its offices in New York today (Jan. 15).
"No shoe yet has been iconic audibly," said Ross Klein, a senior design director in Nike's innovation department. "As we were working out the torque and the amount of force that the system has, we really enjoyed the sound."
That a basketball sneaker even has a recognizable sound is one of several things that makes the Adapt BB unusual. The shoes, which cost a hefty $350 and release in mid-February, contain smartphone-grade electronics, including the CPU and memory, according to Nike. They need to be charged, which users do with a specially adapted Qi wireless charger. The process takes a few hours, and the battery life lasts about two weeks.
Put your foot in the Adapt BB and it will automatically sense its volume and close around it. You control the fit further with buttons on the side of each shoe, or you can do it via sliders on an app. If you choose to go that route—you don't have to—you scan a chip in the shoes to pair them with the app, allowing you, and only you, to tighten or loosen them from your phone. One button on the app lets you release the tension, or restore it to its last setting, with a single tap.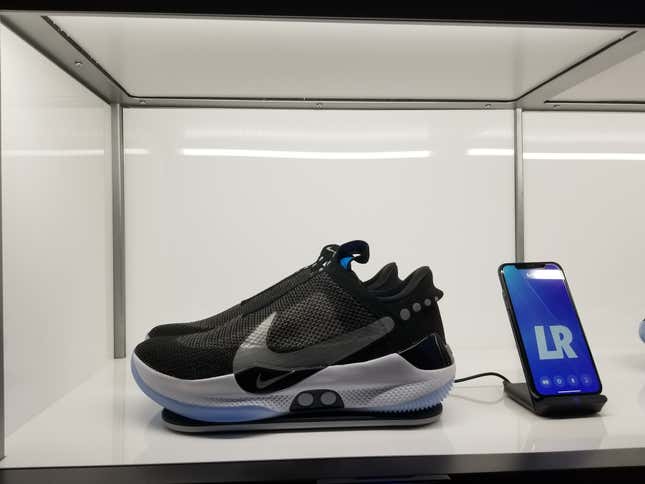 That sounds like an excess of technology just to make your shoes snug, but the real purpose of the app is that it's the interface for an ongoing relationship among you, Nike, and your shoes. If you opt in, Nike can receive data from your shoes, and occasionally update the firmware in them wirelessly, to make the shoes work better for your personal preferences. (The company emphasizes that it does not, and has no plans, to sell user data.)
It's a strange concept, updating your shoes. The first update will come in a few weeks, and will allow users to save fit preferences. If there's one fit you like for playing basketball, you can program that in and then switch to it easily. If there's another you prefer for casual use, you can save that one too. Does the average person need numerous fits on file? Probably not, but the option will be there. Nike said it has several updates in the pipeline, but declined to say what sorts of features they would include.
This abundance of technology in a pair of sneakers all comes down to one thing: fit. Nike's aim is to lock down your foot inside the shoe in a way that laces can't. ("Shoelaces: you had a good run. But we think we may have finally bettered you," the company said in a press release.) Key to this quest is a small, encased motor that took years of development and testing, not just to get the function right but also to make sure it was durable enough to endure hard, sweaty use. To close the shoes, it winds in a braided cord that cinches around your instep and behind your ankle, while pulling a tough mesh snug around the foot. The mesh, which Nike designed itself, molds to your foot based on where it's exerting force to make for a close fit.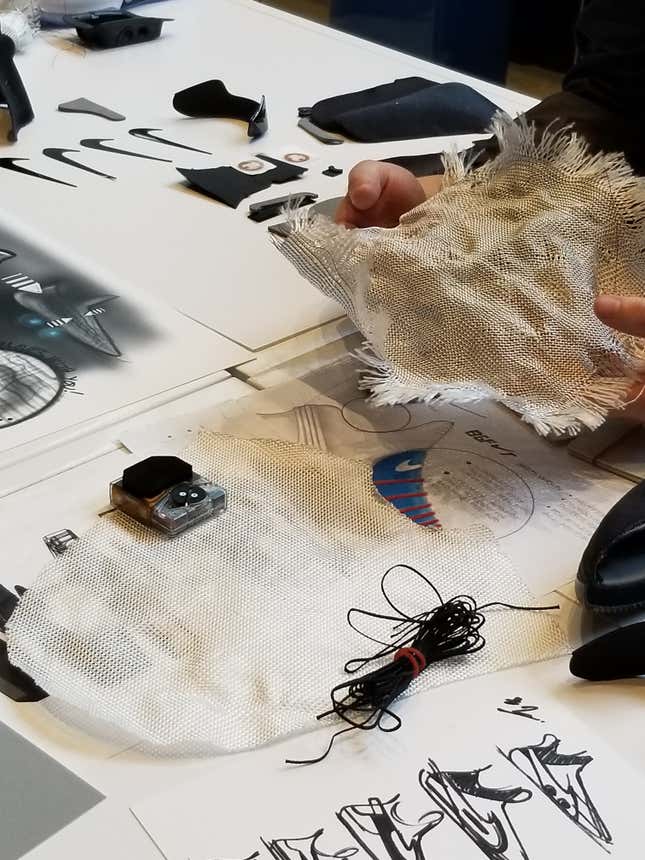 The concept arguably isn't too different from the way existing knit uppers and lacing systems, such as Nike's Flyknit and Flywire, function, hugging your foot all around and pulling the whole upper tight around your foot when you pull the laces. But Nike claims the fit system in Adapt BB does it better than anything it has developed before. "Everything is coming much closer, and contouring closer to the foot," Klein says. It shapes to your arch and the bottom of your foot, too, something he says previous fit systems and materials haven't done.
On foot, the shoes did feel very secure, like they were applying pressure that was distributed around the whole foot. It gave me a sense of being buckled in. I was able to tighten them enough that I thought they might cut off circulation in the top of my foot and had to ease back on the in-app sliders.
During the morning-long presentation for press and other guests, a few Nike staff noted that an independent study by the University of Denver found the Adapt BB reduced the foot's movement inside the shoe by up to 40%. Jordan Rice, the senior director of Nike smart systems engineering, compared the Adapt BB to Nike's Zoom Vaporfly 4%, a running shoe that testing by the University of Colorado found reduced the amount of energy runners used by 4%, allowing them to run faster for longer. "This is the equivalent of that for basketball," Rice noted.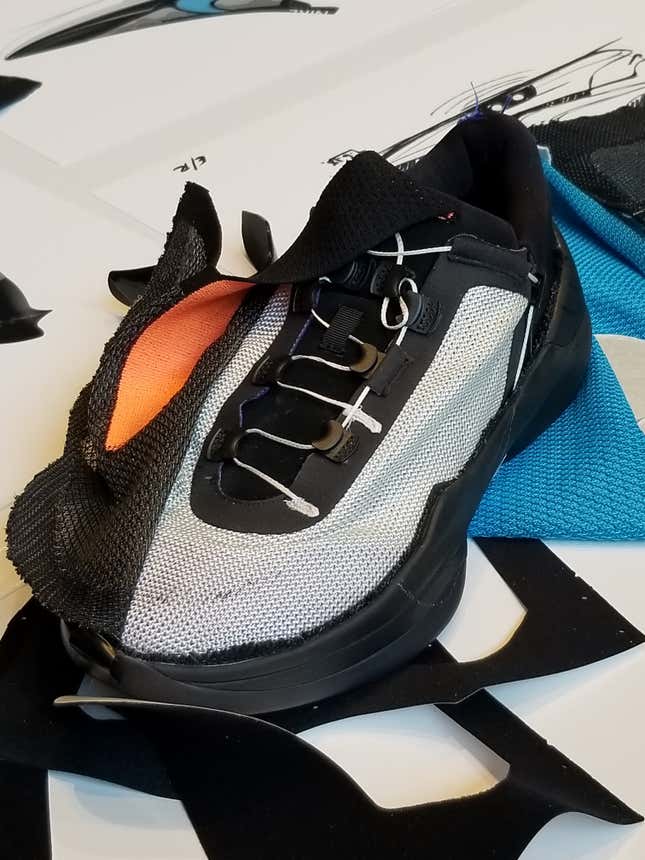 In basketball, players run, jump, and cut quickly, putting tremendous pressure on certain parts of the foot and the shoe as they change direction. A shoe that really does hold the foot more securely in place could potentially offer an advantage. The late John Wooden, who coached the basketball team at University of California-Los Angeles to 10 championships in 12 years in the 1960s and 1970s, would even start with new players by teaching them how to properly put on their socks and tie their shoelaces. It would help them to avoid blisters and other injuries, and he believed those small details were the foundation of great play.
At this stage, it's not clear whether any performance benefits will be worth the price premium for people other than professional athletes. But Nike does plan to expand the technology in the near future to other sports, such as running, and even lifestyle shoes, where performance isn't a top priority. It clearly sees a lot of opportunity in the technology, and expects it to help the company with the strong roll it's currently on, especially in the US, where it's rebounding after a couple years of ceding ground to Adidas. Rice said Nike is "sensitive" to the high price of the shoes and working to make them more widely available.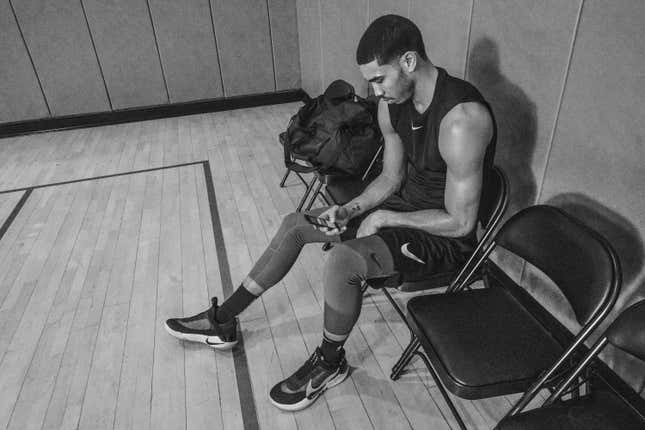 In the meantime, the sneaker is getting its NBA debut tomorrow, when Jayson Tatum of the Boston Celtics will wear them in a game against the Toronto Raptors, marking a milestone in a concept that started literally decades ago. The origins of Nike's idea date back to the auto-lacing shoe Nike design legend Tinker Hatfield first imagined for the movie Back to the Future II. Nike set out to make that fantasy real, and along the way, got the idea that a shoe that tightens via technology rather than manual tying could offer a performance benefit in sports.
The notion led Nike to develop the HyperAdapt 1.0, a $720 self-tightening shoe for athletes that was to be the first step toward sneakers that fit unlike anything before. The ultimate goal was a shoe that would adapt on its own, responding to the way an athlete's foot can swell during a game. The Adapt BB isn't quite there, but it's another step in that evolution, and viable enough to be the first-ever self-tightening shoe that will see use in the NBA.
This story has been updated with the name of the university that Nike says carried out the study on the Adapt BB.