What foods do you crave when you're feeling under the weather? This question recently inspired a lively conversation in Quartz's international newsroom.
Three main themes emerged: chicken soups spanning the globe (sopa de lima, tom kah gai, matzoh ball soup); comforting starchy dishes (khichuri, congee, and ramen); and spicy foods (curry-poached eggs, kimchi stew). A few people also called out favorite cupboard staples, simple snacks that require very little energy to make—crackers and cheese, Saltines, frozen pizza, a bag of microwave popcorn, or a cobbled together milkshake made from ice cream, milk, and chocolate syrup.
Oh, and of course, hot toddies. Elijah Wolfson, science and health editor at Quartz, says that he eyeballs this magic elixir: "two parts hot water, one part bourbon, a teaspoon or so of honey, a squeeze of lemon. Throw a cinnamon stick in there if you're into cinnamon." A chunk of ginger in the mix can be nice, too.
Here are three favorites from Quartz staffers. All of these recipes are purposefully loose—sometimes you can feel a cold coming on and you have time to shop and stock up before you're laid low. Other times you're left foraging to make something soothing and delicious without having to leave the house, and you have to make some changes and omissions. They all make for excellent snow day sustenance as well.
Congee
Back home in Malaysia, whenever I was sick, my mother would make enough chicken congee to last me all three meals in a day. Here in New York, it's the perfect comfort food for when I feel unwell in the winter: steaming hot, gentle on the stomach, and a reminder of family.
In a large pot, rinse and drain two cups of rice a few times until the water runs clear. Then, add six cups of water, cover the lid, and bring it to a boil. Once the water is boiling, add two to four chicken breasts or thighs and a few slices of chopped ginger, and reduce the heat to a simmer. Cover the pot and leave it for about 40 minutes, checking occasionally to stir the mixture and add extra water (half a cup at a time) if it starts looking too thick.
When the rice is cooked and the consistency is to your liking—I like it quite gooey and not too watery—check the chicken is cooked, then carefully remove the breasts from the pot and turn off the heat. Shred the chicken and stir the meat back into the pot, adding salt to taste.
Serve with chopped spring onions and a dash of soy sauce. I also like to add a soft-boiled egg.
Variation: If you don't have any chicken handy or prefer a vegetarian version, replace the meat with finely chopped carrots and green beans, and use a stock of your choice to cook the rice instead. —Aisha Hassan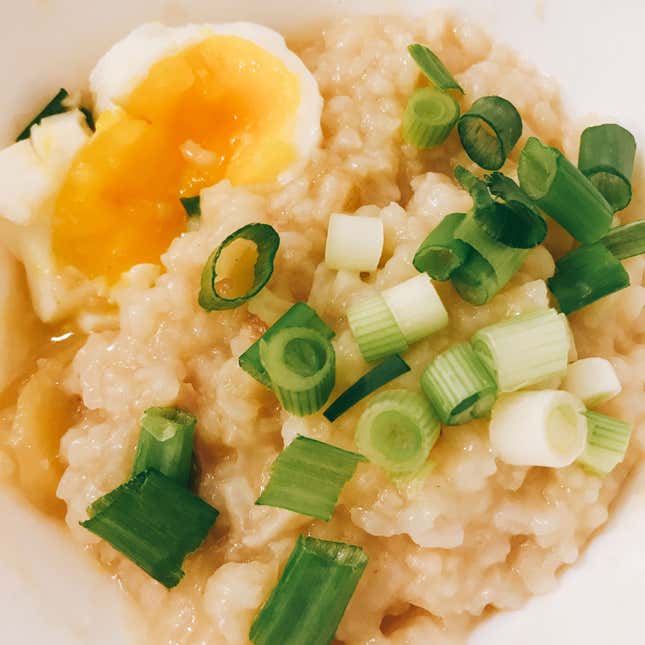 Sundubu-jjigae
For me, the epitome of comfort food lies in a bubbling bowl of soondubu jjigae, or soft tofu stew. It's delicious anytime, but especially when you're feeling under the weather. It has just enough spice to clear out the sinuses, and the custardy, silken tofu soothes the soul and stomach. My go-to recipe is very loosely based on Maangchi's.
Mix two tablespoons of Korean hot pepper flakes, called gochugaru, with one teaspoon of sesame oil and set aside. Gochugaru can be found in Asian markets, or you can also find it easily online. I strongly recommend not substituting with cayenne or chili powder, as doing so will yield a vastly different taste and overall experience.
Mince two cloves of garlic and add them to a pot with two tablespoons of vegetable oil on medium-high heat. Stir for a minute, and then add half a cup of chopped pork belly.
When the pork is cooked all the way through, add one cup of chicken stock on medium heat and mix in half a teaspoon of salt and half a teaspoon of sugar. Add 12 ounces of soft tofu and break it up into pieces with your mixing spoon. Last but not least, pour in the gochugaru and sesame oil mix from earlier, and stir well to make sure it's evenly distributed throughout the stew. Go ahead and add more stock if necessary.
 Simmer until bubbling and serve immediately, garnishing with green onion.
Variations: Anchovy broth is often used in this dish, but I used chicken broth here, as it's an easier alternative when you're sick and tastes just as flavorful. For a vegetarian version, you can use vegetable stock as the base and leave out the pork.
This recipe is also flexible with add-ons—feel free to add any extra ingredients that tickle your fancy, such as kimchi, enoki mushrooms, or an egg cracked into the pot while it's bubbling. —Tori Smith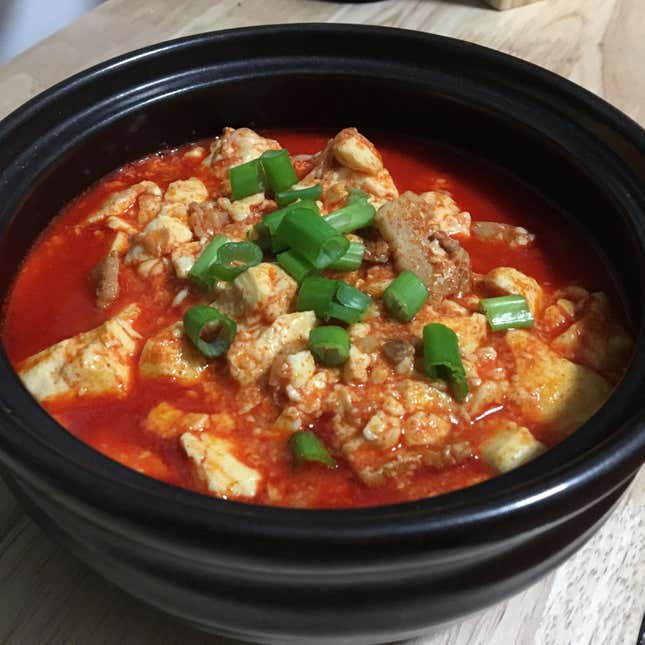 Tom kha gai
American chicken soup is not really my thing, mostly because I don't enjoy celery. I do love the interplay of bright lime and rich coconut milk in tom kha gai, a Thai chicken soup that I crave when feeling low and sniffly. In an actual Thai kitchen, this soup is all about the galangal and lemongrass, two items you probably didn't think to stock up on before coming down with the flu (though both freeze well). But as long as you have limes and coconut milk, everything is going to be okay.
First, make a soup base. Start with 4-6 cups of chicken or vegetable stock (yes, stock cubes are okay) in a large saucepan on medium-low heat. Add any of the following: a handful of cilantro stems, a spoonful of shrimp paste, a spoonful of red curry paste, 2-4 kaffir lime leaves, the zest of one lime, 1-2 lemongrass stalks, a peeled knob of ginger half the size of your thumb, peeled and sliced galangal, two tablespoons fish sauce. Add a can of coconut milk and simmer for 10-15 minutes, then strain out your aromatics.
Put your now-flavorful base back in the pan and add any combination of thinly sliced chicken, shrimp, mushrooms, sliced shallots, onions, or thin carrot coins. Add raw chilies, chili powder, or chili sauce if you want heat. Tofu, cubed potatoes, and frozen broccoli are also delicious additions. Simmer until anything raw, like chicken or carrot, is cooked through, about 10 minutes, then finish with the juice of two limes. Serve with a lime wedge and sprinkle with chopped cilantro. —Annaliese Griffin