The longest-ever partial shutdown of the US government is nearing the one-month mark this week, and its most visible problems are on display at airports.
For several weeks now, Transportation Security Administration (TSA) workers have been working without pay. An unusually high number have called in sick, and many of those who continue to work long hours are struggling to make ends meet, and risk being fired if they don't show up for work. A combination of understaffed security checkpoints and a shortage of air-traffic controllers—also deemed essential federal employees—has led to substantial delays, terminal closures, and long lines at security.
For travelers, it's hard to know how much extra time to allot for the delays. Expedited options like TSA PreCheck and CLEAR are also good ways to avoid some of the long lines. (The Global Entry application process seems to have been affected by the shutdown.)
But if you plan to travel during the shutdown, the travel blog The Points Guy recommends downloading the myTSA app, which provides passengers with 24/7 access to airport security information. Members of The Points Guy community reported that using the app was "quick and easy," and generally accurate in reporting wait times at various airports across the nation.
The app uses "a combination of crowdsourcing and history to inform its users on how long it will take to get through security at any designated US airport" the blog reports. It updates frequently, and allows users to anticipate wait times at security checkpoints with relative accuracy. In the app, users can pick their airport of choice, and see a range of information, including whether TSA Pre-Check lanes are open: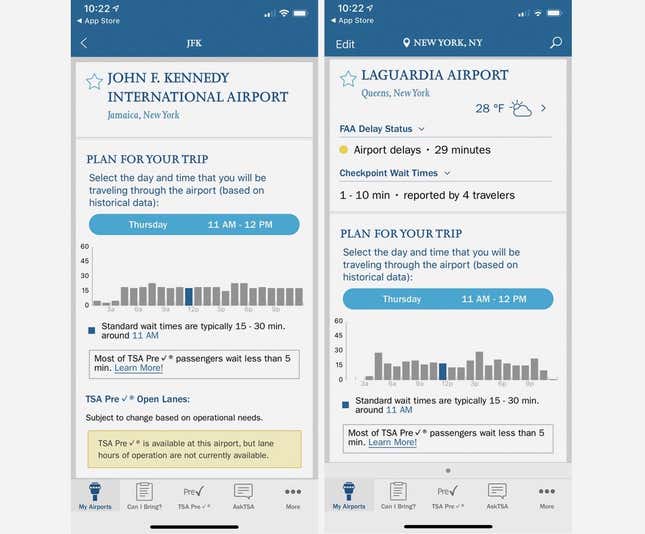 The app, which was originally released in 2010 and updated in the summer of 2017, according to TPG, is generally pretty useful, shutdown or not. As well as checking estimated delays, it also allows users to do the following:
Check for weather-related delays that may affect your flight
Report your own security checkpoint wait times to add to the app's crowdsourced data
View how historically busy an airport has been on your day and time travel
Check restrictions for what is permitted on flights
Apply to TSA PreCheck, and learn which airports participate
Contact TSA support directly through the app's messaging feature, Twitter, phone, or email
Of course, none of this helps the airport workers themselves. While TSA screeners are considered essential federal employees, most are already paid low wages, and struggle with daily expenses while their regular salaries are withheld.