If a tree falls in the forest and no one is around to photograph it and post the image online, did it ever even exist?
Andrea Sarubbi Fereshteh, the author of a new book In the Company of Trees, published this month by Adams Media, would argue "yes, definitely." And she hopes you'll get out there and wander through the forest yourself. But she's also quick to note that social media has influenced the way she writes about nature, and that her book, which includes old myths about ancient growths, is in part a product of a much younger tech culture.
In fact, Fereshteh's book looks a lot like an arborist's Instagram account. It's a beautiful compilation of images, quotes, history, tales, and facts about trees and conservation. Each page is complete unto itself, as if it was written to exist on its own and be reposted. Fereshteh says that she and her editor had technology in mind when they initially conceived of "a miscellany-style book comprised of short entries on a variety of tree-related topics." They discussed "how that might have broad appeal given our propensity in the social media era for smaller, digestible bites of information."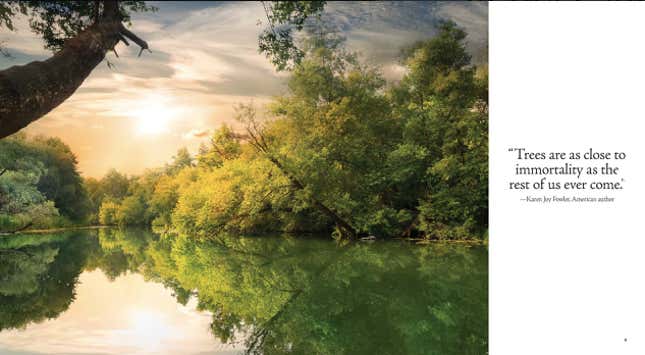 In other words, Fereshteh is a naturalist, but not a purist. She doesn't resist the influence of new tools on something as old school as trees or books. "As I am personally engaged on several social media channels, I understood how this composition could be appealing, and it challenged me as a writer to be more succinct and as engaging as possible in conveying content that ranged from scientific to cultural to historic, while maintaining the integrity of the information included," she explains.
That there's something paradoxical about the product is not lost on her. In order to write a book about nature that feels like social media, the author had to engage deeply with the offscreen world. She had to disconnect and then create the kind of work that would appeal to people accustomed to reading online. "I believe strongly in making a routine of setting aside time to put down the phone or step away from my desk and computer to intentionally be present in nature. And that's where the real benefits and possibilities exist."
Her book is borne of a love for the outdoors. And she's not the only naturalist whose passion has interacted with social media. The late poet Mary Oliver, for example, experienced a resurgence in popularity along with the rise of social media. As Sarah Todd notes in a tribute to the poet on Quartzy, "quotes from her books proliferated on Pinterest and Instagram."
Oliver, like another popular Instagram poet, Rupi Kaur, was a populist poet. Also like Kaur, she was criticized for appealing to the masses and making poetry that was  accessible to many, the kind of verse that gets circulated on social media.
Critics and literary purists snub social media at their peril, however. Discussions of books online has been helping to sell texts, and physical book sales in the US and UK are on the rise. Vox's Nisha Chittal argued in December that Instagram is saving independent bookstores, as #bookstagram, an online community of bibliophiles has thrived online and made reading offline seem super cool.  The Globe and Mail (paywall) that same month noted that "in the age of Instagram, reading has become a cultural currency." And as of Jan. 22, there were just under 27,500,00 #bookstagram posts from around the world.
The conversation between literature, publishing, booksellers, editors, writers and readers is going in all directions. People love taking photos of the books they are buying offline and posting about the texts on social media, so publishers are designing book covers that will appeal to them. Likewise, some bookstores, like the labyrinthine Last Bookstore in LA, are shops that readers want to be seen in and make for great #bookstagram.
It's only natural then—as social media influences which authors are published, what books people buy and read, and how they're discussed—for technology to also affect how texts are conceived of, created, and designed, like Fereshteh's work. She embraced the Instagram approach to print publication because "this format would give [me] the flexibility to cover a range of topics," she says.
Yet the naturalist hopes her work will inspire readers to take a much-needed respite from technology, disconnect, and spend time in the company of trees. "The ancient cultural traditions and practices around trees emerged during a time when humans lived much closer to the Earth and more in tune with natural rhythms and cycles," Fereshteh says. "I think now, more than ever, people are feeling a call to return to that closeness with nature and are seeking ways to balance our hyper-connected daily routines with something more simple, that returns us to our roots, so to speak."