January in the frigid US Northeast always makes me crave citrus, which is at peak season right now in sunny Florida.
I pry juicy oranges into individual segments for snacks, and add bright, bitter grapefruit to salads. I seek out small, sweet tangerines, and grab fragrant Meyer lemons and scarlet-juiced blood oranges when I spot them at the market. I squeeze lemon on everything.
In Oranges, John McPhee's book about the Florida citrus crop, McPhee tells of how when he he journeyed to Florida for one of his early New Yorker articles, most of the state's crop was was bound for frozen concentrate, and he had to buy his own citrus reamer to make a glass of fresh juice. Today, orange juice consumption in general is on the decline, but citrus of all kinds is indispensable in the kitchen, adding lively acidity and delicate aromatics to dishes savory and sweet.
Here are three dishes that bring citrus to life on the plate: a bitter greens and grapefruit salad; a rich, lemony pasta; and candied citrus peels. They're all so different you could serve them in a single meal without overwhelming your palate with taste of sunshine.
Bitter greens and grapefruit salad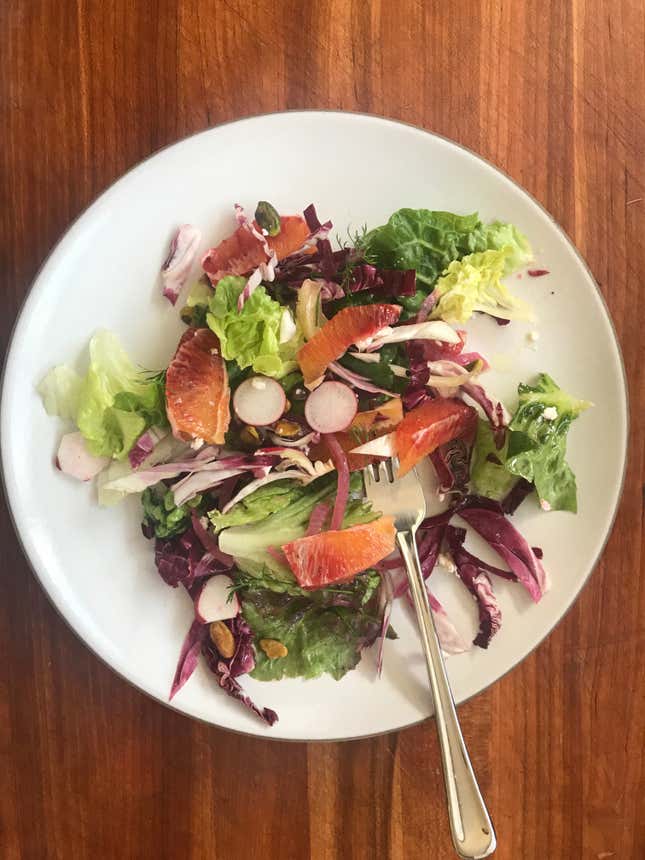 The combination of acid, bitterness, and sweetness in a grapefruit is so refreshing and complex, I just can't get enough. I like it better in a savory setting than served for breakfast, though, so I started making this salad to go with roast chicken, pizza, or rich pasta. This recipe makes a big salad for a group.
Start by making the dressing: Juice a lemon into a jar with a lid. Add a splash of white wine vinegar, four tablespoons of olive oil, a half teaspoon of dijon mustard, a good pinch of salt and a couple grinds of black pepper. Put the lid on the jar and shake to mix.
To assemble the salad, wash and chop a head of radicchio and a head of escarole or frisée, and pile it in a serving bowl. Add half a large grapefruit and an orange or blood orange—I like to supreme the fruit, but you can also just add segments. Dress your salad about 15 minutes before serving; you want the greens to wilt a little. Top with either toasted pecans or toasted pepitas. Other nice additions: thinly sliced radishes or fennel.
Pantry lemon pasta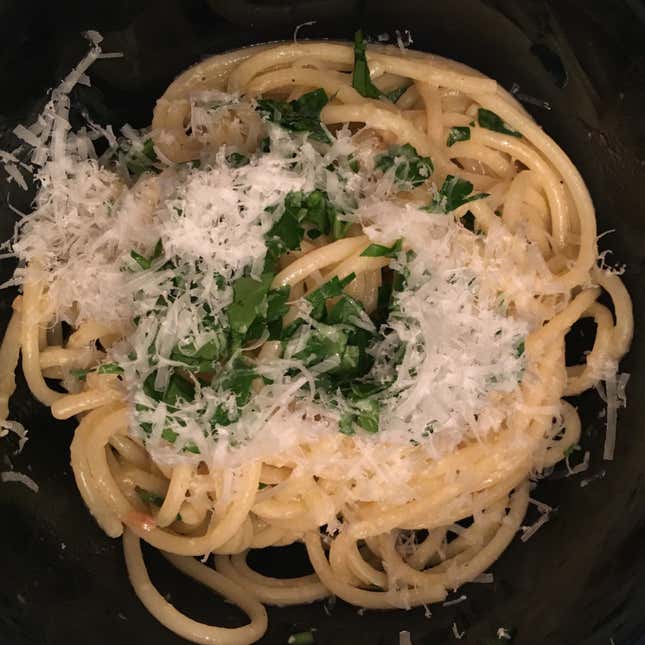 I love pasta al limone, a rich mix of butter, heavy cream and lemon juice, and it gives me an almost perverse pleasure to finish up the odds and ends in my refrigerator with this lemony, chili flake-spiked pantry dish.
Put a large pot of water on to boil and add a generous handful of salt. Chop a handful of parsley and zest one lemon and set both aside. Once the water boils, add a pound of pasta. Spaghetti or linguini works best here.
Meanwhile, in a deep saucepan, pour a few glugs of good olive oil, two tablespoons of butter, two to four cloves of minced garlic, a few grinds of black pepper, a pinch of salt to taste, two anchovy filets (more if you like), and a pinch of chili flakes. Sauté over medium heat until the garlic is cooked through, mashing the anchovies as you go.  for a minute. Add the juice of one lemon to the saucepan and continue to cook gently.
Drain the pasta, reserving some cooking water. Add the parsley and zest to the saucepan and stir in. Add the pasta to the saucepan, and toss with tongs, adding pasta water to moisten, until the noodles are well coated and glossy. Top with freshly grated parmesan.
Candied peel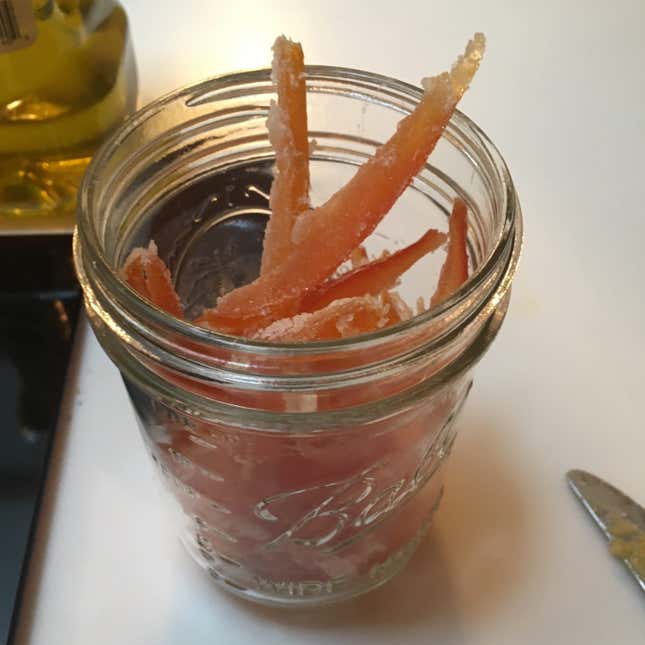 Homemade candied citrus peel is an easy treat that will elevate a cocktail or lemon bar (or grapefruit-lemon bar). It's also delicious dipped in dark chocolate (or just eaten alongside shards of chocolate).
Take one grapefruit (or two oranges) and use a peeler to cut the ends off so you can stand it on end. Cut the peel off in strips with a sharp knife or vegetable peeler, following the contour of the fruit and leaving as much pith behind as possible. Cut the peel into long strips about 1/4 of an inch wide. Place in a small saucepan, cover with water and boil for 30 minutes, adding more water if needed. Drain, rinse, drain again. Combine three cups of water and three cups of sugar in the saucepan, add peel, and simmer for 30 minutes more, then drain. Toss the softened peel with one cup of sugar and let it dry out on a lined cookie sheet for one to two days, or put in your oven at the lowest possible temperature for an hour. Brush excess sugar off, and store in an airtight container.