As Lunar New Year approaches, luxury brands across the world have released pig-themed products to welcome the year of the pig, which falls on Tuesday (Feb. 5). It reflects how foreign luxury brands are counting on Chinese consumers who appear to be still shopping, despite the economy's slowdown.
When done right, signaling a familiarity with a country's icons can help build a brand's image—as was the case with the charming and widely praised trailer released for the upcoming Peppa Pig Celebrates Chinese New Year. But using another culture for brand promotion is a risky business and can easily backfire—as the Italian luxury fashion Dolce & Gabbana found recently when it became embroiled in a racism row following a marketing campaign that relied upon Chinese stereotypes.
Here are some examples of pig-themed products, which have been greeted with varying levels of success:
Burberry
The British fashion brand launched a campaign titled "Modern Tradition," featuring well-known actresses in China including Zhao Wei and Zhou Dongyu and emphasizing "family reunion and intimacy (link in Chinese)" during the new year.
Unfortunately, some in China found the family photo in the campaign pretty creepy. "Which part of this family photo looks like a happy family portrait? It's creepy and looks like a ghost movie, are you misunderstanding Chinese culture?" one user wrote (link in Chinese) in response to Burberry's Weibo post.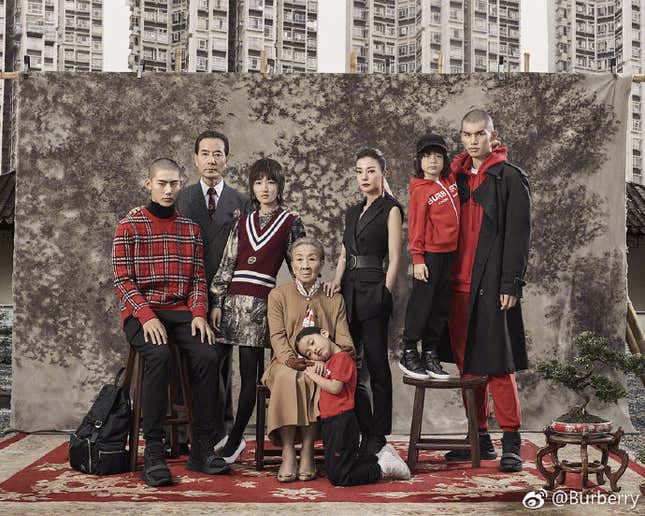 Louis Vuitton
The Paris luxury retail company went all in on pig-themed accessories, putting out a slew of key chains, necklaces, bracelets, a scarf, and a change jar.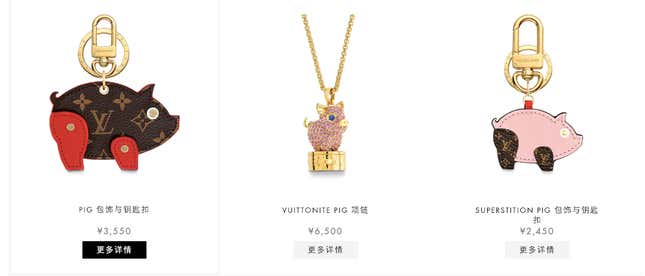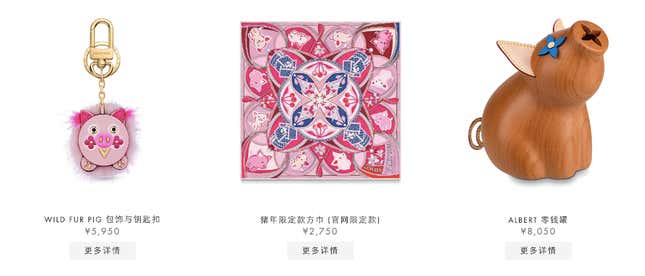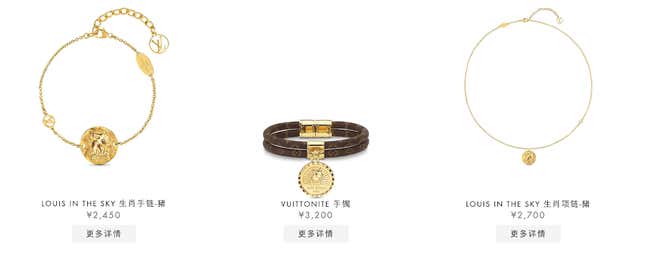 Bulgari
The Italian brand has rolled out accessories such as a rose-gold, flower-shaped necklace dressed with diamonds, and a limited-edition watch to celebrate the occasion. Instead of incorporating the animal into the accessories, Bulgari used pig toys to display its products.
The campaign has caused some controversies. Bulgari mixed Chinese and English characters in Chinese idioms to promote the products, and used "jew" which is a homophone of two Chinese characters that have the same pronunciation—珠 (zhū in Mandarin), which means jewelry, and 猪, or pig—as a wordplay.
The brand later deleted the ads after some pointed out that the term could be read as an insult to Jewish people.
Dolce & Gabbana
D&G didn't shrink away from China, despite the massive (and massively expensive) boycott and public outcry. The Italian brand rolled out t-shirts for men with the pig theme for the Lunar New Year. These haven't caused much controversy on Chinese social media, but some are doubting (link in Chinese) whether D&G will find  a market for the T-shirts after the snafu.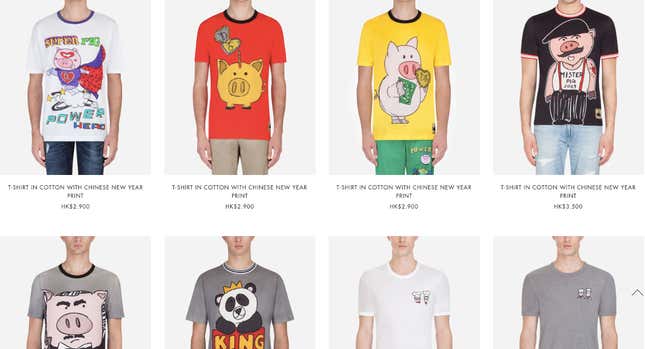 Estee Lauder
The New York-based skincare company released a powder compact in the shape of a pig. But some said it has triggered (link in Chinese) their trypophobia, a fear of uneven holes.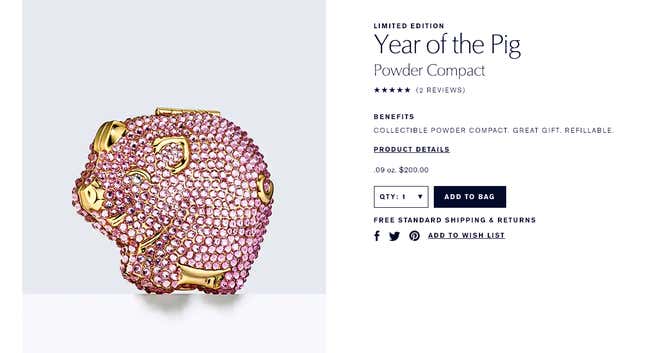 Gucci
Gucci turned to the classic Disney cartoon The Three Little Pigs for its porcine inspiration on sweaters and wallets. The images Gucci presented went down pretty well on Weibo, where some found the real pigs in the advertisement quite cute (link in Chinese).
Longchamp
The French luxury bag maker used semi-abstract line drawings of a pig's tail and nose to depict the animal on piglet-pink versions of its classic tote bag, which is one of Longchamp's most popular items in first-tier Chinese cities. Longchamp noted in its product introduction that pigs represent fortune in Chinese culture (link in Chinese).
Piaget
The Swiss luxury watchmaker rolled out a limited-edition watch for the year of the pig. Featuring a smiling pig on the watch face, Piaget is only selling 38 of this edition (link in Chinese) priced at 505,000 yuan ($75,000). It's in line with a similar edition Piaget released for the year of the dog.