In much of the US, we're deep in winter weather. The polar vortex created dangerously cold conditions in the Midwest this week, and there are weeks, if not months, of potential snow days ahead. Let's be clear—it's bad form to order delivery of any kind in the middle of a snow storm, especially when it comes with exceptionally cold weather.
As my colleague Olivia Goldhill wrote last year:
A perfectly considerate customer base wouldn't demand every food shop remain open throughout a snow storm. In reality, bosses know customers aren't so selfless, and so they call employees into work throughout the worst of the weather.
If you live in a place where it's more common to drive to pick up your food (not calling for it to be delivered), well, it's a risk to you and to others who might be on the road to drive in dangerous conditions unless it's necessary. So do the right thing and stock your pantry for a snowy day.
If you cook all the time, you probably have a shopping routine and a pantry full of spices, grains, oils, and other staples anyway. It's just a matter of making sure you've got fresh ingredients like meat and vegetables on hand. A snow day might even be an opportunity to spend some project cooking time in your kitchen, like these pretzels that I made on a recent snowy weekend, and which my family devoured.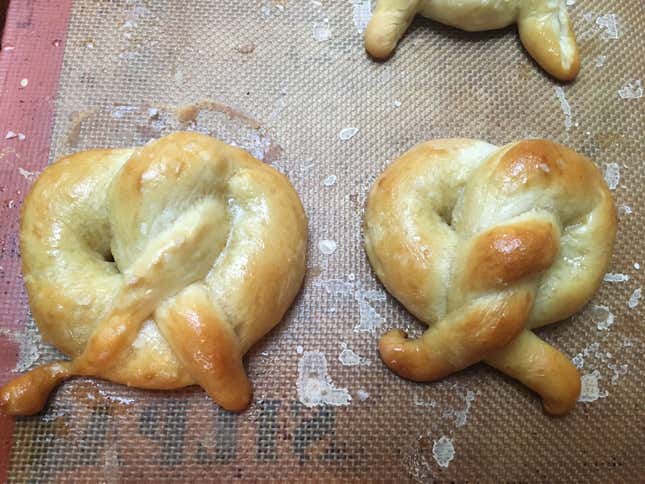 If you're not as well prepared for some weather, here are the building blocks for whipping up something satisfying without having to trudge through snow or risk frostbite.(This list also comes in handy for hangovers so terrible they prevent you from leaving the house, or even being able to face a delivery person.)
The basics
I'm not about to tell you which snacks to have on hand—you're responsible for your own Doritos, mixed nuts, chia puddings, and Oreos. Same for the booze. You already know what you like. Likewise, this is not a regular shopping list. I assume you have some amount of fruits and vegetables, and things like canned chickpeas and dried lentils in your kitchen. The following will make it possible to eat well without leaving the house for a few days. This is designed to keep you in mac and cheese and cookies on a day when it's best to stay home. You should stock up on some water, and think about serious winter storm preparation, and safety, as well, Just in case.
Eggs: If you have eggs, you have a meal. Stuff scrambled eggs, cheese, and some hot sauce in a tortilla and you have a breakfast burrito; soft boiled eggs on top of leftovers basically makes a grain bowl; you can fill an omelette from pretty much anything in your fridge.
Cheese: There's always a big brick of Cabot Extra Sharp Cheddar in my fridge for topping tacos, making sandwiches, and snacking.
Bread: Toast can easily be fancied up and become a vehicle for everything from Nutella to avocado to tahini. You can keep this in the freezer and just toast to use.
A secondary starch: Tortillas make burritos, tacos or quesadillas a possibility; crackers are for snackers; pasta is a great vehicle for olive oil, garlic, red chili flakes, capers, lemon, or any other flavorful odds and ends you might have in the fridge.
Condiments and toppings: A lot of your improvised meals are going to be big flavors on a starch vehicle. So stock up on big flavors. Don't pack your fridge with mayonnaise if you hate it, but do have your favorites, like mustard, ketchup, pickles, capers, hot sauce, and soy sauce on hand for maximum flavor. Sour cream, peanut butter, and Nutella also fall in this category.
Caffeine requirements: Your favorite barista doesn't want to trudge through the snow either. Consider a stash of fancy instant coffee for winter emergencies.
If you might want to bake: flour, sugar, butter, baking soda/powder, vanilla, cocoa powder, chocolate chips. Nothing says snow day like some freshly baked cookies.
Hide it in your freezer
What if you just really, really want some restaurant-style comfort food? Stock your freezer. I'm a bit of a veggie burger junkie (I love the original Gardenburger with melted cheese, ketchup, mayonnaise and pickles—what can I say?), so I like to buy a box, along with a bag of buns, and bury them in the freezer so that I forget I have them until I'm searching for something quick and delicious to eat. Helpfully, I'm already stocked up on cheese and my favorite condiments so I've got all that on hand. Chicken tenders (or the veggie version) are also great in place of takeout—just take the extra time to heat them in the oven instead of the microwave.
Frozen pizza is always a little disappointing, but maybe you have a brand you like? It's also too big and obvious to "forget" about and not eat shortly after it's purchased. Or maybe you froze some extras from an earlier dish, like soup or butter chicken. That way, you make sure you're always a few minutes away from a hot bowl of something delicious (that's useful for last-minute weeknight dinners, too). And, to really gild the lily, a box of ice cream sandwiches is the most wonderful thing to discover hiding behind the frozen peas. I don't care how cold it is outside.
Easy recipes
Not into improvising in the kitchen? Pick a couple simple recipes with just a few ingredients and keep them on hand. At Serious Eats, J. Kenji López-Alt has a great recipe for mac and cheese that uses just pasta, cheese, and evaporated milk. All but the most complex grilled cheese sandwiches mostly fit this bill (and you can whip up tomato soup from canned tomatoes, in about 15 minutes). Very good peanut butter cookies can be made with four ingredients.
One favorite I make with staples—eggs, favorite condiments—also takes advantage of something that is almost always in my fridge: cooked rice. I like to take the Korean chili paste gochujang, which is sweet, salty, and spicy, and heat about a tablespoon (the heat varies by brand so be careful with the amount until you get a feel for what you have) in a small frying pan with a tablespoon of butter, whisking together until it makes a glossy sauce. Then I dump in leftover rice and stir to coat, adding a little water to make it all softer and saucier. Then I crack two eggs on top, put the heat on low and cover until the whites are totally set. I top with scallions and sesame seed if I have them and put it all in a bowl.
And, if all else fails and you end up ordering takeout? Please, PLEASE, tip exceptionally well, and in cash if possible.