Buffalo is really the little sauce that could. At its simplest, it's just two ingredients: equal parts Frank's Red Hot and melted butter. A few dashes of Worcestershire sauce deepens the umami flavor. A squirt or two of sriracha or another hot chili paste or sauce adds kick. A tablespoon of honey adds a sweet component. But just Frank's and butter is thoroughly delicious.
It's also supremely versatile. Chicken wings are the classic vehicle for it of course, but you can put it on almost anything—roasted broccoli, fried tofu, chicken tenders. It's easy to make for vegetarians, vegans, and folks who avoid gluten, but it still feels like a party. Just add a side of blue cheese dressing (or ranch), some crunchy celery.
Here's our favorite version of the master sauce, and how to use it on classic chicken wings, crisp cauliflower florets, and popcorn shrimp.
Buffalo sauce
Truly, half and half Frank's Red Hot and butter with a dash or two of Worcestershire is a very solid buffalo sauce. If you want to really get into though, Mike Murphy, a technology editor at Quartz, is a buffalo sauce fanatic and has taken the whole thing to a different, spicier level.
Mike's Awesome Buffalo Sauce
½ cup of Frank's Hot Sauce
¼ cup of Crystal Hot Sauce
1 tablespoon of Sriracha
5 dashes (or more) of habanero hot sauce (Yucatan Sunshine is highly recommended)
5 dashes of Cholula Hot Sauce
7 tablespoons of unsalted butter
1 ½ tablespoons of white vinegar
½ teaspoon of cayenne pepper
½ teaspoon of salt
¼ teaspoon of Worcestershire sauce
¼ teaspoon of garlic powder
In a small pot, start melting the butter over a low heat. Dump everything else into the pot when the butter starts to melt, and stir. When the mixture starts to bubble at the sides of the pot, take it off the heat and whisk together. Drizzle over your wings or other buffalo sauce vehicles, or let it cool and toss them with the sauce in a bowl.
Serve with blue cheese dressing (or ranch) and celery sticks. 
Buffalo Wings
Preheat oven to 425°F(220°C). (You can also cook these in an air fryer or deep fry them.) Start with between two or three pounds of wings and pat them as dry as possible with paper towels. In a large bowl, combine two tablespoons of cornstarch, two tablespoons of flour, two teaspoons kosher salt, a half teaspoon of ground pepper, and a half teaspoon of garlic powder. Toss the wings with the mixture until evenly coated.
Spread the coated wings evenly on a parchment-lined baking sheet and put it in the oven for 20 minutes. Flip the wings with tongs so both sides get crispy and put them back in the oven for another 20-25 minutes, until they're golden brown and crispy. Let rest for about five minutes when done, then toss in a bowl with half a cup of your buffalo sauce until well coated. Add more sauce until your desired level of sauciness has been reached.
Buffalo cauliflower
Pre-heat oven to 450°(220°C). (You can also cook these in an air fryer or deep fry them.) Wash a large head of cauliflower and cut it into florets, or two 10-ounce bags of frozen cauliflower florets. In a large bowl, mix one cup of flour (rice flour works here too, if you want to go gluten-free, just add a quarter cup more water), two teaspoons kosher salt, one teaspoon paprika, two teaspoons garlic powder and a good amount of black pepper. Add one cup water and stir until smooth. Toss the cauliflower florets in the bowl until evenly coated.
Spread the coated florets on a parchment-lined sheet pan and bake for 30 minutes, turning pieces about halfway through. Pour a half cup of buffalo sauce over the cooked cauliflower and toss to coat. (If you're making this for vegan folks, replace the butter in the sauce with coconut oil or vegan margarine.)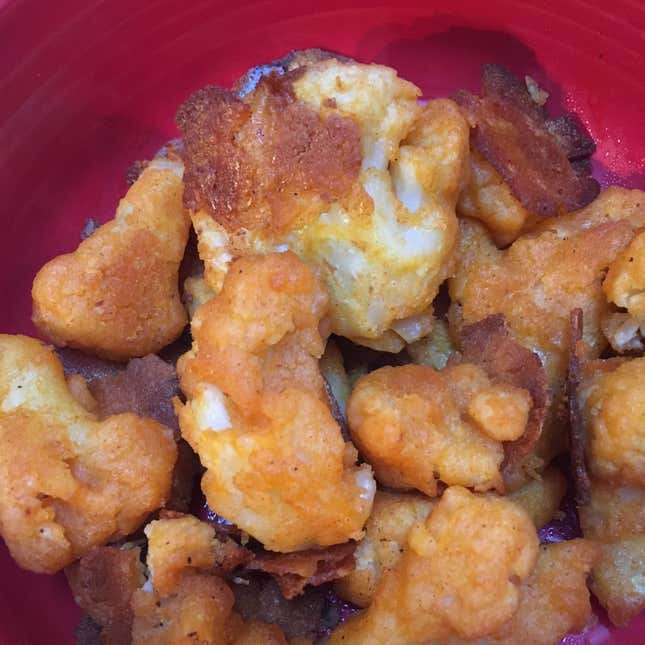 Buffalo shrimp
You could certainly just sauté shrimp in a pan until it's pink and opaque and toss it with buffalo sauce, and that would be delicious. As an appetizer or as party food though, buying a bag of pre-breaded popcorn shrimp for people to eat with their fingers is snackier, easier, and just more fun.
Follow the instructions for baking the popcorn shrimp—it's usually something close to 450°(220°C) for 15 minutes. When done, toss with a half cup to a cup of sauce, until glistening and serve.
(While ranch and blue cheese are equally good with cauliflower and wings, blue cheese and shrimp just don't compliment each other in the same way. Go ranch.)