Alex Mill is designed for the age of Marie Kondo. The newly relaunched fashion brand includes what might be classified as basics—a simple tee, a worker's jacket, flat-front chinos—but they're also created to be joy-sparking.
"These pieces should stir some emotion," co-founder and creative director Somsack Sikhounmuong said of the new spring 2019 collection.
Alex Drexler—the son of American fashion's merchant prince, former Gap and J.Crew head Mickey Drexler—originally founded Alex Mill in 2012 with a focus on men's shirts, and has since been selling its menswear at retailers such as Barneys and Unionmade. On Tuesday (Feb. 19), with the younger Drexler and Sikhounmuong at the helm, and the elder Drexler as both investor and advisor, the brand relaunched, adding womenswear. In addition to its freshly designed retail site, Alex Mill will sell at retailers including Nordstrom, Net-a-Porter, and Goop.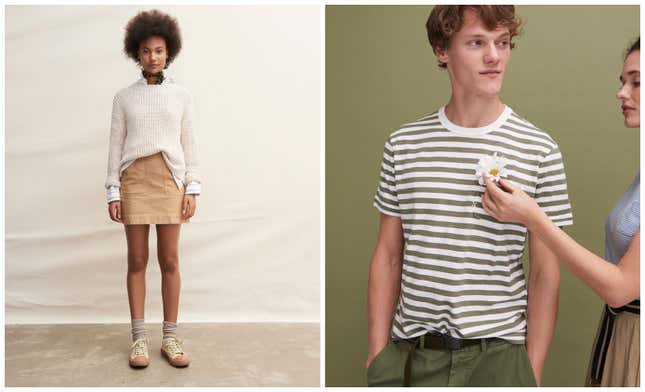 (Full disclosure: J.Crew made me an acolyte of its old guard when the brand resurrected a 1990s-era one-piece swimsuit after I publicly begged for it. So I was perhaps predisposed to appreciate a new project backed by its former CEO and co-founded by his son and Sikhounmuong, who was once one of the company's star designers.)
While its clear Alex Mill's striped tees, cotton crewneck cardigans, and plaid flannel shirts are designed to be everyday staples, items such as a full-skirted round-neck navy cotton dress have a little joie de vivre that's lacking from some direct-to-consumer fashion labels, which can feel optimized for internet search and practicality, but also a little bit sad. With all due respect to Everlane, the black pocket tee and crewneck sweater I've purchased don't spark joy so much as relief, perhaps with a little smidge of defeat.
And while J.Crew is slashing prices and shifting leadership, Alex Mill seems well-positioned to grab a little market share from shoppers who like their clothes preppy-ish, vintage-inspired, and with under-$200 price tags—but also don't really need more clothes. At a breakfast in Manhattan to show the new collection Alex Mill's social media consultant, the photographer and Instagram influencer (and former J.Crew model) Lucy Laucht wore a cotton olive-green jumpsuit with a brown leather belt looped around its waist.
Laucht's outfit—and the collection as a whole—recalled the days of the J.Crew catalog before sequins and suiting entered the scene, when everything (roll-neck sweaters, cotton barn jackets, two-tone anoraks) looked a little collegiate and ready for a drive in the country. Indeed, Sikhounmuong said that the main distinction between his work for Alex Mill and his tenure at J.Crew and Madewell is a matter of focus and scale.
"It's not about a whole line of dresses," he said. "We're going to give you two dresses."
The clothes look easy to wear, and the brand's identity is easy to understand—which is good news for customers' overstuffed closets, and also for a crowded marketplace.
"It shouldn't be intimidating," said Sikhounmuong of the collection. "It should be accessible in every way. Understandable and easy style doesn't have to be boring."