The Nike Adapt BB, a $350 self-tightening sneaker that contains smartphone-grade electronics and can be controlled via an app, became available to consumers just last week.
Users, however, are already reporting serious technical glitches with the app, which allows users to tighten and loosen their shoes from their phones, and importantly, is supposed to be a game-changing interface for the shoe.
Reviewers of the Android and iOS versions of the app in Google Play and in Apple's app store have been complaining about issues pairing their phones to the shoes, in particular after a suggested update to the sneaker's firmware. As Computer Business Review reported, many people are saying that their apps will sync with the sneaker for one foot but not the other.
"App will only sync with left shoe and then fail every time," reads one review in Google Play. "Also, app says left shoe is already connected to another device whenever I try to reinstall and start over."
"It kept saying that my left shoe can't connect to my phone," another review in the Apple app store says. "I only can control the right shoe."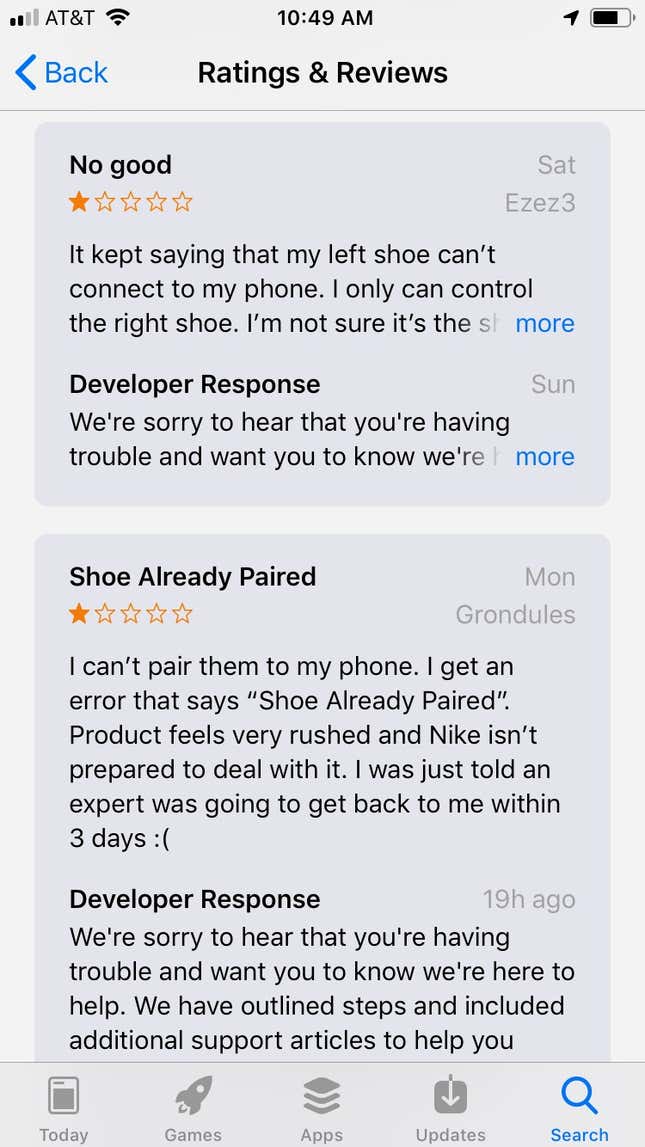 Users can still tighten the shoes with controls located on the shoes themselves, but the app is meant to be an important part of the product's value to users. Nike has marketed the Adapt BB as ushering in a new breed of tech-enabled footwear with a more precise fit than ever before, and the app is the interface for a user's relationship with it. Over time, Nike will offer firmware updates for the shoes that will give users more capabilities, such as saving their favorite settings, all of which they control from the app.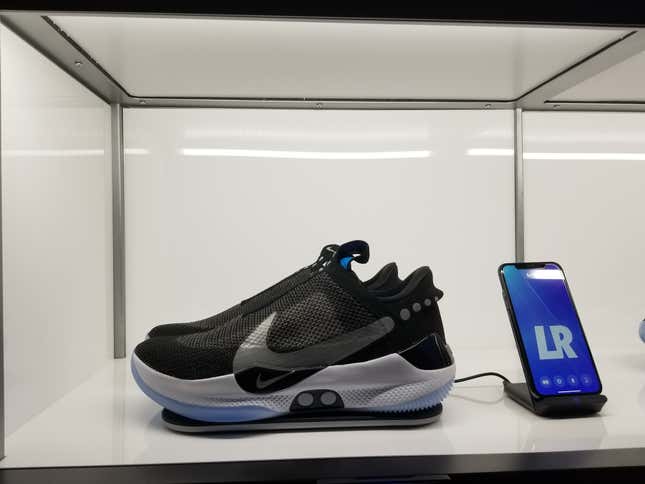 Nike's customer service has been responding to reviewers with suggested fixes and fielding calls as well. Some reviewers have said their issues were resolved. Others complained that nothing they did was able to get the shoes working with the app properly, and Nike said it would have to get back to them.
"We are seeing isolated connectivity issues related to the setup of the Nike Adapt BB and are actively working to resolve it," the company said in an emailed statement. "If a consumer experiences this, we encourage them to contact Nike Consumer Services."

Many people have posted positive reviews, too, reporting no issues at all and praising the shoes and the app. In Google Play, the app for the Adapt BB has 47 reviews and 3.2 stars out of 5, as of this writing. In Apple's store, is has 155 reviews and 4.3 stars.
But the number of complaints surfacing is surely not what Nike wanted to see just after introducing a new sneaker that it has promoted as a groundbreaking technology, and that it spent a great deal of time and money developing.
This story has been updated with Nike's statement.