Nike became the focus of one of the biggest US college basketball games of the season last night (Feb. 20), but not for a reason it would like.
The match up was between the University of North Carolina and Duke University, the nation's top-ranked team. One of Duke's most explosive players, freshman superstar Zion Williamson, is the presumed first pick in the upcoming NBA draft. Even former president Barack Obama was there to watch. Just moments into play, Williamson had the ball and was moving across the floor. As he tried to plant his left foot to change direction, the Nike PG 2.5 sneaker he was wearing blew out, and his foot slid across the court. Williamson fell to the ground and stayed there.
Williamson had to leave the game, which UNC ultimately won, with what Duke's coach later told media was a mild knee sprain. Clips of the moment, and pictures of Williamson's Nike sneaker with its sole ripping away from the shoe, circulated online. Sneaker company Puma even commented on Twitter, "Wouldn't have happened in the pumas." It later deleted the tweet.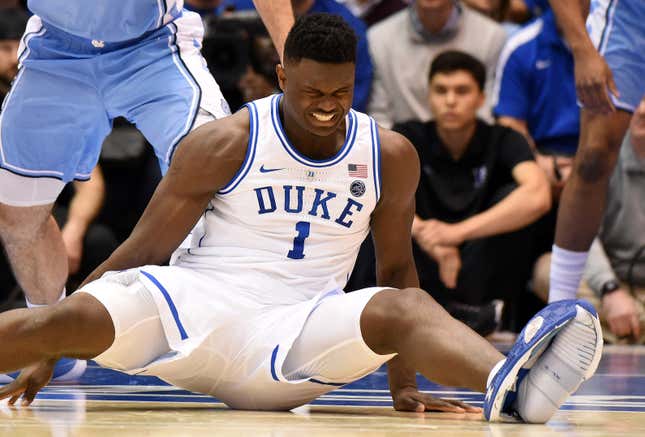 Nike issued a statement wishing Zion a speedy recovery. "The quality and performance of our products are of utmost importance. While this is an isolated occurrence, we are working to identify the issue," it said.
Duke, meanwhile, said it was uncertain how long Williamson would be out, but that his knee is stable.
The whole scenario is a PR mess for Nike, which is premised on helping athletes perform better. The company has had other sneakers blow out in the past, but it's rare. Nike does extensive testing on its shoes, and plenty of large, fast pro and college players wear them without incident. But to have such a prominent star injured in such a high-profile game during a blow out of one of its sneakers doesn't look good.
It wasn't the first PR problem for Nike that day either. User reports began surfacing yesterday of technical issues with the app controlling its $350 Adapt BB smart basketball sneakers,  which were only recently released to the public. Nike has promoted the sneakers as a game-changing technology, and the app as the interface for a new kind of relationship with a performance product, enabling users to enhance the capabilities of the sneaker over time. Users complained of the app syncing with one foot, but not the other. For such a high-profile product, its start has been less than flawless.
The company is now working to save face on both fronts.