My husband and I used to love having big dinner parties. These were messy, boozy affairs, often involving grand cooking experiments or overambitious forays into obsessively researched new cuisines. They started at 8pm, but often food wouldn't hit the table until 10pm, and then guests would linger late into the night. We'd leave the dishes piled in the sink for whenever we rolled out of bed the next morning.
Now we have kids aged 3 and 6, and our entertaining has changed considerably. We still love to have people over, but some of our guests have bedtimes of 7:30pm, and prefer chicken fingers to Vietnamese summer rolls.
Still, we haven't given up entirely. As working parents, we've discovered the pleasures of family-friendly dinner parties that start early and wrap up in a couple hours. They take a bit of planning, yes, but it's worth it for a break from the routine and a chance to eat, drink, and chat with friends, without having to hire a babysitter.
You don't even have to cook at all: Order a pizza, toss a salad, open a bottle of wine, and call it dinner. If you do cook, the key is keeping your meal prep stress-free. Stick with tried-and-true centerpiece recipes that can be made in advance or thrown together quickly (depending on your comfort in the kitchen), and simple dishes that can be modified for less adventurous palates: build-your-own tacos, pasta, or a no-fuss roast chicken are good options. Avoid expensive ingredients (steak, delicate fish) that are easy to ruin if, say, a toddler brawl breaks out while you're at a crucial cooking point. Buying pre-prepped elements helps too—there's no shame in a pre-washed salad, ordering out for fresh parathas, or a rotisserie chicken.
To elevate the evening above an average weeknight dinner, we often serve richer foods than our usual fare. We don't bother with appetizers, but we never skip dessert, even if it's just a couple pints of ice cream and some fruit or store-bought cookies. It's worth asking yourself, what will make the evening feel like a special treat, for you and your guests? A round of cocktails? A plate of delicious cheeses and olives to nibble on while the children play? A tray of gooey brownies?
Here are some of our go-to main courses for weeknight dinner parties. These all come together in less than an hour (sometimes with a bit of prep in advance) and are easy to double or triple with little extra effort.
Chicken thighs gratin
This creamy, cheesy chicken gratin the kind of rich, Frenchified food that I imagine my mother cooking at dinner parties in the 1970s—and not at all the sort of thing I usually cook. But it's easy to make, so damn delicious, and feels glamorous enough to make up for a Lego-strewn dinner table.
Kristin Miglore highlighted this dish, from Richard Olney's classic Simple French Food, as one of her "Genius Recipes" on Food52. Instead of using a whole chicken cut into pieces, I prefer to make the recipe with bone-in, skin-on chicken thighs—the cut that takes best to this treatment, in my opinion. It also makes the recipe very easy, and convenient to scale up for a crowd.
Here is my version, slightly modified from Olney's recipe via Food52, which serves four to six adults and children, depending on appetite: Preheat the oven to 400° F. Salt three pounds of bone-in, skin-on chicken thighs (about eight thighs). Working in batches in a large skillet or dutch oven, heat two tablespoons of butter over medium-high heat and sauté the chicken, turning it with tongs every couple minutes. When browned on all sides, remove the thighs and arrange them side-by-side, skin side up, in an oven-proof vessel that holds them snugly (I've used a dutch oven, an iron skillet, and a pyrex baking dish, and all did the job). In the remaining butter and chicken dippings, fry a half cup of breadcrumbs (panko works well) over medium-low heat, stirring constantly, until lightly browned. Scoop out the breadcrumbs and deglaze the pan with half a cup of white wine. Pour the wine-y pan juices into a mixing bowl and whisk it with 3/4 cup heavy cream,  three egg yolks, three ounces Gruyère (grated on a box grater), and the juice of half a lemon. Add salt and pepper to taste. Pour this mixture evenly over the chicken thighs, sprinkle with the toasted breadcrumbs, and roast in the oven for 20-25 minutes. The top should be browned and the mixture should have set and clumped a little.
Serve with crusty bread and salad with a zippy, mustardy dressing. For kids: If they're feeling picky, I remove the skin and any trace of the rich, cheesy sauce (their loss), and shred the fragrant roasted chicken meat.
Spaghetti with pesto and buttery, lemony shrimp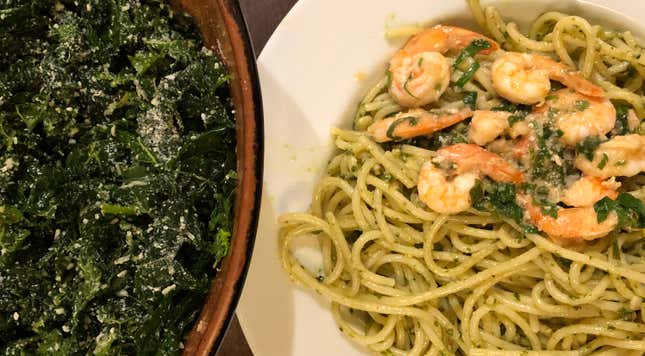 Mark Bittman's buttery shrimp scampi recipe is an instant crowd-pleaser, and is ready in minutes. This version, modified slightly, serves four to six adults and kids, depending on appetite: Mince six garlic cloves and chop half a cup of flat parsley leaves. Add  three tablespoons of butter and two tablespoons of olive oil to a skillet over medium heat, then add the garlic and stir for a minute or so, until fragrant but not browned. Pour in half a cup of white wine. Sprinkle with half a teaspoon of salt, and add chili flakes and black pepper to taste. Bring to a boil and reduce by about half. Add two pounds of raw peeled and deveined shrimp, and stir until they turn pink (you can add frozen shrimp directly to the pan here, too, they'll just take a little longer to turn pink). Turn off the heat and toss with the parsley and the juice of a lemon.
For the pasta: My kids love "green pasta," so I stock my freezer with pesto when my yard is overflowing with basil in the summer—but fresh pesto is available at many groceries, or here's a good recipe to whiz some up in advance. Or, skip the pesto altogether and toss your pasta with a simple sauce made from lemon zest and juice and butter.
Serve the shrimp in its skillet, alongside a bowl of dressed spaghetti, and pass grated parmesan cheese at the table. Add a green salad and a warm baguette to make it a party. For kids: If they're not pesto fans, the pasta can be dressed with butter and parmesan cheese. They might be reluctant to try the shrimp, but its buttery, lemony sauce has been known to convert some into shrimp-lovers. If not, a pan-fried sausage or chicken breast is a nice protein accompaniment to the pasta.
Slow-roasted pork shoulder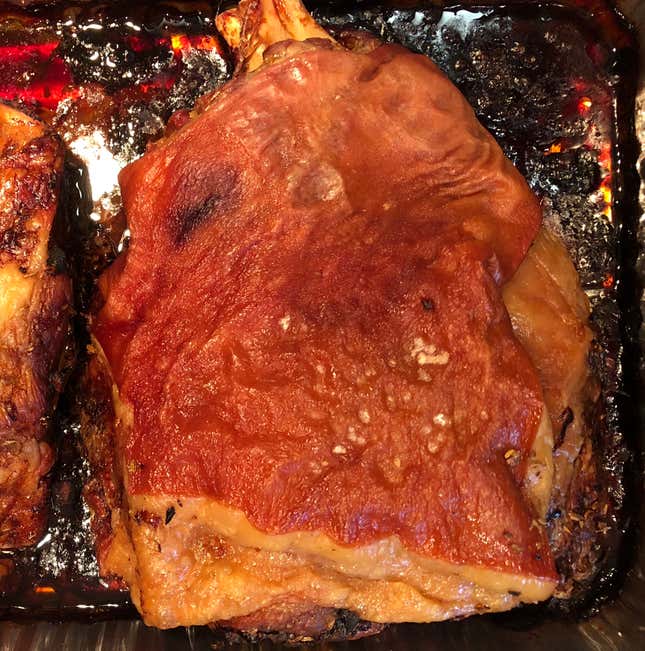 This recipe is the opposite of quick—but it's a great candidate for a sumptuous weeknight dinner party because all it involves is about 10 minutes of prep the night or morning before, and then it cooks undisturbed for half a day. Once it's ready, the meat is tender enough to be pulled apart with forks and either served immediately or crisped up later in a frying pan. Pork shoulders can range in size but will generally feed a party. A good rule of thumb is three pounds of uncooked bone-in pork shoulder will feed four to six people depending on appetite (so a nine-pound shoulder will feed 12-18 people). It also makes for wonderful leftovers.
Preheat the oven to 250° F.  In a roasting pan, generously salt and pepper a bone-in, skin-on pork shoulder. (Any kind is fine—butt, blade roast, picnic—and any weight is fine. This recipe is very forgiving.) Put it in the oven and roast it for eight to 12 hours. Let it rest for at least 10 minutes before removing and discarding the skin (it has served its purpose by keeping the meat moist, but at this point it will be very thick and leathery). In a separate dish, pull the meat off the bone and shred it. I like to mix in some of the deliciously salty caramelized pan drippings, after pouring off most of the fat.
The meat is great in tacos or loaded onto a bun with barbecue sauce, or you can go full bo ssam. It's also delicious just piled on a plate, alongside a colorful chopped salad. For kids: This pork, finely shredded, maybe with a side of mac and cheese, makes my kids very happy.