Taco night once a week is a blessing for working parents—an easy, kid-friendly feast that always feels a bit celebratory. At our homes, sometimes the tortillas are stuffed with marinated grilled chicken, sometimes carnitas, sometimes fish. Occasionally we buy the Old El Paso box of crunchy hard taco shells and add that delicious bright orange powder to ground pork. Sometimes there's beans and rice as well, sometimes not.
For a weeknight dinner, pick one filling, warm some tortillas, shred some cheese, make a salsa (or use store-bought), and call it dinner. Other toppings are up to your imagination, and what you have on hand: sour cream, avocado, cilantro, shredded cabbage, radishes, pickled onions, jalapeños. The leftovers make great lunches repackaged into a burrito, or served on top of rice or roasted corn.
Taco night can also be easily expanded to a party: Salsa and fillings can both be made in giant batches with very little additional time commitment. They're great for a crowd, and can accommodate vegetarians or vegans. Gluten-free people can eat corn tortillas, and children often prefer flour ones.
Here's a general outline for taco party, from a story Annaliese wrote about different ways to feast:
Choose three fillings to prepare … Get the freshest tortillas you can find, or make them (five per person is a generous feast that will leave you with leftovers). Make a pot of black or pinto beans, and a pot of rice. You'll also want sour cream, cilantro, avocado, shredded cheddar cheese, and maybe some cotija, a fresh cheese, as well. Add pico de gallo, and red and green salsas (buy them if this list is stressing you out!) to the mix and you have a party.
This makes a fantastic potluck, too. Provide the beans, rice, tortillas and one filling, and then ask your guests to bring a filling and salsa of their choice, or an appetizer like chips and guacamole.
All of the following recipes are for four people with leftovers—perfect for a weeknight dinner, and easily scaled up for a crowd.
Pork carnitas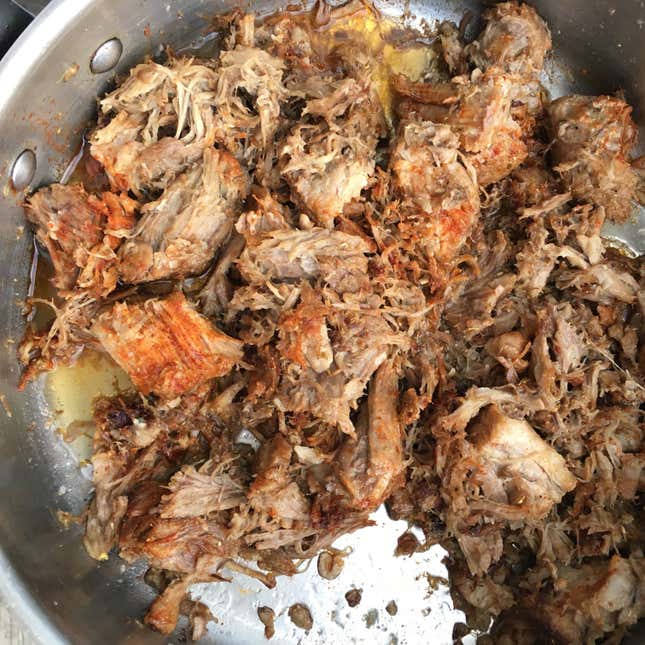 Traditionally, carnitas is pork, cooked long and slow in lard until it achieves a texture that is simultaneously succulent and crispy. It's a dish that lends itself to production at volume—a cauldron of pork, simmering in pork fat.
In recent years, slow cooker and Instant Pot fans have tinkered with various techniques, and made weeknight carnitas a delicious reality. They're slightly different than what you'd find at a high volume taqueria, but still so good you may not believe they actually came from your kitchen. The basic recipe and technique can also be adapted to chicken thighs, or to leftover turkey.
This recipe works for a pressure cooker, a slow cooker, or a Dutch oven on low heat. Don't sweat precision here—the spices and aromatics add flavor, but carnitas is really all about pork. There's no spicy heat to carnitas, so it's a great taco filling for the chili averse.
Mix two heaping teaspoons kosher salt, a teaspoon of pepper, and four cloves of finely minced garlic in a small bowl. Coat a 2-3-pound boneless pork shoulder with this mixture. (Leave the shoulder whole for a pressure cooker. For a slow cooker or the oven, you'll want to cut the pork into 2-inch chunks.) Put it in the fridge overnight if you have time (don't stress if you don't). Place the pork in your slow cooker or Instant Pot, or Dutch oven. Add an onion, quartered, and a bay leaf, and then pour in four to six cups of chicken stock, so that it covers the pork. Juice two limes in and then add the juiced skins to the pot.
Cook the meat: For a slow cooker, low for eight hours, or high for four to five hours. In the Instant Pot, 35 minutes on high, then natural release. In the oven, 225° for 4 to 5 hours. When the meat is fork tender, transfer it to a large skillet, leaving the liquid, onion and bay leaf behind (hold on to that liquid though). Heat the carnitas on medium, gently pulling it apart as you go, until some of the edges are crispy, which will take about 15 minutes. Add some cooking liquid if it gets too dry. Squeeze lime juice on, and add salt to taste.
Pro tip: Freeze or refrigerate the liquid to reuse (adding stock as needed) for an even more flavorful next round of carnitas, or to punch up the broth in a soup.
-Annaliese Griffin
Roasted sweet potato and black bean tacos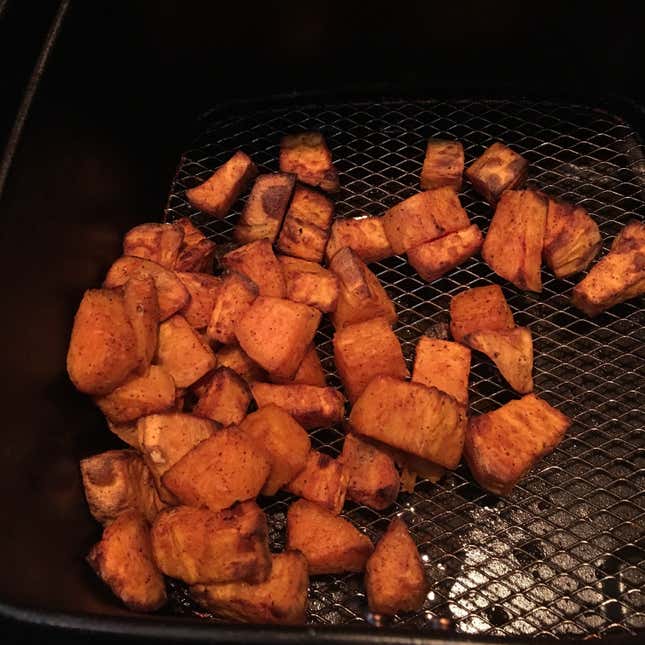 These were inspired by Deb Perelman at Smitten Kitchen. She smears refried black beans onto a warm flour tortilla, then layers on chili-roasted sweet potatoes, and tops it all with pickled onions.
To make the sweet potatoes, the real stars of this dish, peel and cube three large or four medium sweet potatoes (somewhere between a pound and a pound-and-a-half) into bite-sized chunks. Put the potatoes in a large bowl and toss with two tablespoons olive oil, a teaspoon of kosher salt, a teaspoon of smoked paprika, and cayenne pepper to taste (or to leave out all together). Sometimes I add a half teaspoon of ground cumin or ground coriander as well.
Toss well to coat with the spices and oil. Spread evenly on a baking sheet and bake in a 400°F oven for about 40 minutes. Your cooking time with vary depending on your oven and the size of the potato pieces, so after about 20 minutes give them a good stir for even browning and check every 10 minutes after that. I also make these in an air fryer, at 400° for about 20 minutes.
I like these on a corn tortilla, with some shredded cheddar sprinkled on top of the refried black beans, then the sweet potatoes, onion-lime-cilantro salsa, and a spoonful of sour cream.
-Annaliese Griffin
Shrimp tacos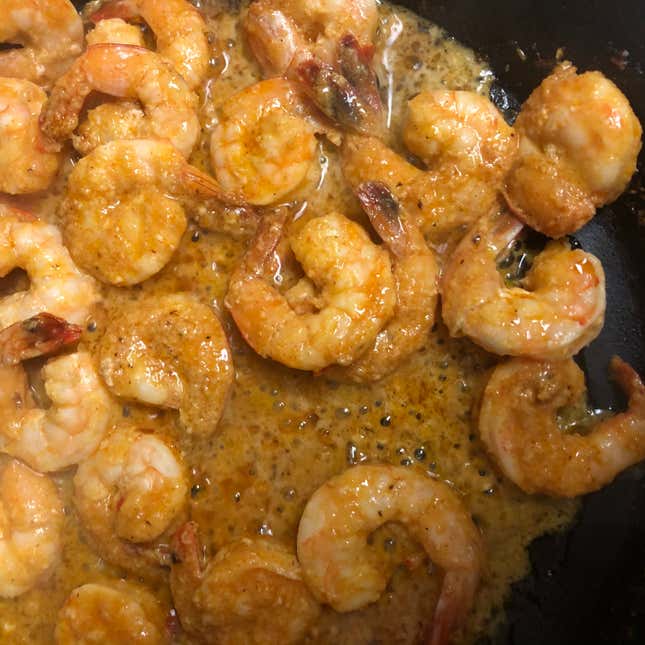 There's nothing like a shrimp taco to evoke summertime and the seaside, even if it's the dead of winter. A great shrimp taco is all about the textural and flavor contrasts: warm, garlicky shrimp tucked into a chewy corn tortilla, with crunchy shredded red cabbage and onions, fragrant cilantro, and sour cream.
Unless you actually are by the sea, or you have an excellent fishmonger, it's a safer bet to start with frozen shrimp—most packaged shrimp you'll see for sale has been previously frozen anyhow. It's worth reading the labeling to ensure it was responsibly farmed or caught.
Start with a pound of peeled and deveined shrimp, thawed. Toss it with the juice of a lime, a half teaspoon of salt, two cloves of crushed garlic, and a teaspoon of smoked paprika. Leave it to marinate for 10 minutes (not much longer, or it will become ceviche).
In a sturdy cast iron or other frying pan, heat a tablespoon of olive oil over medium to high heat, tilting it to cover the bottom of the pan. Lift the shrimp from the marinade with a slotted spoon and drop it into the pan. Stir and fry until the shrimp is almost all pink, then pour in the marinade and reduce it over high heat until it's clinging to the shrimp.
Serve with your favorite taco toppings, or as described above, with extra limes and hot sauce.
-Indrani Sen