If you've ever followed a recipe for pie, you know that the instructions for making pie crust often read more like you're casting a spell than baking a dessert. Add water until the dough "just comes together." Drip ice water over flour and butter at the same pace as a late summer rain, until they resolve into shaggy clumps. Picture your grandma while adding water to the flour and butter mixture; stop when you think she would.
You will not find directions like this in The New Pie, a new cookbook written by two passionate bakers, who also happen to have day jobs as scientists. "When I get an instruction like that, where there's some little folksy maxim, to stir it until something happens? I'm like, come on. There's got to be a temperature that it needs to achieve," says Paul Arguin, who co-authored the book with his husband, Chris Taylor.
The two are both doctors who work at the Centers for Disease Control in Atlanta, where they often bring experimental pies for colleagues to taste test; Arguin is a malaria specialist and Taylor works on Alzheimer's disease. In recent years though, they've also become baking celebrities. Together, they've won nearly every prize on the amateur pie competition circuit, including the 2017 National Pie Championships, for their creative flavor combinations and artistic finishing touches.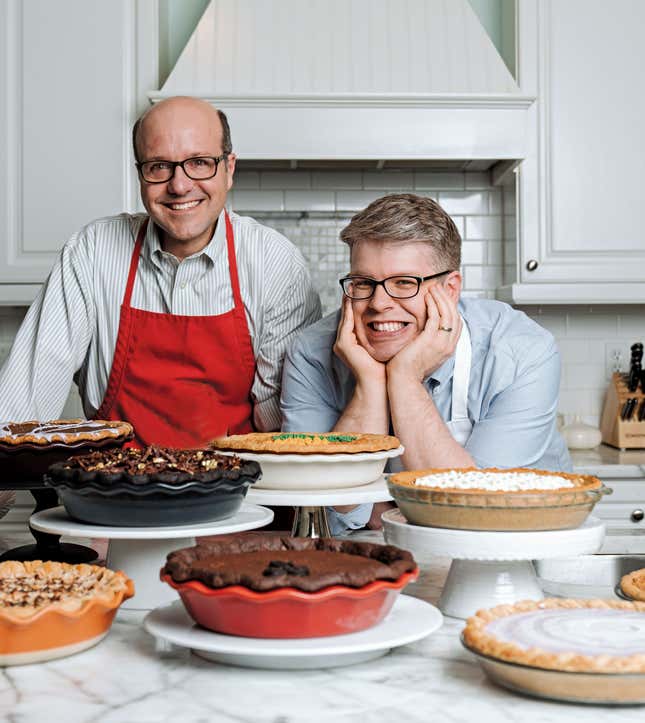 The New Pie preserves Arguin and Taylor's genius for novelty: There's the chocolate-striped "Pie of the Tiger"; one with a Bloody Mary-flavored filling and Cheetos in the crust; and a root beer float pie that uses Pop Rocks to approximate the sensation of drinking a soda.
But the book also serves as a precise pie-making primer. Whether you're a pie newbie or a pie pro—ready to debate Arguin and Taylor on whether to go all-butter or not (they add a little shortening)—this book has a new technique, tool, or recipe that will make your pies a bit more delicious.
"We tried to be true to who we are as bakers, but we also really wanted to make sure that what we were putting down on the page was something that anyone could follow," Taylor told me over the phone.
As befits the two scientists' focus on precision and technique, they embrace kitchen gadgetry. They use an immersion circulator to sous-vide fruit, to achieve a perfectly toothsome texture and control the amount of liquid in a fruit pie. And they strongly recommend that all bakers invest in a digital scale for weighing ingredients, rather than measuring by volume. Their other gear recommendations—a pie shield to protect the crust from overbrowning and from spills during filling, and a pie mat for neatly rolling dough to fit your pie dish—are inexpensive and indispensable.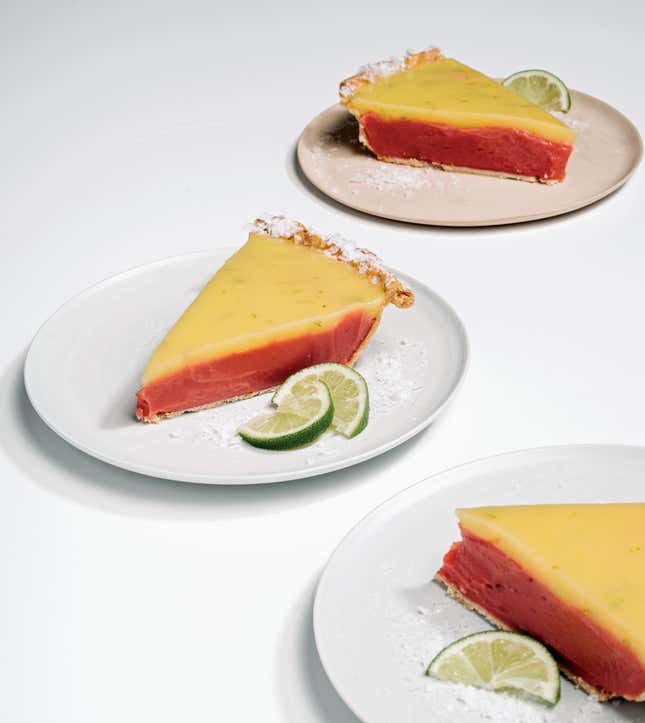 The real genius of this book, however, is in the flavor combinations. Taylor and Arguin have created a host of new classics that are mostly very easy to make, especially once you have the confidence their precise crust recipes inspire. Yes, there's a chapter dedicated to some very involved, prize-winning recipes that require pastry bags, days of planning, a steady hand, and an artist's eye to execute. But the recipes I'll be returning to again and again are actually very ripe for customization.
The Summer Strawberry pie, the first pie that ever won the duo a blue ribbon at a contest, is a classic butter-and-shortening crust with a strawberry filling, topped with lemon curd and an elaborate array of sliced strawberries. But the strawberry filling, which combines fresh strawberries, sweetened condensed milk, and lemon juice, is so delicious, and so easy, you could just top it with a little whipped cream and call it a day. The lemon curd topping could come out of a jar if you were pressed for time, and the decorations can be eliminated all together, or much simplified.
Likewise, the 6151 Richmond is a Golden Girls-inspired pie that incorporates limoncello and lingonberries into a cheesecake-like confection that is then poured into a pecan-graham-cracker crust. The filling of cream cheese, powdered sugar, heavy cream, and gelatin bloomed in limoncello takes about 10 minutes to whip up, and could be flavored with virtually any liqueur or fruit juice, and topped with any fruit. You could even replace the booze with coffee, and top the whole thing with ganache, for a mocha cheesecake pie. The base is a blank slate for flavor experiments, and the gelatin makes it nearly foolproof in terms of texture.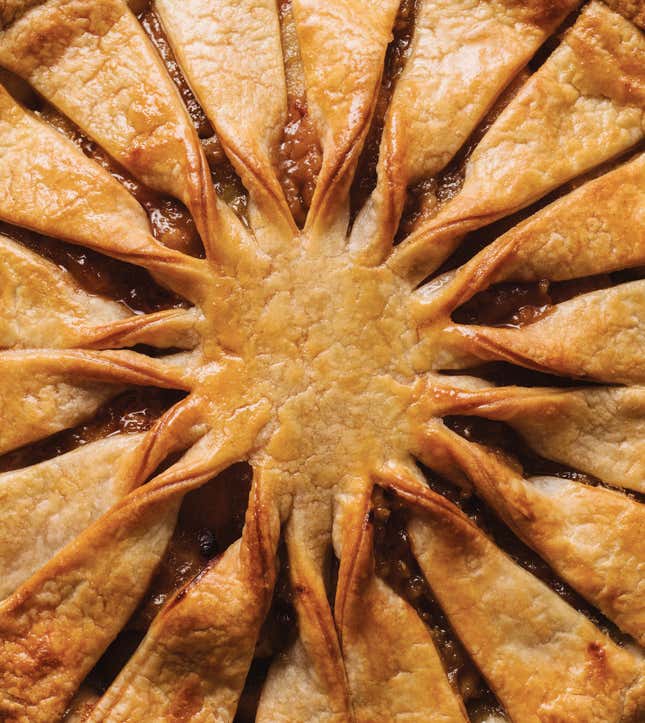 This won't be they last we hear from Taylor and Arguin. They also bake cakes, cookies, and bread, and told me that they have lots of cookbook ideas.
And then there's the one pie that got away, Taylor admitted, the one that failed their recipe-testing process, that they're still tinkering with: They wanted to use a "green juice" smoothie they both liked to create a dramatic dark green pie, but they found that the custard would not firm up consistently.
"Sometimes the pie would set and sometimes it wouldn't, and there was no rhyme or reason," says Taylor. "We tried and tried it." It's an idea that's typical of their aesthetic—deeply weird, undeniably beguiling, and all about culinary transmutation: "You take this green, algae-looking sludge," Taylor says, "and you turn that into a beautiful pie."