Pi is  3.14159, plus some, ad infinitum, a number sequence that doesn't repeat and whose end cannot be reached. On the 14th day of the third month of each year, 3/14 in the US, we celebrate Pi Day because this mathematical constant—used to calculate the area and circumference of a circle—is unique. It's irrational and transcendent, practical and abstract.
Although pi is used in calculations for building and construction, quantum physics, communications, music theory, medical procedures, air travel, and space flight, it serves philosophical purposes too. Pi represents the constancy of mystery, the impossibility of ever knowing it all, a wealth of potential. It hints at how the universe itself works, spinning out similar sequences that never repeat and never finish.
In sum, pi gives us plenty to mull on this day and any other. You could literally spend all of your life calculating this figure and never reach its end. It's rich! And that is why, for math artist John Sims, it's been pi day for the last two decades.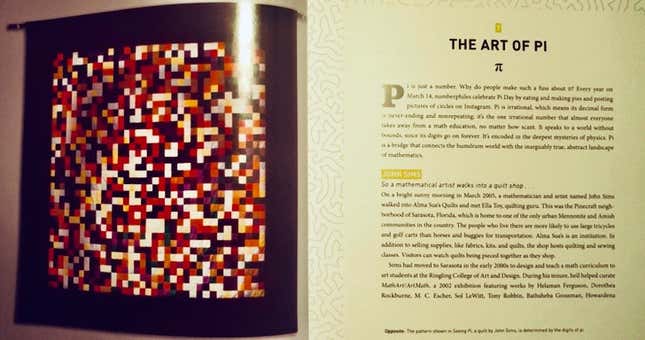 Sims' work is featured in "The Art of Pi," the first chapter in the upcoming book Math Art: Truth, Beauty, and Equations by Stephen Omes. He has a new show opening on March 14 at the Grace Howl Contemporary Art Gallery in Sarasota, Florida, called American Pi: Visions from a math artist. And he has rendered pi in all the forms, making math music, videos, drawings, paintings, quilts, clothing, and stories. "I'm using pi to move through the different spaces," he explains.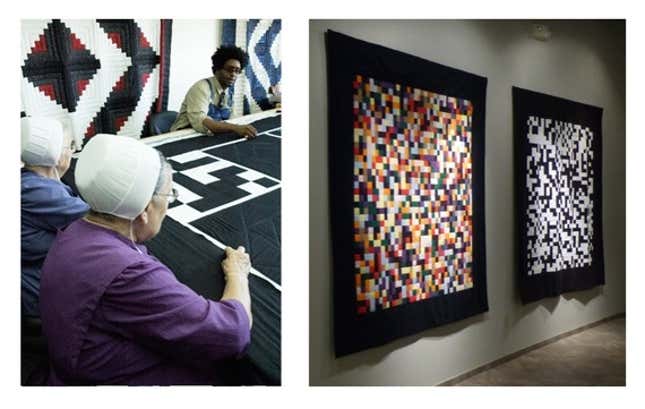 Sims is a conceptual artist whose math background informs a striking range of creative production. As he takes me around his studio in an unassuming low building near downtown Sarasota—dimly lit, neat and crowded with books and art, jazz playing on the radio in the background—he drops equations with the same frequency as artistic references. When I ask which comes first when he's thinking about his work, the math or the art, he replies (standing beside a visualization of the equation 32 + 42 = 52). "I come at it both ways. Math, art. Art, math."
These are just two languages he speaks. As he writes on his website, the disciplines are inextricably linked:
Mathematics and Arts…not only play a foundational role in our understanding of physical reality, but also shape the essence of human creativity. The mathematical instinct, which moves fluidly across the various elements of nature and human culture, leaves convincing evidence from bee hives to quilting circles that mathematics, art and community are profound partners in the search for truth, beauty and spirit. But when mathematics and art—parameters of human cognition—are quilted together as Mathematical Art, structure and spirit meet in a metaphysical communion of heightened vision.
A strange success
Sims moved to Sarasota to be the math coordinator at Ringling College of Art and Design, where for seven years he created a visual mathematics curriculum for artists. He is probably the only professor ever to boast that one of his great successes was inspiring a student to drop out of art school and take up math as a profession.
Getting people who don't think they're into numbers to see how the loathed and feared subject actually manifests in all areas of their life, including the arts, is Sims' passion. It's an approach that's been taken up by STEM professors, too, of late, including Carthage College mathematician Sara Jensen, who teaches quilting math classes, and the University of Southern California physicist, astronomer, and graphic novelist Clifford V. Johnson, who writes comic books about physics, works of "sequential art" that are physics projects themselves.
Now, Sims tries to do the same thing with his art that he did as an academic. He hopes to teach us fluidity, to enhance our ability to see across boundaries.  
Charting a map of pi
When it comes to pi, for example, Sims is into the practical math element, and the metaphorical and mystical possibilities. He has created works inspired by and about this mathematical constant, visualized in a framed pencil-and-ink piece on graph paper hanging in his studio.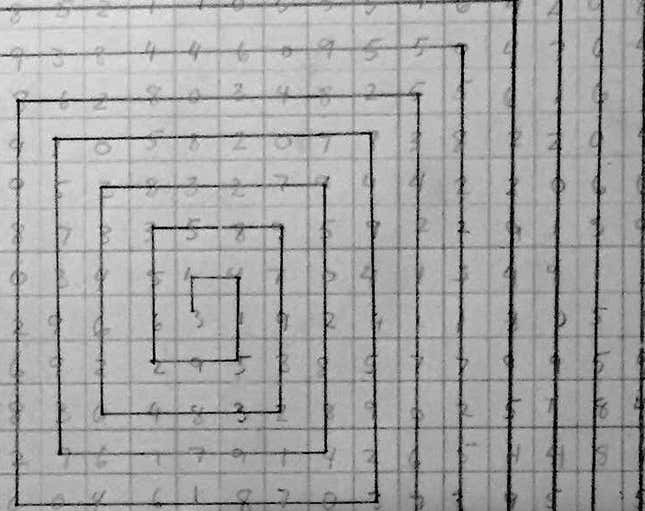 At the center of this visualization is the number three. The whole rest of the page is filled with the digits that follow the decimal point, moving ever outward in a spiraling square.
That image is a map of pi, which Sims used to plot subsequent works. Next, he assigned each square a color and painted pi so that it could be easily visualized, a quilt's inconsistent patterning demonstrating pi's vagaries.
He has also played with pi in different bases, assigning each number in the endless figure three digits and colors, rendering it in red, white and blue, the colors of the US flag. Pi in base two is rendered in black and white.
Sims' math art isn't purely intellectual or aesthetic—it's also emotional and political, an exploration of identity. In the case of the rendering of pi in base two, for example, he's looking at what it means to be black, or white, or both, what it means to be human.
"The sacred circle resides in slippery infinite sequence hooked from irrational divisions," Sims says in his 2017 video, "Square Moon: A Binary Pi." As he reduces pi, Sims is also questioning whether it makes sense to see the world in these simple terms, ones and zeros, either or.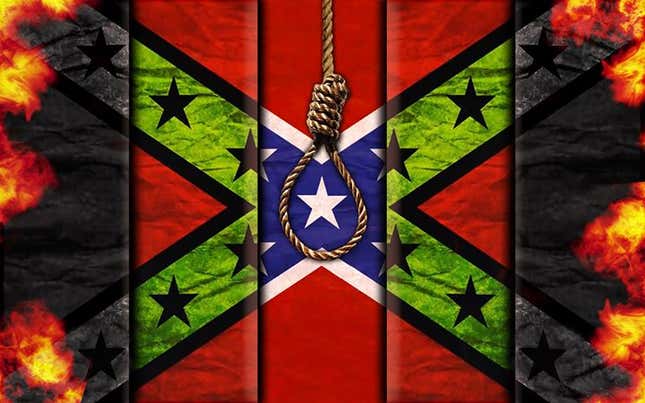 He's not asking for a friend. He's asking for himself. Sims, an African-American man, born in Detroit, living in the American South, is intensely aware of his racial identity. This is evidenced by his Confederate flag projects, which include holding "cremations" for the Dixie symbol and reworking the controversial emblem in colors that change the viewer's relationship to the sign.
He also has an alter ego, an "Afro-German Jewish math art poet" named Johannes Curtis Schwarzenstein, who is featured in a 2012 video reciting a "concrete math art poem" in German. Sims' point in adopting this character with a last name that translates to "black stone," he tells me, is that we don't know just by looking at each other who we are—not even the seemingly obvious things like our racial origins or the more individual characteristics, like our references and interests. "I had a lot of Jewish math teachers," he adds.
Sims is interested in the way identities are formed, how we construct ourselves and how the gaze of others constructs us. "When I see you seeing me it changes how I see myself," he says. And he's interested in the intersection of identities, what happens when people and ideas meet.
For this reason, Sims enlisted the local Sarasota Amish community in his mathematical art projects. After doing a series of visualizations of pi and its bases, he joined forces with a local quilt shop to stitch his works into what became a "quilted manifesto."
Sims traded African fabrics with the crafters, beginning the unlikely relationship that led to the creation of 13 quilts exploring pi and identity, all of which he's also stitched together visually into the "civil pi movement," as he puts it. "The math quilts each speak to each other like one speaks to negative one," the artist says. "And the hyper quilt connects them all."
Sims has since designed dresses based on these works and is hoping to put out a Pi Day collection. His approach to everything is interdisciplinary. He teams up with choreographers and musicians to create videos, including a "Pi Day Anthem" that doubles as a cool display for a club—and would probably work as a teaching tool, too.
He's composed for the piano using pi mapped into the key of B-flat. "You hear how the melody never repeats?" he asks as he plays a recording of "The Pi Notes." I'm not discerning enough to pick up this bit of musical and mathematical cleverness myself.
Besides pi, Sims has other math preoccupations. He's interested in the square root of trees and the square root of love as areas of exploration. "Love over money is greater than money over love," he says, pointing out one of the calculations on a print on the wall in red, black, and silver on a white background that looks like a cross between a math primer and pop art.
Every Valentine's Day, Sims releases a wine with a French vintner that features his poetic calculations on the label. Delightedly, Sims explains with a laugh that he was working on a novel with a mathematician protagonist who goes to France and takes to making wine and then it happened in real life before the book was even done.
You can tell just by looking at him that he's having fun. Sims seems excited by the infinite possibilities that his math art exploration presents, the places it takes him, and the people and ideas he's encountered over the last two decades. In the process, the artist has himself become a living manifestation of his own work on pi, crafting a sequence that has structure, a rhythm—with a melody that never quite repeats and that seems to have no end.