Once upon a time, the only way to find out how a particular strain of marijuana would make you feel was to go ahead and smoke it.
In the age of legal cannabis, however, precision is a selling point. Amidst the "green boom," cannabis companies are competing for customers with disposable vaporizers—also known as pens—that promise a predictable end effect, not only in how much of the drug they convey, but also in the type of high a user experiences. With product names like "Connect," "Create," and "Calm," these pens promise to make users feel exactly as sexy, social, or sleepy as they like.
From a sales perspective, it's working; the California cannabis delivery platform Eaze reports that seven of its ten best-selling vape pens are marketed for a specific end effect, rather than named for specific strains of cannabis, like OG Kush or Blue Dream. That may be because effect-based vape pens offer a beginner-friendly entry point for people less experienced with cannabis.
"This is very much a newcomer customer," said Yoram Heller, the co-founder of Sunday Goods, which just added a series of "effect pens" to its existing line of pre-rolled joints and oil cartridges. If Sunday Goods' pre-rolled single-strain joints are more like single varietal wines, Heller said, the effect pens might be more like… he paused. "I don't know why Zima keeps popping into my head," he said with a laugh. "It's still alcoholic, but it has kind of a lighter, consistent dose to it."
The disposable devices also tend to look more like contemporary design objects than crunchy paraphernalia. Within, they contain a battery that powers a tiny heating element that converts the oil inside, which contains some combination of cannabinoids and aromatic compounds called terpenes, into vapor to be inhaled. They range in price from about $40-$100, and are good for about 50-200 tokes, depending on the user.
And although we are talking about pot, these products' proprietors are unlikely to sell getting stoned as the main feature. What are they selling, then? Different things, it turns out.
Weed pens as wellness: Dosist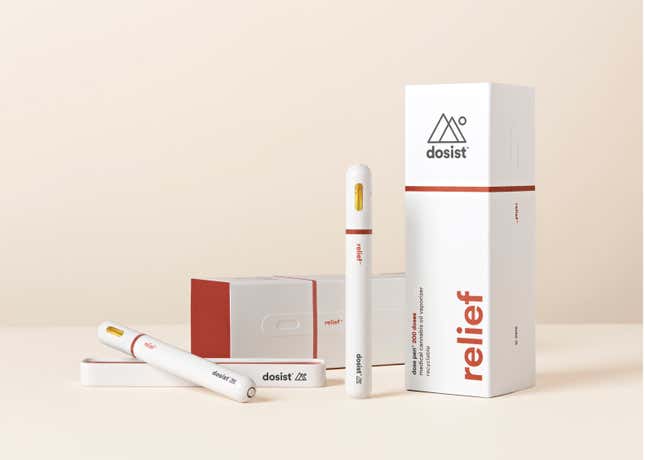 Dosist launched in 2016 with smooth white pens that vibrate when the user has inhaled a 2.25 mg "dose." (A 400-mg, or 200-dose, pen costs $100; a 112.5-mg pen costs $40.) Those pens, originally offered in four formulas for what CEO Gunner Winston calls "need states"—Bliss, Calm, Sleep, and Relief—put the company on the map. Now, with two more formulas, Arouse and Passion, and a new store across from a Warby Parker in Los Angeles' Venice neighborhood, Dosist is holding its ground as the market becomes more saturated with competitors.
"This is about wellness," Winston told me recently in the store, while a woman with a little white dog browsed the Bliss display, where a nutrition-like label informed her of the THC:CBD ratio and terpenes contained within. "Our consumer is looking for natural solutions."
Standing outside the shop's gated patio while curious visitors submitted their IDs for entry, Winston said he's not too worried about new weed pens on the market. "Nike has LA Gear and Coke has RC Cola," he said. "I get it. There are always going to be imitators."
The experience-based weed pen: Sunday Goods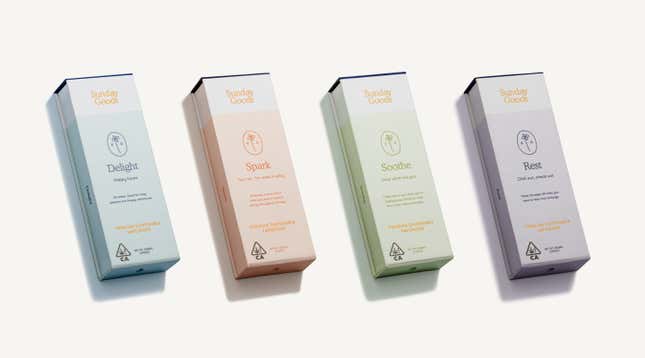 Yoram Heller, the co-founder of Sunday Goods, which just added a series of four $60 (500mg) "effect pens" to its existing line of pre-rolled joints and oil cartridges, said the new pens are designed to be beginner-friendly.
"How does this fit into your dinner party, or your hike, or just hanging out at home?" he asked. And lo, Sunday Goods will tell you.
The pens come in boxes that specify just the sorts of occasions they're designed for. A "Delight" pen is dubbed "good for hang sessions and breezy adventures," while tasting notes tout its "sweet floral vanilla" taste. Also on the menu: Spark, a higher-CBD blend that Heller swears by for working on the weekends; Rest, an Indica-heavy blend for sleep; and Soothe, which is touted as a "self-care" companion and illustrated with a languid lady chilling in her bathrobe (pictured at top).
Sunday Goods' pens have a metallic surface and are a little longer than a cigarette, with an elliptical shape that keeps them from rolling off the table. They were designed by Gin Lane—the same firm behind the millennial-friendly design strategy at companies from Sweetgreen to Harry's. Perhaps because of the similar visual language, it's easy to imagine that the same person who wears Outdoor Voices leggings while grabbing a salad at Sweetgreen might also toss a Sunday Goods pen into their Mansur Gavriel purse.
The vacation in a weed pen: Roam Escapes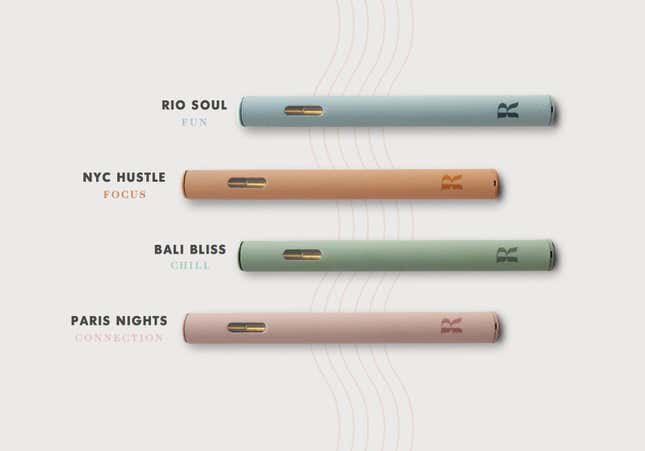 The newest name in the game, Roam Escapes, launched last month with four pens (500mg/$45) themed to travel destinations: Bali Bliss, Rio Soul, Paris Nights, and NYC Hustle.
"We wanted to help newbies understand the effects you can have with cannabis," said Roam's creative director Hema Patel. An avid traveler, Patel said she used some of her favorite destinations to evoke the end results. "Even if you haven't been to Bali you've heard about the yoga retreats and the surfing and that wonderful laid-back lifestyle," which is what one might hope to feel, if only temporarily, from the brand's CBD-rich Bali Bliss pen.
Roam is geared to women, and Patel said the company will be adding pens to target sleep and hormonal balance within the next few months, along with topicals and teas. At a recent promotional dinner in Venice, women passed around pink matte-finished "Paris Nights" pens and chatted amiably.
A straw-hatted guest took a toke and widened her eyes with recognition at the pen's aromatic notes. "Rose!" she said. "Wow."
The next-level weed pen: Canndescent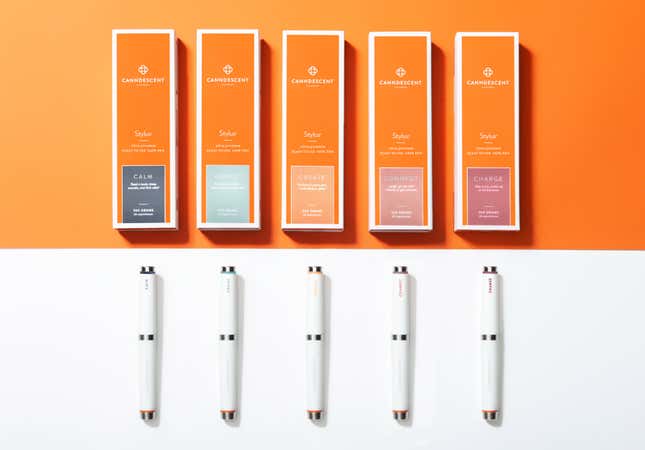 Even for cannabis aficionados, with their home growing systems and tabletop rigs, disposable vape pens have an undeniable convenience factor—and some of the biggest names in high-end flower are getting in on the game. The Santa Barbara-based producer Canndescent, which sells its flower and pre-rolled joints with names like Cruise, Charge, Calm, and Connect, this month launched a new "Stylus," which looks like a chunky white-and-silver fountain pen in a fancy-feeling Hermès-like orange box.
Like all of the aforementioned products, the $65 Stylus is designed to be thrown away after its 500 mg are all used up. In this sense, these pens—like all those mentioned above—leave something to be desired in terms of both environmental and economic efficiency. But Canndescent is ready with a $60 rechargeable Stylus for easy switching between $50 effect-based cartridges that are smaller than a Chap-stick.
After all, some newcomers are bound to become regulars.