China's appetite for fashion is mostly focused on foreign labels, especially when it comes to luxury handbags. But the carefully considered titles that image-conscious luxury brands give their bags aren't necessarily how China's shoppers refer to them.
In an April report, consultancy McKinsey & Company noted that China's young luxury shoppers aren't loyal to brands so much as to "iconic brand-product combinations." The French, English, and Italian names those products bear, however, can be difficult to translate and pronounce, so Chinese shoppers, especially online, will often refer to them by nicknames instead. That makes it "easier to share and discuss a product on social media, or to talk about in person with sales staff," the report notes.
Business of Fashion unpacked (paywall) a few of these names, which are generally based on the way a product looks, a transliteration of the name, or a reference to pop culture–coupled, of course, with the cheeky sense of humor people have on platforms such as WeChat and Weibo. The result is coveted high-end handbags known locally by monikers such as the "killer" or "piglet."
The killer
In the 2011 movie Mission Impossible: Ghost Protocol, an assassin named Sabine Moreau—played by actress Léa Seydoux, who also starred in a commercial for Prada's "Candy" fragrance that year— carries a Prada Saffiano Lux tote. That cameo earned the bag the nickname of the "killer" in China.
The catfish
The belt that gives Celine's Belt bag its actual name dangles down on each side, giving the bag a distinctive look that resembles the face of a catfish—the name by which the bag is often known.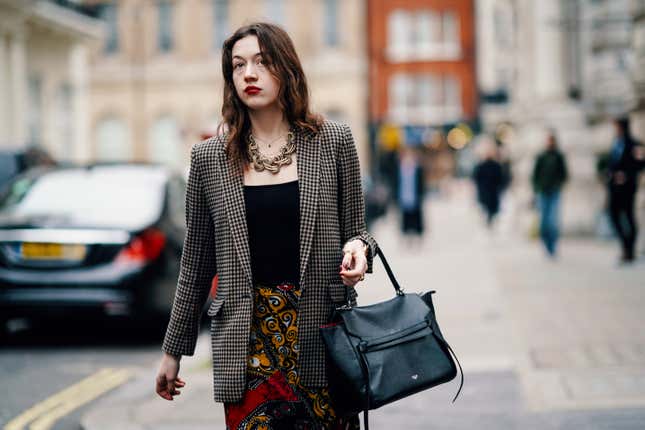 The dumpling
Longchamp's Le Pliage bag took its inspiration from origami. But the bag's shape recalls a different inspiration to luxury consumers in China: a dumpling.
The piglet
Sometimes it's not the look of a bag but the sound of its name that prompts shoppers to give it a new title. Chloé dubbed its bag the Drew, a name that sounds similar to the Chinese word for "pig," hence its renaming as the "piglet" bag.
The wonton
Gabriela Hearst's Nina bag is another that bears a strong resemblance to food. In this case, it's a wonton.
McKinsey's report notes that the great majority of Chinese luxury shoppers born in the 1980s and 1990s only made their first luxury purchase within the last three years. They may not be intimately familiar with the foreign brands they're buying from, or the preferred names those brands give their products.
But the nicknames aren't only used by young shoppers. "They've become the [official yet unofficial] Chinese name for certain products," Tao Liang, a major Chinese influencer (or KOL, aka key opinion leader, as they're known in China) called Mr. Bags told Business of Fashion. "For example, when you ask someone about Le Pliage, they might not know what it is, but when you mention Longchamp's 'Dumpling Bag' they'll get it, even if they're not hardcore fashion fans."