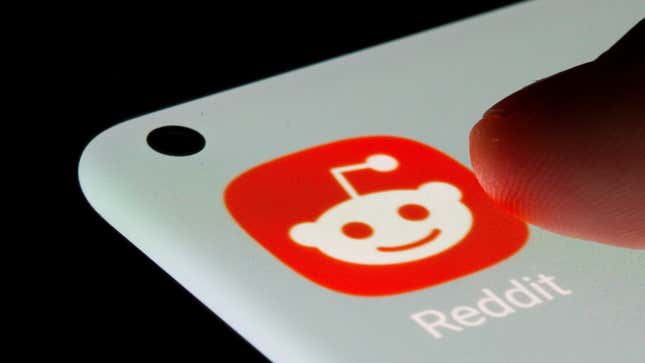 Moderators of protesting Reddit communities are being shown the virtual door. The protest against aggressive API charges that would kill third-party apps started on June 12 and was meant to last at least for two days—or until Reddit came up with some remedies. The website's volunteer moderators, who took their threads dark, are now being strong-armed into reopening their platforms, or risk being locked out altogether.

Why a tightening of credit conditions could lead to a weak economy
Moderators of subreddits that remain still private will lose their status by the end of the week, according to messages from Reddit staff seen by The Verge. The company is citing Rule 4 of its Moderator Code of Conduct—Be Active and Engaged—to justify the move.
If a moderator tells Reddit they are interested in "actively moderating" the subreddit, the company says it will "take your request into consideration."
One community with almost 2 million followers, r/steam, alleged it was forced to reopen. Some of the sweeping action has apparently been erroneously targeting subreddits that are already open, too.
Quotable: Moderators' trust in Reddit has eroded
"Historically, we have trusted that Reddit's administrators have the best interests of the platform and its users (be they moderators, contributors, participants, or lurkers) at heart; that while Reddit may be a for-profit company, it nonetheless recognizes and appreciates the value that Redditors provide.

That trust has been all but entirely eroded… but we hope that together, we can begin to rebuild it. In simplest terms, Reddit, we implore you: Remember the human." —Open letter posted on June 26 on 15-year old community r/Funny, which has 50 million subscribers. Other decade-old communities—r/MildlyInteresting, r/NotTheOnion, r/ShowerThoughts, r/Jokes—that have been 20 to 30 million subscribers each, also shared it. The letter included a list of requests, and gave the company until June 29 to reply.
Reddit community of interest: Minecraft
The Java tech team at Minecraft game developer Mojang announced this week they will no longer post changelogs, or details of changes to Minecraft game versions, on the r/Minecraft subreddit. "We no longer feel that Reddit is an appropriate place to post official content," the moderators wrote in a message on the subreddit. Users can post unofficial update threads going forward, but the team can only be reached on its feedback site or official social media channels.
With more than 230 million copies sold, Guinness World Records deems Minecraft the world's best-selling video game. The official subreddit has more than 7.4 million members.
Moderators are finding creative ways to reopen subreddits
Some subreddits are finding ways to both comply and undermine Reddit's orders. When r/firefox reopened after "getting the silent treatment and threats to reopen the subreddit," it abandoned discussions about the web browser in a show of protest, instead making it a space to just share photos of red pandas, also known as fire foxes.
Following a user vote, all posts on r/pics, r/gifs, r/aww, and r/Videos will revolve around comedian and Last Week Tonight host John Oliver.
A comment on r/Minecraft similarly suggests sticking toposting photos of mines and crafts.
A brief timeline of Reddit's API changes and protests
2005: Reddit launches online.
2016: Reddit launched its app. In the meantime, several other apps—Apollo, Reddit is Fun, Sync and ReddPlanet—sprung up, building on Reddit's Application Programming Interface (API) to bring the site's contents to mobile apps people could access.
April 18, 2023: Reddit says its API is moving to a paid model for third-party apps, but doesn't disclose pricing for weeks. The platform plans to charge for any "request," which essentially includes everything you do on Reddit: upvoting, downvoting, commenting, loading posts, loading subreddits, checking for new messages, blocking users, filtering subreddits, and so on.
June 12-14, 2023: Thousands of subreddits go private for 48 hours to protest the changes, and ask the company to walk them back and give third-party apps more time to comply. They will remain private for days after.
June 15, 2023: Reddit says it is "not shutting down discussions or unilaterally reopening communities."
June 30, 2023: Eight-year-old app Apollo is poised to shut down on this date. So are others like Reddplanet, Reddit Is Fun, Sync, Narwhal, and Bacon Reader.
July 2023: Reddit will make three sweeping changes. For one, third-party developers will pay sky-high prices, which will essentially drive them out of business quickly. Secondly, NSFW content, which includes nudity, gore, violence, most things sexual or sometimes excessive language, will not be shown on third-party apps, but will continue to be shown in the official app. And lastly, Reddit will block ads in third-party apps, thereby forcing a paid subscription model. This, while Reddit's official app mints hundreds of millions of dollars from ads.
The Reddit protest, by the digits
8,000: Communities that went dark earlier this month in protest of the company's imminent API pricing changes, many subreddits have since reopened
2,292: Subreddits that remained dark as of June 29
100 queries per minute per day: The rate limits to use the Data API free of charge. Over 90% of apps fall into this category and can continue to access the Data API for free, CEO Steve Huffman said. Mod Tools and Mod Bots can keep accessing the Data API for free above the free limits
$0.24 per 1K API calls: Rate for apps that require higher usage limits
$12,000: How much 50 million requests cost, according to Christian Selig, the creator of Apollo, a third-party app to browse Reddit. "For reference, I pay Imgur (a site similar to Reddit in user base and media) $166 for the same 50 million API call," he wrote
30-day: The very short timeline between when the pricing was announced and developers will start incurring charges

$3.4 million: The value of unpaid labor thousands of unpaid moderators, or mods, do for Reddit annually, equivalent to 2.8% of the site's revenue
466 hours: Hours of work reddit moderators put in daily to ensure subreddits are free of off-topic, banned, and illegal material
3%: Mod actions that come from third-party apps, as per Huffman, who says "we've reached out to communities who moderate almost exclusively using these apps to ensure we address their needs"
Related stories

⚔️ Reddit CEO Steve Huffman is fighting a losing battle against the site's moderators
🌚 Thousands of subreddits are going dark for at least two days
🤲 Reddit is the best social media site because it gets community right