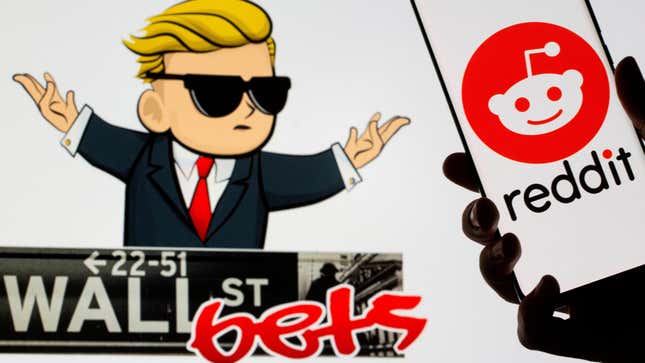 The founder of Reddit forum WallStreetBets, which is a major force behind the so-called meme stocks frenzy, is going after the website for blocking his access to the online community back in 2020.

Why a tightening of credit conditions could lead to a weak economy
In a lawsuit filed in the US District Court for the Northern District of California on Wednesday (Feb. 15), Jaime Rogozinski claims Reddit is wrongly banning him from moderating the stock and financial advice forum he founded in 2012, and infringing on his right to trademark the forum.
The lawsuit said that Reddit's policies bars users from carrying out moderation duties "in return for any form of compensation or favor from third parties," which Rogozinski claims he has not done. He argues that Reddit's intention was to keep him from commandeering "a famous brand that helped Reddit rise to a $10 billion valuation" by late 2021.
Reddit sees the lawsuit as Rogozinski's attempt to cash in, calling it "completely frivolous" as a spokeswoman told Reuters. She added: "Jamie was removed as a moderator of r/WallStreetBets by Reddit and banned by the community moderators for attempting to enrich himself. This lawsuit is another transparent attempt to enrich himself." At the time of his ousting, the WallStreetBets forum counted around 1.1 million users. A year later, it had more than 10 million (it currently boasts 13.6 million users).
A brief timeline of WallStreetBets' rise
2012: The WallStreetBets community is founded on Reddit by Rogozinski as a "a place to talk about options, day trading, contrarian strategies, defensive hedging, you name it." A few years later, the forum description changes to "It's like 4chan found a Bloomberg terminal." The forum's users celebrate both big wins and losses.
Jan 2020: Rogozinski publishes the book WallStreetBets: How Boomers Made the World's Biggest Casino for Millennials
March 2020: Rogozinski applies to trademark "WallStreetBets" after the community reaches 1 million. Reddit submitted the first of several trademark applications for "WallStreetBets" in May that year
April 2020: Reddit removes Rogozinski as a moderator, accusing him of "attempting to monetize a community" after he posted an Amazon listing for his WallStreetBets book and announced a sponsored trading competition on the subreddit. Subsequently, his fellow moderators banned his Reddit profile—Jartek—from the forum.
Late 2020: WallStreetBets users help set off a trading frenzy in a short-seller squeeze targeting GameStop, sending share prices soaring almost 2,000% on daily volume often in the hundreds of millions
Quotable: Rogozinski on Reddit's ousting
"I felt this was personal, and I felt betrayed." —Jaime Rogozinski in an interview with the Wall Street Journal
What does the WallStreetBets founder want from Reddit?
💰 At least $1 million in damages for breach of contract and violations of his publicity rights
🚫 A ban on Reddit's use of WallStreetBets unless it reinstates him as senior moderator of the r/WallStreetBets subreddit.
Defined: Meme stocks
Meme stocks typically gain popularity through discussions, often among inexperienced investors, in social media forums such as r/WallStreetBets, Twitter, Robinhood, Discord, and even YouTube. Retail investors acting on the online mania have made shares of cinema chain AMC Entertainment, video game retailer GameStop, and store Bed, Bath & Beyond, and others, skyrocket. Markets hate this stock price volatility that is far removed from companies' fundamentals and financial health.
Charted: r/WallStreetBets isn't so popular anymore
Related stories
🆙 A Reddit user on what it's like to be part of "the mother of all short squeezes"
👨‍⚖️ Good luck proving Reddit traders did anything illegal by pumping GameStop