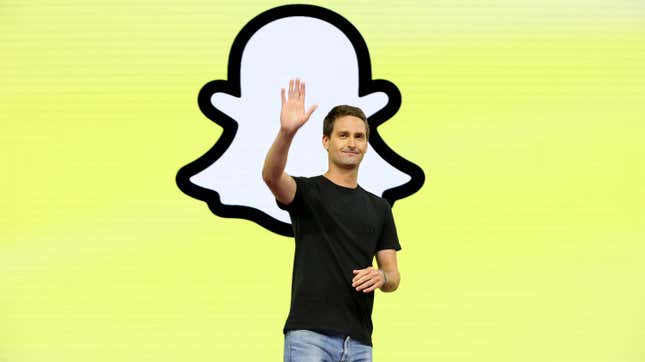 Snap CEO Evan Spiegel is making no secret of the threat TikTok poses.

At Snap Partner Summit yesterday (Apr. 19), when Spiegel was asked for his stance on a possible TikTok ban, he replied, "We'd love that." But he added that the excitement would only be in the "short-term."
It would be great for the photo-messaging platform to have one of Gen Z's favourite app kicked out of the social media wars, but it would also be ominous. If US regulars do successfully ban a single tech firm, it could set a dangerous precedent.
"I do think it is important for us to be thoughtful and really develop a regulatory framework to deal with national security concerns, especially around technology," Spiegel said. "And I think based on the information that is publicly available, there are legitimate national security concerns far above my pay grade and security clearance."
TikTok isn't just any other app. It's a massively popular Chinese-owned app, with alleged security loopholes, in the middle of ever-escalating US-China trade wars.
One big number: Why banning TikTok is complicated
150 million: Americans who use TikTok every month to access information, and speak their mind. Arguably, a ban would violate their First Amendment rights—it was deemed a valid concern when a WeChat ban was halted— as well as their constitutional right to receive foreign information.
A brief timeline of the US trying to ban TikTok
2020: The Donald Trump administration moves to ban TikTok, signing executive orders—one barring transactions between US citizens and TikTok starting in 45 days, and another order instructing TikTok to sell all US assets within 90 days. One federal judge blocks the ban after influencers who have millions of followers on the app and earn thousands of dollars per video sue. A second federal judge issues a preliminary injunction against restrictive steps, calling the administration's move "arbitrary and capricious."
2022: Questions are raised about TikTok's China ties after BuzzFeed reveals US TikTok user data was repeatedly accessed by ByteDance employees in China. US Senate Intelligence Committee leaders ask the Federal Trade Commission to investigate whether TikTok deceived the public about Chinese employees' access to American user data. Later, Bloomberg reports the Chinese government requested TikTok host stealth propaganda accounts. A Forbes analysis of TikTok and ByteDance employees' LinkedIn profiles reveals that 300 current ones previously worked for Chinese state media publications, follows. The year ends with Congress voting to bar federal employees from using TikTok on government-owned devices.
2023: The White House gives government agencies 30 days to purge TikTok from all federal devices. US senators introduce the RESTRICT Act, which would give the federal government new powers to restrict and potentially ban technologies from China. The White House endorses the legislation. TikTok CEO Shou Zi Chew is grilled by Congress in a five-hour long hearing.
How Chinese TikTok is trying to woo critics in the US
TikTok is owned by ByteDance, a China-based company, sparking widespread fears about national security risks. Lawmakers have questioned whether the company is sharing US user data with Chinese authorities. ByteDance argues that it's not so Chinese. Its ownership is split 60-20-20 between global investors, ByteDance employees, and ByteDance founders, respectively. (The founders' shares carry outsize voting rights though.)
Over the last year, the company has migrated all US user traffic to servers operated by American software giant Oracle and boosted the numbers of US-based employees in its trust and safety team in a bid to calm nerves.
This year, it rolled out an algorithm re-trainer after a report from the nonprofit Center for Countering Digital Hate accused the app of pushing videos about eating disorders and self-harm to young users. It also introduced new parental screen time controls to allay fears raised in Congress.
Quotable: Banning TikTok won't remedy data privacy issues
"The solution here is not to ban an individual company but to actually protect Americans from this kind of egregious data harvesting that companies can use without your significant ability to say no." —Alexandria Ocasio-Cortez's viral TikTok video from March, in which she opposed banning the app.
A TikTok ban doesn't end national security concerns
🌐 TikTok can collect user data even from someone who isn't directly using the app. Over 28,000 apps, including popular gaming app Fruit Ninja and photo editor VSCO, use TikTok's software development kits (SDKs) for functions like ads within TikTok, logging in, and sharing videos from the app, according to Gizmodo and analytics firm AppFigures. And there are TikTok trackers spread across even more websites such as Planned Parenthood. (This isn't unique to TikTok—most social media and advertising companies, including Google and Meta, operate like this.)
📍 The kind of data TikTok collects, including geolocation data, is easily available from private data brokers.
🇨🇳 There's nothing stopping another Chinese tech company from introducing and growing a similar app in the US.
Related stories
🇺🇸 TikTok faces a ban in the US if it retains Chinese-based ownership
👀 TikTok's updated data privacy policy does little to settle nerves