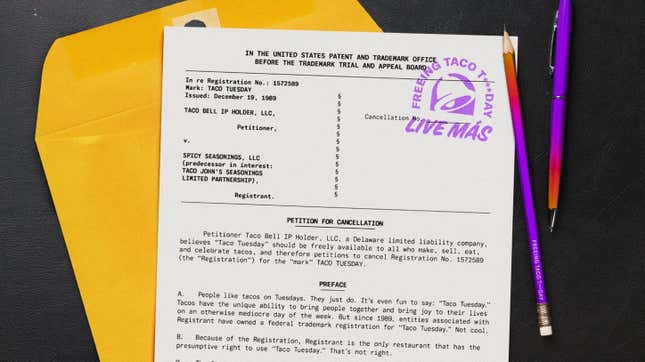 Taco Bell wants "Taco Tuesday" for everyone—especially for itself.

The fast food chain fittingly picked a Tuesday (May 16) to file a petition with the US Patent and Trademark Office's (USPTO) Trademark Trial and Appeal Board to cancel two trademarks on the taco-promoting slogans. The California-based company said it "seeks no damages or trademark rights." Instead, it's seeking "common sense for usage of a common term."
Eric Beiley Part II: Where rates are heading
The petition aims to prevent any singular eatery—not even Taco Bell itself—to claim exclusive rights over the phrase, but freeing the phrase from its legal constraints will allow Taco Bell to use it widely on its online and brick-and-mortar storefronts.

Rival chain Taco John's has owned the trademark in 49 states for the past 34 years. Other restaurants and companies must seek permission to use "Taco Tuesday" in branding and advertising, or risk legal action. A small business called Gregory's owns the registration in New Jersey. Taco Bell has filed a petition to cancel Gregory's registration in that one state, too.
Taco John's has 40 days to respond to Taco Bell's petition, according to CNN. If the two chains can't reach an agreement, the case will move to a discovery period, where each company can make document requests and present evidence stating their case, followed by a trial and oral arguments.
Meanwhile, Taco Bell is turning the petition into a marketing opportunity and invited fans and taco lovers to sign the Freeing Taco Tuesday petition. Next week, on May 22, Taco Bell will host a Reddit AMA (ask me anything) to address questions about the campaign.
Quotable: Taco Bell wants to free "Taco Tuesday"
"No, Taco Bell is not trying to take over the trademark. Quite the opposite–Taco Bell is trying to get rid of the trademark registrations. Taco Bell believes that all across the nation should be able to celebrate Taco Tuesday, without fear of consequences."—Taco Bell's Freeing Taco Tuesday campaign FAQ
One big number: Taco Bell stores
15,638: The number of Taco Bell locations in the US that could run "Taco Tuesday" offers and promotions if the trademark applications were canceled. By comparison, Taco John's has 400-odd outlets.
A brief history of Taco John's "Taco Tuesday" (and not Thursday) trademark
Taco John's lore claims David Olsen, the owner of a Taco John's in Minnesota, coined the term "Taco Twosday" in the early 1980s when he started selling 99 cents tacos in pairs. By 1989, Taco John's successfully applied to trademark Taco Tuesday.
Since then, restaurant owners have been blindsided by Taco John's cease-and-desist letters, which left their patrons disgruntled. One of them, Old Fashioned Tavern and Restaurant, held a competition to choose a new name for their Tuesday taco special, where the submissions included jabs like "Corporate-free Taco Night" and "Drive Taco John's Out Of Business Tuesday."
The gripe with Taco John's legal action is, firstly, that awareness of the trademark is low—even 20 years ago, a waitress told Los Angeles Times "Everybody has Taco Tuesdays"—and secondly, that its origin story isn't convincing.
Who invented Taco Tuesday?
Other restaurants have held Taco Tuesday before Taco John's did. Steve Levinson, the former owner of now-defunct Tortilla Flats restaurant in Laguna Beach, California, applied for a state trademark for "Taco Tuesday" in California in 1984. It has since lapsed.
In 1978, Greg Gregory started Taco Tuesdays at his family business Gregory's Restaurant and Bar in Somers Point, New Jersey, because that's the only day his family let him put tacos on the menu.
Following the advice of his college professor, Gregory trademarked "Taco Tuesday" in 1982. Gregory's is the reason Taco John's has the trademark everywhere but the New Jersey.
Will Taco Bell win its fight to cancel "Taco Tuesday" trademarks?
Trademark attorney Josh Gerben believes Taco Bell has a "strong case." As he explained in a Twitter thread, the company can win if it can prove the term has become commonplace and is no longer unique or arbitrary enough to function as a trademark.
In a recent survey commissioned by Taco Bell, mentioned in its trademark cancellation applications, 86% of consumers nationwide believe "Taco Tuesday" is a generic term not associated with a single brand.
Related stories
🔍 Should Google own the verb "google"?
📱 Apple no longer has exclusive rights to the "iPhone" name in China