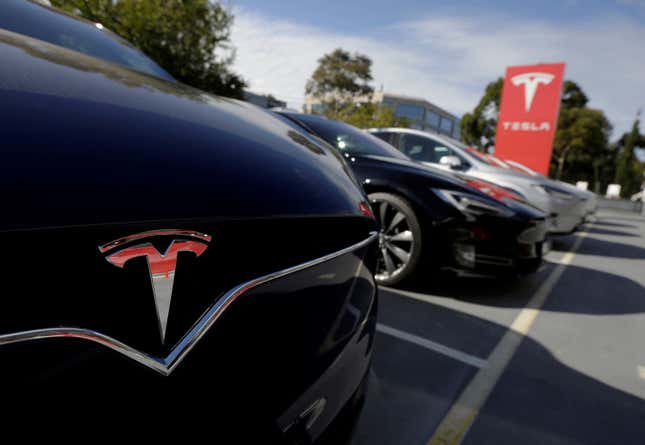 Tesla's aggressive price cuts took a bite out of its first-quarter profits, but its often-overlooked energy business saw sizable growth this quarter.
Paulina Porizkova on being an Estee Lauder model
Tesla released its quarterly results yesterday (April 19) after the bell, reporting $2.51 billion in net income, amounting to a 24% decline compared to the same quarter in 2022.
Part of that drop in income was likely due to Tesla's steep discounts on four of its EV models. Tesla has slashed car prices six times this year in the US, Mexico, Europe, and China, in a bid to drum up consumer appetite and outpace the competition.
The strategy appears to have worked in increasing sales: Total car deliveries hit a record 422,875 in the first quarter, increasing 36% year-on-year.
But Tesla's margins took a plunge. Its operating margin, a figure the company boasts as the industry's highest, fell to 11.4% from 19.2% last year, while free cash flow plummeted 80%. Operating expenses remained about level, dropping 1% from last year, while capital expenditures went up 17%.
Elon Musk, Tesla's CEO, suggested during the earnings call that he would be willing to sell Tesla's EVs for "zero profits" in order to ramp up the company's growth and market domination in the short term.
Tesla's Megafactory boosted its solar and storage business
One bright spot in Tesla's earnings report was the growth of its energy business. Revenue from energy storage and generation increased 148% year-on-year. Meanwhile, deployment of Tesla's solar products jumped 40%, and its energy storage deployment soared 360%. The company credited its California Megafactory with the increase in business. The Megafactory, located in the town of Lathrop and opened late last year, produces 10,000 Megapack batteries a year. Tesla plans to replicate the Megafactory's success in Shanghai.
Quotable: Elon Musk on "zero profits"
"Tesla is in a uniquely strong strategic position. We're the only ones making cars that technically could sell for zero profits now and yield tremendous profits in future through autonomy."

—Elon Musk, during Tesla's earnings call on April 19

Tesla's outlook for 2023
Tesla plans to manufacture 1.8 million cars this year, staying ahead of its 50% compounded annual growth rate. Production of its Cybertruck is scheduled to start later this year at its Gigafactory in Texas.
Related stories
🈹 Tesla slashed prices for a sixth time this year to alleviate the loss of Biden's EV tax credits
🤔 Why BMW, Nissan, Rivian, Hyundai, Volvo and Volkswagen no longer qualify for Biden's EV tax credits
💰 Tesla's racism penalty was cut by 98%, but Elon Musk still thinks it's paying too much