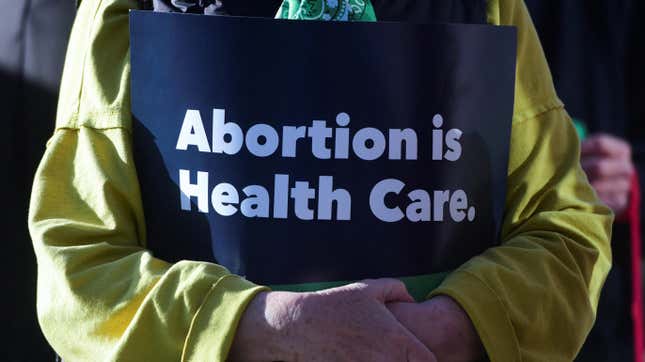 The Biden administration is trying to undo a Texas ruling that suspended the approval of a widely used abortion pill.

Why a tightening of credit conditions could lead to a weak economy
The US government on Monday (Apr. 10) appealed a decision to revoke access to mifepristone, the medical name of the abortion pill. It's part of a two-drug regimen, including misoprostol, which is used for medication abortions in the first 10 weeks of pregnancy.
The US Department of Justice (DoJ) called the Apr. 7 ruling against the drug, which was approved by the Food and Drug Administration (FDA) 23 years ago, "manifestly untimely" and devoid of scientific reasoning. Judge Matthew Kacsmaryk's decision "upended decades of reliance by blocking FDA's approval of mifepristone and depriving patients of access to this safe and effective treatment, based on the court's own misguided assessment of the drug's safety," the DoJ said in a filing with the US Fifth Circuit Court of Appeals.
The district court granted a seven-day administrative stay, and now the authorities are seeking an extension pending resolution—even by the Supreme Court, if necessary.
Quotable: Mifepristone manufacturer Danco appeals
"The decision below is an extreme outlier: No court has ever 'stayed' or 'suspended' the longstanding approval of a drug consistently found safe and effective by FDA. The court's mandatory injunction is an unprecedented judicial assault on a careful regulatory process that has served the public for decades. It should be immediately stayed. Without a stay, the injunction is certain to cause irreparable harm: to women who will lose access to the medication abortion regimen that is the standard of care; to Danco; to the pharmaceutical and biotechnology industries; and to the separation of powers undergirding judicial and regulatory action." —An emergency motion for a stay pending appeal by Danco Laboratories, which holds the approved New Drug Application (NDA) for Mifeprex (mifepristone) Tablets. Mifeprex is Danco's single pharmaceutical product.
A non-exhaustive timeline of access to mifepristone
2000: FDA approves mifepristone for sale in the US.
2011: FDA adds Risk Evaluation and Mitigation Strategy (REMS) restrictions Danco proposed in 2008. Thereon, patients have to pick up the medication directly from a doctor's office, hospital, or health center, rather than from a pharmacy or by mail for 20 years, barring a temporary suspension of the rules for during the pandemic.
2016: FDA modifies mifepristone's approved conditions of use given evidence of the drug's safety and effectiveness, including upping the gestational period from from seven to ten weeks.
April 2021: FDA temporarily suspends the in-person dispensing requirement during the Covid-19 pandemic, allowing dispensing of mifepristone through the mail or mail-order pharmacies.
November 2022: Alliance Defending Freedom files a lawsuit in November in a federal court in Amarillo, Texas, arguing that the FDA went beyond its authority 22 years ago and fast-tracked the approval of mifepristone. The conservative Christian legal group which was also involved in Dobbs v. Jackson Women's Health, the Mississippi case that eventually led to the overturning of Roe v. Wade.
January 2023: FDA approves a modified mifepristone REMS, which lifts the in-person dispensing requirement.
April 7, 2023: In a 67-page ruling, Kacsmaryk argues that the FDA made a series of legal errors in approving mifepristone for sale in the US, including ignoring risks and relying on "plainly unsound reasoning" to greenlight it.
April 10, 2023: The Biden administration files an emergency appeal to stay the ruling.
Person of interest: Judge Matthew Kacsmaryk
Kacsmaryk, former president Donald Trump's appointee, is a highly conservative judge who isn't new to restricting women's reproductive rights. In January, he ruled all under-18s in Texas would have to seek approval from a parent or a guardian before getting contraception from federally funded clinics.
His hardline views aren't limited to women's health. He's also written at length about how homosexuality is "disordered" and "contrary to natural law;" backed the Remain in Mexico policy which forced thousands of asylum seekers to stay south of the Mexico-US border while their claims were processed; and lent a ear to a case brought by anti-vaxxers and conspiracy theorists which likely wouldn't have gotten its day in court elsewhere.
Medication abortions with mifepristone in the US, by the digits
53%: Medication abortion, or the abortion pill, accounts for the majority of US abortions as of 2022. It's considered extremely safe
97%: Effectiveness of terminating pregnancies with mifepristone within the first two months
$800: How much a medication abortion can cost. At Planned Parenthood, the average cost is closer to $580
32: States that allow only licensed physicians, and not other clinicians such as nurse practitioners, to dispense abortion pills
19: States that require the dispensing be done in hospitals after a specific point in the pregnancy, effectively ruling out telemedicine
12: States that restrict private insurance from covering abortion, unless it's a life-threatening scenario
17: States that mandate counseling before an abortion, including the purported link between abortion and breast cancer (5 states), the ability of a fetus to feel pain (12 states) or long-term mental health consequences for the patient (8 states)
16: States that use own funds to sponsor all or most medically necessary abortions under
Another abortion ruling
On the same day as the Texas debacle, a federal judge in Washington state issued a competing ruling that blocks the FDA from pulling mifepristone approval in 17 states and the District of Columbia.
What's next for the Texas ruling?
As my colleague Annalisa Merelli pointed out, the road of appeals is a long one. If the US Court of Appeals for the Fifth Circuit can't offer a resolution, a last-ditch appeal will be made with the US Supreme Court.
If the decision is still confirmed, the FDA would have to pull mifepristone from the market until it can launch and complete another approval process—something that could take years.
In the meantime, the most common and least invasive abortion method would be off the table. Of course, restricting access to safe and legal abortion methods does not reduce the number of abortion overall. It just makes them less safe. Women would opt for dangerous "back alley" methods, exposing themselves to medical risks and law violations.
Related stories
✌A double pack of the morning after pill is now available for purchase in the US
💊 California cuts ties with Walgreens after the pharmacy stopped selling abortion pills in 20 states
🧬 Before We Knew Better: How the illegal abortion in "Dirty Dancing" started honest dialogue about reproductive rights