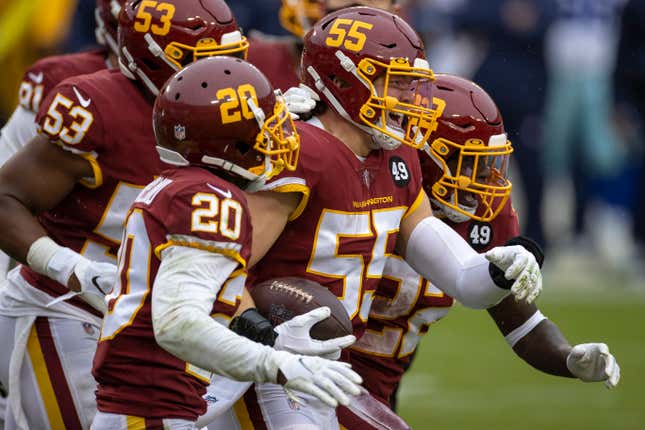 A group led by private equity tycoon Josh Harris agreed to buy the Washington Commanders last week for $6 billion, a record-breaking sale for US professional sports. It comes after longtime Commanders owner Dan Snyder was pressured to sell amid investigations by the National Football League (NFL), the the US Department of Justice, and Congress.
Paulina Porizkova on being an Estee Lauder model
The Commanders have only gotten past the first round of the playoffs once in the 24 years since Snyder's purchase. During that tenure, Snyder was repeatedly accused of sexual harassment, prompting a $10 million fine from the NFL and an order to stay away from the Commanders in 2021. This led the House Committee on Oversight and Reform to open an investigation into the sexual harassment claims. Then, in 2022, the US attorney's office for the eastern district of Virginia launched a criminal probe of alleged financial improprieties.

None of this stopped Snyder, who bought the Commanders in 1999 for $800 million, from selling the team at a 750% profit, a margin in line with recent sales across major sports leagues.
Historically, professional sports teams are a good investment
Matt Ishiba bought the Phoenix Suns for a whopping $4 billion last year, smashing the previous record price for an NBA team and giving former owner Robert Sarver a significant payday.
Sarver, a billionaire real estate developer who has been accused of racist and sexist behavior, purchased the club for a then-record $401 million in 2004. Just under two decades later, he sold it at an astounding 1,000% profit. While a staggering return, that level of increase isn't much of an outlier.
From 2012 to 2021, the average value of an NBA team increased by 387%. In the same period, an NFL franchise's average value grew by 215% and the average value of an NHL team gained 207%.
Professional sports teams have also proved to be recession-proof. From 2004 to 2012, the value of each major American team went up by at least 50%. That performance far outpaced the S&P 500, which grew by 18% during the same period after bouncing back from the Great Recession of 2008-09.
The 5 largest sales of US pro sports teams, before Snyder's purchase
🐎 Denver Broncos: Purchased for $4.65 billion in June 2022 by Walmart group heir Rob Walton. Pat Bowlen, the previous majority owner, bought the team in 1984, when it was worth $70 million.
☀️Phoenix Suns: Matt Ishiba, the billionaire CEO of United Wholesale Mortgage, bought the Devin Booker–led team for $4 billion in 2021. Within days of purchasing the franchise, he OK'ed a blockbuster trade for Kevin Durant, setting up the Suns as a championship favorite.
🌆 New York Mets: Hedge fund manager Steve Cohen bought the Mets in 2020 for $2.4 billion. Cohen has invested a huge share of his personal wealth in the team, outspending most of his peers to chase stars like Justin Verlander and Max Scherzer.
🏀 Brooklyn Nets: Joesph Tsai, co-founder of Chinese tech giant Alibaba Group Holding, bought the Brooklyn Nets in 2020 for $2.35 billion, thinking he'd scored a super team. Unfortunately, two years later Kevin Durant and Kyrie Irving left Brooklyn after a strained relationship with Tsai and management.
🐆 Carolina Panthers: The Panthers were purchased by hedge fund manager David Tepper in 2018 for $2.2 billion, setting a sales record at the time for an NFL team. However, that price was just a fraction of the $8 billion the Dallas Cowboys, the league's highest-valued team, is estimated to be worth.
The Commanders sale to Harris still needs NFL approval
Harris, the owner of the NBA's Philadelphia 76ers, beat out a $5.6 billion bid by Tilman Fertitta, who owns the NBA's Houston Rockets. Amazon founder Jeff Bezos, considered a potential buyer, didn't submit a bid.
The purchase—which includes a minority stake for former National Basketball Association (NBA) star Magic Johnson—must win NFL approval in May before it becomes official.
Related stories

🏀 The Dallas Mavericks were fined $750,000 for trying to lose a game
🐐 LeBron James: The greatest basketball player of all time?