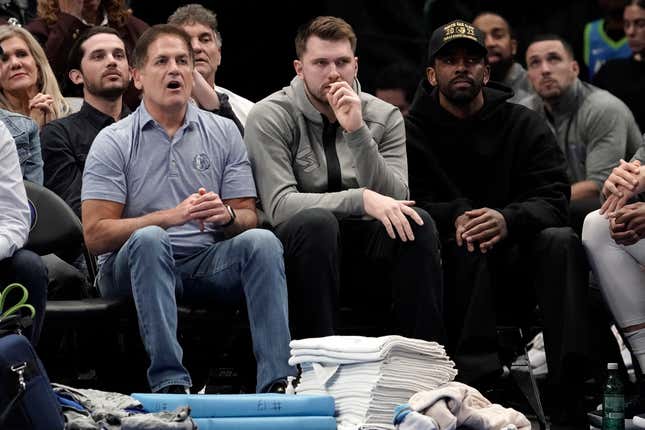 The NBA fined the Dallas Mavericks $750,000 for sitting the team's best players in order to throw a game against the Chicago Bulls on April 7, with the intention of taking the team out of playoff contention. The team was employing a strategy known as "tanking," or deliberately trying to miss the postseason in order to secure a higher pick in the NBA draft.
Change stalled? How to unite different teams around a goal
The Mavericks, who are owned by billionaire investor Mark Cuban, benched five of their best players, including Kyrie Irving, Tim Hardaway Jr., and Christian Wood, losing the game 115-112. Luka Dončić, the team's superstar, played only 13 minutes, all at the beginning of the game.
If the Mavericks had made the postseason, they would have to forfeit a first-round pick to the New York Knicks, thanks to a 2019 trade for Kristaps Porziņģis.
"The Mavericks violated the league's player resting policy and demonstrated the organization's desire to lose the game," the NBA said in a press release.
Tanking happens all the time. Why single out Dallas?
Tanking is a common occurrence in the league. Teams like the Portland Trailblazers and Washington Wizards similarly sat star players like Damian Lillard and Bradley Beal at the end of this season in order to improve their odds for a high pick. However, the decision by the Dallas Mavericks was different for two reasons.
First, the Mavericks had a real shot at contention this year. While the team had played poorly toward the end of the season, this team still has two top-20 players in the league, with Dončić perennially in the conversation for MVP. The Mavericks are not the kind of team that is supposed to be in the running for a high draft pick.
Second, the Mavericks were blatant about their intentions to tank at the end of the season. After the game, head coach Jason Kidd said that "decisions sometimes are hard in this business. We're trying to build a championship team. With this decision, this is maybe a step back. But hopefully, it leads to going forward."
This type of radical honestly is a slippery slope, as it risks taking away the incentive for winning. Joe Dumars, the NBA's head of basketball operations said that the Mavericks had "undermined the integrity of our sport."
Related stories:
🏀 LeBron James: The greatest basketball player of all time?
⚽ The World Cup helped the UK narrowly avoid a recession
🇶🇦 A Qatari bid for Manchester United raises issues for European soccer