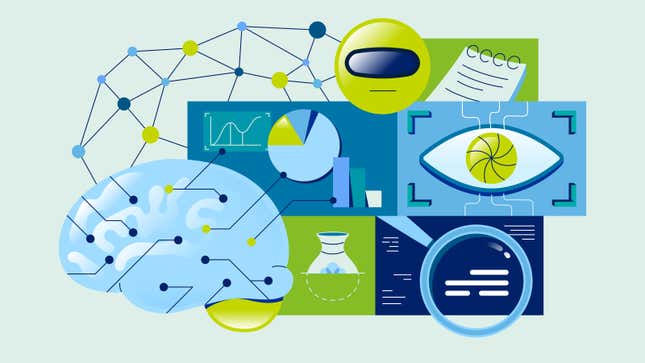 Visionary C-suite leaders: There's a new technology trend you need to know about.

In fact, there's an entire class of new technologies, separate and distinct from enterprise IT, that have real business implications.
Cumulatively, we call them xTech, and we've built a glossary to get business leaders up to speed on what the power of xTech means in practice, using a chapter from Deloitte's latest Tech Trends report as our guide.
These six technology domains could offer "a broad spectrum of potentially transformational business applications on the next technological horizon," says Mike Bechtel, chief futurist at Deloitte Consulting.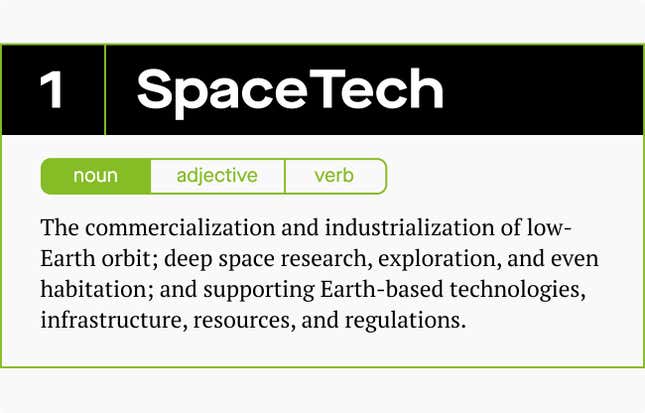 HOW IT WORKS
Historically, only governments had the resources to explore space. That changed in the last decade, and private industry investments are soaring. A number of companies are developing their own satellite constellations to collect data and the space tourism race has already begun. At least one company is promising investors it can bring back platinum metals from near-Earth asteroids by the end of the decade.
Now is an especially exciting time for space exploration, as NASA considers penetrating deeper into space, spacecraft launch costs have decreased, and companies realize SpaceTech can also benefit life on Earth.
WHAT IT MEANS FOR BUSINESS
The universe is too large to contemplate — and so are the potential business opportunities.
For example, the asteroid 16 Psyche, which orbits between Mars and Jupiter, could be made entirely of metal and worth an estimated $10,000 quadrillion, i.e. more than the entire economy of Earth.
In addition, those galactic missions will require an entirely new industry of services located on terra firma. These include investment-ripe infrastructure projects, like assembly and manufacturing plants, and the technology for in-orbit servicing and repairs. Imagine the potential for existing manufacturing, logistics, and software firms if they extended their services to outer space.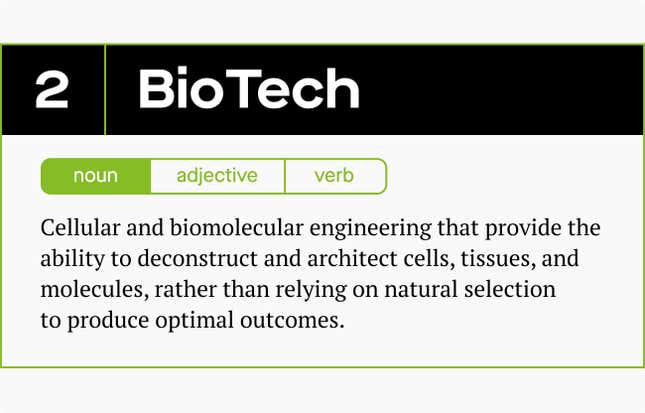 HOW IT WORKS
You're already familiar with the power of BioTech at its most fundamental level: sequencing the human genome. Now that we've mapped the building blocks of life, things are getting interesting.
Fueled by BioTech, we can pursue groundbreaking technologies in biofuels, pharmaceuticals, synthetic foods, pollutant-cleaning microbes, and biological data storage. Any one of these industries represents a windfall business opportunity.
WHAT IT MEANS FOR BUSINESS
Consider just one sector of BioTech: medicine. Amid the chronic shortage of vital organs, we could use synthetic biology to create artificial versions of what we need, saving lives and radically transforming health care. For example, an artificial pancreas might generate potential savings of $1.9 billion for the US Medicare program, according to Deloitte.
Another application of BioTech: food. The global synthetic food industry is expected to hit nearly $3 billion by 2025, and one beverage company has already developed a synthetic wine that 90% of people could not distinguish from a natural wine.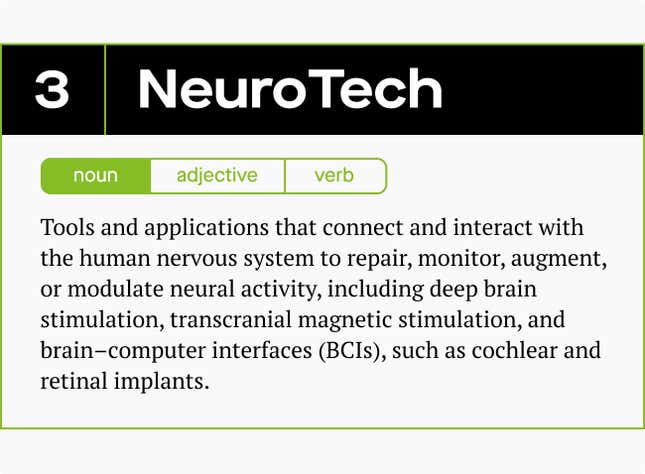 HOW IT WORKS
If you can think it, you can do it. A new generation of BCIs uses noninvasive EEG electrodes to relay brain signals to AI-trained algorithms that predict the signal's meaning and transmit commands to control a device, fundamentally transforming assistive, restorative, and therapeutic technologies for those with paralysis or other disabilities.
NeuroTech could one day convert your brain signals into commands, eliminating the friction between humans and machines.

WHAT IT MEANS FOR BUSINESS
These AI-powered implants could help us enhance our thinking, capabilities, and skills, allowing us to become super-charged versions of ourselves
They also offer huge opportunities for B2C and B2B companies, including "micro-personalized" products and services and the ability to track customers' routines and tastes like never before. This super-charged marketing would benefit a wide swath of industries, including consumer goods, hospitality, and entertainment. In fact, based on a recent analysis, the compound annual growth rate of the BCI market is expected to be 16% between 2022 and 2030.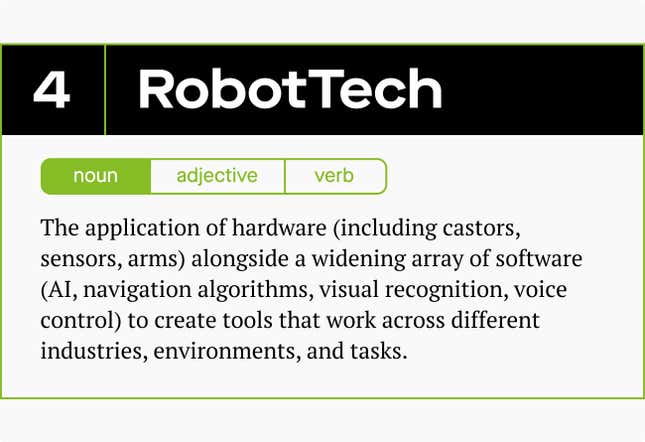 HOW IT WORKS
Finally, we're getting the robots we deserve. Not vacuuming machines that bump into walls or drones that malfunction and fall into the sea, but impactful, autonomous robots. Ones that not only scan and understand their surroundings, but also know where to go and what to do.
This next-generation of robots will likely transform land and sea. It includes everything from autonomous vehicles making transportation more efficient and safer to multifunctional, highly-dexterous surgical tools reducing human error and recovery times to indestructible, crab-like explorers that can withstand deep-sea pressure and navigate the ocean floor.
WHAT IT MEANS FOR BUSINESS
These products will touch nearly every sector, from manufacturing to agriculture to aerospace, and they'll be built on the back of traditional IT advancements: smart devices, Internet of Things (Iot), edge computing, and satellite/5G communications. By 2030, the global market for autonomous mobile robots is expected to hit a whopping $18 billion, but business leaders have to be careful about how they roll these robots out, especially if they'll interact with the public.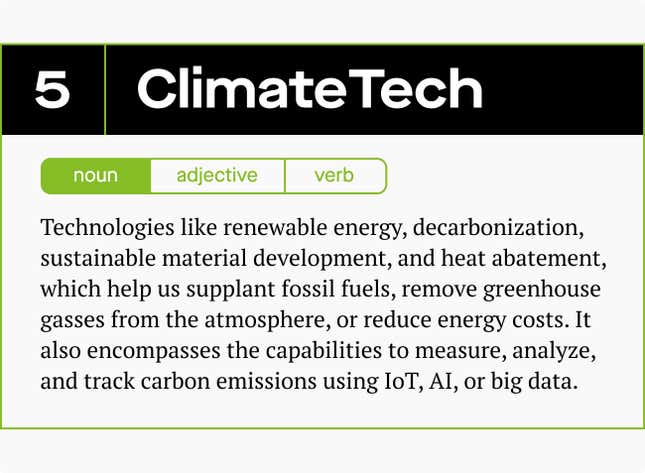 HOW IT WORKS
When it comes to combating climate change, innovative ideas are fundamental. "Technology is part of the [climate] solution, not part of the problem," says Inger Andersen, executive director of the United Nations Environment Program.
While you're likely familiar with the big hitters of ClimateTech, like the solar and wind sectors, there are many more technologies that could help chip away at our carbon footprint. For example, Industry 4.0 transformations allow for buildings to be managed, optimized, and maintained through data analytics and insights, lowering costs and energy usage.
WHAT IT MEANS FOR BUSINESS
When it comes to climate change, the cost everyone should be concerned with is the cost of doing nothing. Such inaction could cost the world's economy $178 trillion by 2070, according to research from Deloitte.
To reach net-zero emissions by 2050, annual investments in clean energy must more than triple by 2030. That equals around $4 trillion worldwide. The fight against climate change will touch every aspect of our lives, from transportation and manufacturing to food production and physical infrastructure. Such a widespread endeavor will require tremendous resources, making ClimateTech one of the best investments out there. Already, more people work in clean energy than in fossil fuels — nearly 40 million worldwide — and carbon capture utilization and storage projects are becoming a billion-dollar industry.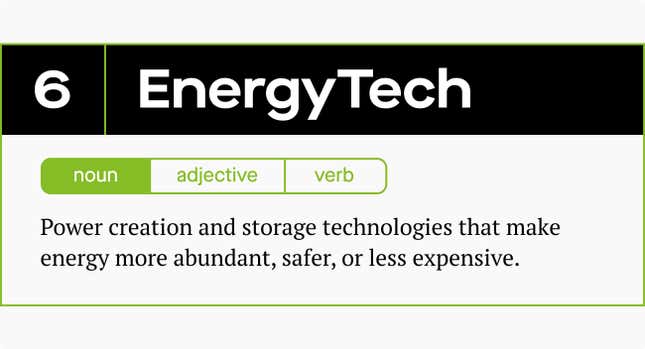 HOW IT WORKS
While EnergyTech is a fundamental tool in the fight against climate change, it's such a dynamic field of research that it deserves its own category. For example, nanotechnology is helping to improve battery life for vehicles and phones, while better storage solutions are further stabilizing power grids regardless of the generation source.
EnergyTech also helps to unlock the full potential of all the other xTech domains — and vice versa.
WHAT IT MEANS FOR BUSINESS
Now is the time to invest in energy, power, and battery technologies, which are seeing unprecedented growth and innovations, seemingly unfathomable just a few years ago. By 2030, the global lithium-ion battery market is expected to be worth $184.2 billion, with a CAGR of 18.5% between 2022 and 2030.
However, there's another benefit besides lower prices. More efficient power and energy production and storage can also reduce dependence on infamously rare materials such as cobalt and lithium.

---
xTech technology domains represent the cutting-edge of discovery at every scale, from pushing into deep space to editing life at the genetic level. And within each of these advancements, there are sector-wide growth opportunities — or the buds of entirely new industries. To fully take advantage, savvy leaders should master this new vocabulary, understand the implications for their offering, and consider how they might strategically invest resources moving forward.
Prepare for the rise of xTech by reading Deloitte's full Tech Trends report.
This content was produced on behalf of Deloitte by Quartz Creative and not by the Quartz editorial staff. Sources are provided for informational and reference purposes only. They are not an endorsement of Deloitte or Deloitte's products or services.