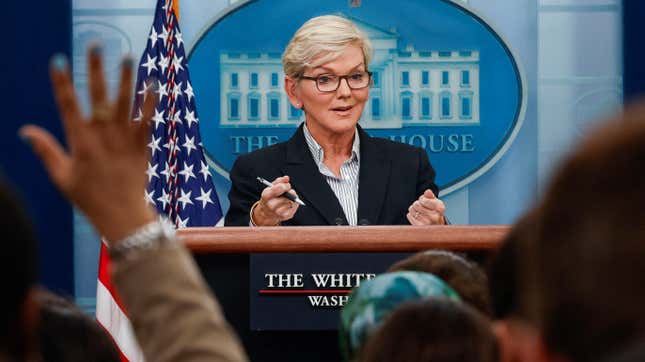 The Biden administration scored a $66 million profit in its first oil trade after releasing millions of barrels from the Strategic Petroleum Reserve (SPR) in 2022 at peak prices, and then restocking when oil dipped.

Should you keep investing in Big Tech?
The US government inked a deal with five companies to purchase three million barrels of oil to top up the SPR and plans to shop for an additional three million barrels, the US Energy Department disclosed last week.
The DOE sold at $95 a barrel, and bought at $73 a barrel, making a $22 profit on 3 million barrels of oil for a total of $66 million. Last year's release totaled 180 million barrels, so there's still a ways to go before the full losses and gains can be added up.
In September, the first tranche of three million barrels will find a home at the Big Hill SPR site, located in Texas. Round two of is set to kick off shortly, with bids to be submitted by June 20th and orders placed by the end of the month.
The DOE purchasing oil to refill the SPR serves a dual purpose. Not only does it cushion the bottom line for oil prices, but it also curbs excessive volatility in the oil market. This move not only rakes in millions for the federal government but also aids in smoothing the transition to more renewable energy sources.
Releasing oil was a strategy to battle inflation, and Russia
After Russia invaded Ukraine in Feb. 2022, President Joe Biden directed the release of oil from the SPR to blunt the economic assault that Vladimir Putin's regime was attempting to launch against the West using its position as a major producer of petroleum.
The SPR's oil release had a ripple effect on domestic gas prices, slashing them by 40 cents, according to a US Treasury Department analysis. This drop helped American pocketbooks at a time of rising prices and boosted economic optimism, enabling US politicians to avoid public ire.
OPEC+—helmed by Russia and Saudi Arabia— then decided to cut oil output in October 2022 and are now contemplating a replay of this move to boost oil prices. But in the six weeks leading up to May 30, fund managers who worried about weak Chinese economic data and fallout from the US debt ceiling clash sold the equivalent of 238 million barrels of oil, leading prices to drop about $10 a barrel.
Refilling the SPR has been a slower process
For a moment, the administration's oil gamble seemed to falter. Despite White House claims that the reserve would be refilled when oil prices hovered between $67 and $72, this price range was reached multiple times in March without any announced purchases. The initial pilot oil buying program in January had failed, potentially due to intricacies in the market structure, the specific type of oil required, and its delivery to US oil reserve salt caverns.
Employ America, a think tank focused on labor and economic policy, pointed out in a research note over the weekend that it's all too easy for unused authority to fade into obscurity. Thanks to changes made by the Biden administration, the DOE can now secure oil for the SPR at a predetermined cost, based on agreements with oil providers. This contrasts with the previous method, which required payment in accordance with the fluctuating market price of oil on the day of purchase, making arbitrage difficult.
"DOE and the Biden Administration writ-large deserve credit for successfully using a novel new authority to acquire petroleum at a significant return for the taxpayer," wrote Employ America senior counsel Arnab Datta and economist Skanda Amarnath.
The 2023 debt deal also included a provision that cancels the planned sale of 140 million barrels from the SPR, further underscoring the administration's commitment to replenishing the reserve.